Jura E8 vs S8: This is a battle between the beasts of Jura's super-automatic line up. And after considering many aspects, I found the latter a little better for good reasons.
The Jura S8 is the perfect combination of aesthetics and functionality for an exceptional coffee experience. This one is packed with features that make my heart skip a beat, including the Pulse Extraction Process and the incredibly impressive milk frothing system. Every process is almost fully automated, and all you need to do to have barista-quality drinks is push a button.
The Jura E8 is a more affordable but equally great option. It still has the finest punches from the brand to give a great espresso experience. However, the absence of a double boiler and some added perks have left it falling just shy of the top spot.
Jura E8 Vs S8: Comparison Chart
Image
THE WINNER (#1)
THE RUNNER-UP (#2)
Heating System
Single Thermoblock boiler
What I Like
Compact and elegant design.
Aroma G3 grinder is quickly and quietly.
Has a long list of pre-programmed beverages.
Double boilers brew and steams milk at the same time.
Artificial Intelligence remembers drinking habits.
Has many one-touch drinking options with various settings.
Minimize machine descaling with the Clearyl Smart Plus filter.
Can be controlled remotely.
Creates delicious, full-bodied espresso with Aroma G3 grinder & P.E.P.
Easy to use and maintain.
THE WINNER (#1)
Image
What I Like
Compact and elegant design.
Aroma G3 grinder is quickly and quietly.
Has a long list of pre-programmed beverages.
Double boilers brew and steams milk at the same time.
Artificial Intelligence remembers drinking habits.
THE RUNNER-UP (#2)
Image
Heating System
Single Thermoblock boiler
What I Like
Has many one-touch drinking options with various settings.
Minimize machine descaling with the Clearyl Smart Plus filter.
Can be controlled remotely.
Creates delicious, full-bodied espresso with Aroma G3 grinder & P.E.P.
Easy to use and maintain.
Last update on 2023-09-22 / Affiliate links / Images from Amazon Product Advertising API
Jura E8 Vs S8: Differences
The Jura S8 wins the E8 with a score of 4-1. Keep reading and dig deeper into my comparison to decide which you will leave with.
Coffee Flavour
Winner: Jura S8
Built-in Grinder
The Jura E8 and S8 both feature a multi-level Aroma G3 grinder, renowned for its impressive speed that surpasses its predecessor, the Aroma G2 grinder, by a factor of two. Additionally, it is quoted as ensuring a remarkable 12.2% increase in aroma and maintaining consistently superior grind quality.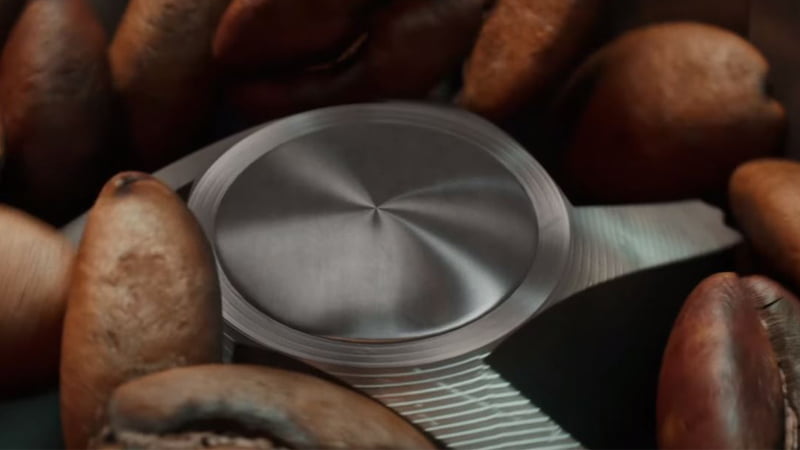 I couldn't prove the above claims, but I found it very fast and quiet (only about 55–60 dB), which I appreciated in the morning. Most importantly, it produces more consistent coffee grounds than the flat grinder.
Regarding grinding settings, the Jura E8 has 6 levels, which is on the lower side, whereas the S8 surpasses it with an offering of 7. Of course, the more settings the machine has, the more places you have to experiment. I didn't have issues finding the setting that worked for me, but it would be even more advantageous if each machine were equipped with approximately ten grind options, offering more control over the fineness and coarseness of the coffee.
Toggling between grind settings is easy by twisting a grinder adjustment dial located under a flap on top of the machine. Remember that it is a big no-no to adjust the grind size when the grinder doesn't run. Instead, this must be done while the grinder is running, per Jura's expert recommendation. Although it may appear counterintuitive, it is crucial to maintain the grinder's longevity and ensure its prolonged efficiency.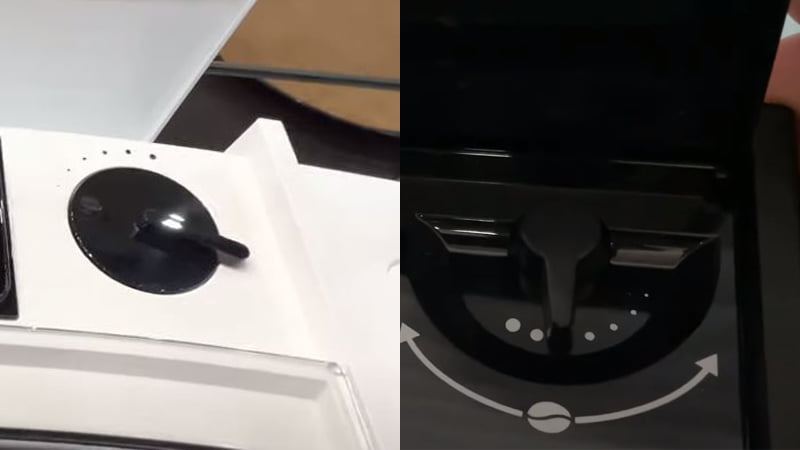 Heating System
While the Jura E8 sports a single heating system, the Jura S8 takes the lead with a double boiler. The Jura E8 basically won't be able to brew espresso and steam milk at the same time – there is an interval between the two processes. However, thermoblock technology alleviates this delay, minimizing it to a mere 10 seconds, rendering it a negligible concern.
But regarding larger settings, the Jura S8 proves to be a real game-changer with its two boilers, while the Jura E8 is the ideal home-use option, where only a few cups of coffee are required daily.
Brewing System
These machines all create a similar (very high) standard of espresso, which gets a big thumbs-up from me. This is the result of the combination of the Intelligent Pre-Brew Aroma System (I.P.B.A.S.) and Pulse Extraction Process (P.E.P.), which are among the greatest creations of Jura engineers.
To be candid, the phrase "Intelligent Brew Aroma" is simply a sophisticated way of describing the pre-infusion feature offered by Jura. This remarkable function enables the machine to precisely measure the coffee quantity and automatically moisten it with the perfect amount of hot water. As a result, the coffee grounds undergo a swelling effect, allowing for increased surface area exposure during brewing. This process enhances extraction and produces a more robust and flavorful end product.
The pulse extraction process then forces hot water through the coffee ground in a few short bursts instead of a steady stream of water. I could even hear these pulses during this process. This patented process is the main reason why most Jura super-automatic machines make better espresso than all others. Result? I got the drinks that took me to cloud nine!
Milk Frothing System
These super-automatic machines boast an impressive automatic milk-steaming system alongside remarkable Professional Fine Foam technology, which could be perceived as posing a real challenge to baristas' expertise. While they cann't replicate the artistry of handcrafted milk frothing, they do empower beginners to create their own delectable cappuccinos or flat whites right from the comfort of their own kitchens.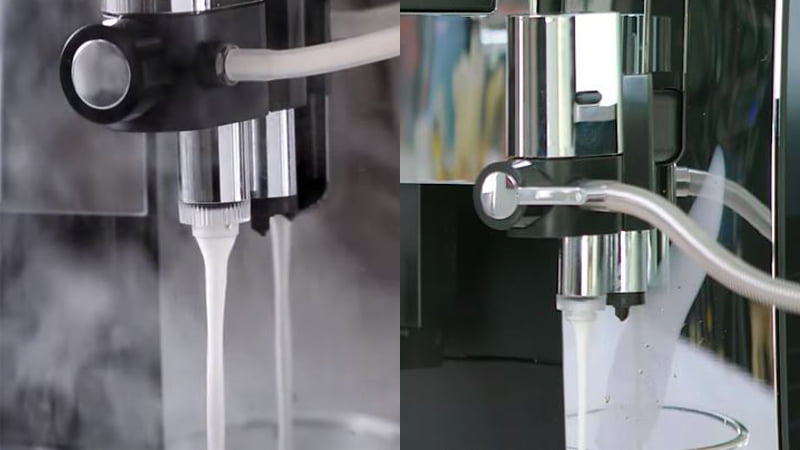 Setting up this system is a breeze: all you need to do is connect the milk frother and a milk container. Then the system will pick up milk from the container, deposit it into the frother, and extract it into a cup waiting underneath. Unfortunately, as I mentioned earlier, it's not possible to prepare two milky specialties simultaneously.
Another gripe is the lack of a milk container. With the money I spent on such exorbitant machines, Jura at least should provide everything I needed for free, but they didn't. So you can buy their milk carafe or insulated container separately. If you don't want to spend any more bucks, you can use any container available in your arsenal.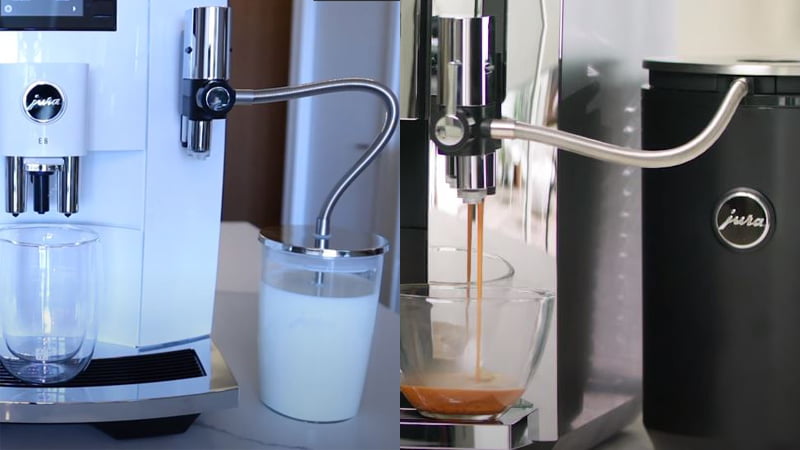 Without a doubt, these machines excel in their ability to froth milk to perfection. In fact, it's not an overstatement to declare that their velvety, creamy, and indulgent texture milk foam surpasses not only the quality of froth produced by non-Jura espresso machines but also outshines many other models within the same brand.
I was also happy that I could adjust the amount of milk in my favorite drinks and customize the milk foam via an adjustment lever. This nifty feature gave me more control over the frothed milk than other super-automatic espresso machines. Better yet, they allow for setting a pause time after frothing, allowing the milk to separate to get layered drinks, such as the delightful three levels of a latte macchiato – You should use a glass to admire these masterpieces. Good job, Jura!
Design & Usability
Winner: Tie
Dimensions, Footprint, & Weight
| | Jura E8 | Jura S8 |
| --- | --- | --- |
| Dimensions | 11 × 13.8 × 17.6 inches | 11 × 13.4 × 17.3 inches |
| Weight | 21 lbs | 22 lbs |
While it's unlikely that many of us would consider an espresso machine simply as a piece of kitchen decor, it's always a bonus to own one that adds a touch of elegance, wouldn't you agree? The Jura E8 and S8, though not resembling futuristic sci-fi gadgets, they hold a unique aesthetic likely to compliment any kitchen setting perfectly. Jura engineers evidently aren't just technologically savvy but also artistically gifted visionaries! Of course, as the saying goes, "Beauty is in the eye of the beholder."
Jura demonstrates not just proficiency in crafting top-tier espresso machines but also flair in bestowing upon them distinctive and appealing names. The Jura E8 comes in Piano Black and Chrome, while the S8 is available in Moonlight Silver, Chrome, and Piano Black. In fact, color has no bearing on how well the machine performs: it's entirely a matter of personal aesthetic preference. But somehow, mysteriously, there is always a slight difference in price between color options.
I wouldn't say they're lightweight, but they're more compact than many other super-automatic models I've experimented with. Hence, I believe finding a spot on your kitchen counter for either of these machines won't pose a significant challenge. At the end of the day, once an espresso takes up residence in your kitchen, it won't go anywhere, so its weight isn't such a big deal.
Pre-Programmed Coffee Options
Jura E8
Jura S8
Espresso
Coffee
Caffè Barista
Americano
Espresso doppio
Cortado
Macchiato
Cappuccino
Cappuccino Extra Shot
Flat white
Flat white Extra Shot
Latte macchiato
Latte macchiato Extra Shot
Portion of milk foam
Hot water
2 × Espresso
2 × Coffee
Ristretto
Espresso
Coffee
Macchiato
Caffè latte
Cappuccino
Flat white
Latte macchiato
Portion of milk foam
Portion of milk
Hot water
Hot water for green tea
2 × Ristretto
2 × Espresso
2 × Coffee
With endless pre-programmed drink lists, these machines will satisfy the caffeine cravings of everyone in your family. They're also equally suitable for self-service cafes, bars, or any environment requiring high volumes of coffee but a dearth of skilled baristas. They are also capable of producing two cups of no-milk drinks at the same time. So If there are many enthusiasts of milk-based beverages in your family, an espresso machine featuring a dual milk spout like the Jura Giga 6 could be a great choice.
Not quite smitten with the one-touch preset options? Fear not! Jura has packed these machines with a wealth of customizable settings, giving you the opportunity to explore and perfect the flavor profile that suits your palate. The Jura E8 and S8 models both afford you the flexibility to play around with their preset drinks with 10 levels of coffee strength, some brew temperatures, the volume of coffee, and the volume of milk. The S8 offers an added benefit by allowing you to program two presets for one preset drink, an invaluable feature when you and a partner share a favorite drink but have differing preferences for coffee strength or milk quantity. Then, you can also name your recipe.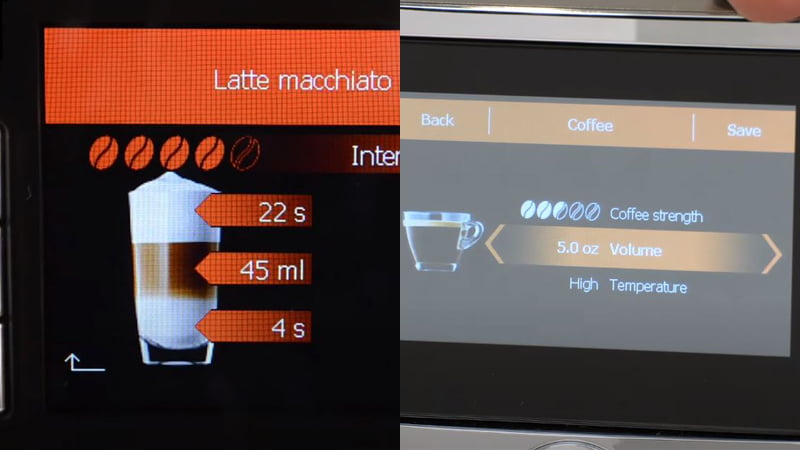 If you prefer a cup of decaf, you can add ground coffee directly to their bypass grinder chute. This feature is particularly advantageous for those who find the bitterness and aroma of regular coffee a bit overwhelming. I don't usually opt for decaf, but this clever feature was my lifesaver on those hurried mornings when I have no time for a full "bean-to-cup" brewing process.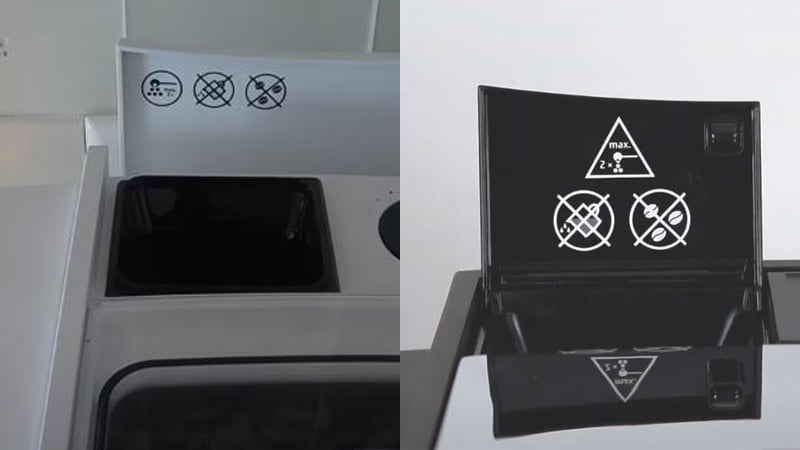 Spout & Cup Clearance
| | Jura E8 | Jura S8 |
| --- | --- | --- |
| Spout Type | Dual | Dual |
| Cup Clearance | 2.6 – 4.4 inches | 2.8–4.6 inches |
Both the Jura E8 and S8 come equipped with a dual coffee spigot that is adjustable in height, accommodating a broad range of cup sizes. They are incompatible with mammoth-sized cups like the Jura Z6, which have a cup clearance of up to 6 inches – but that's not a big deal because this type of cup isn't commonly used for espresso drinks. I appreciate the ability to lower the coffee spout to minimize splashing (which requires extra cleaning) and also to safeguard the dense, velvety crema generated during the brewing process.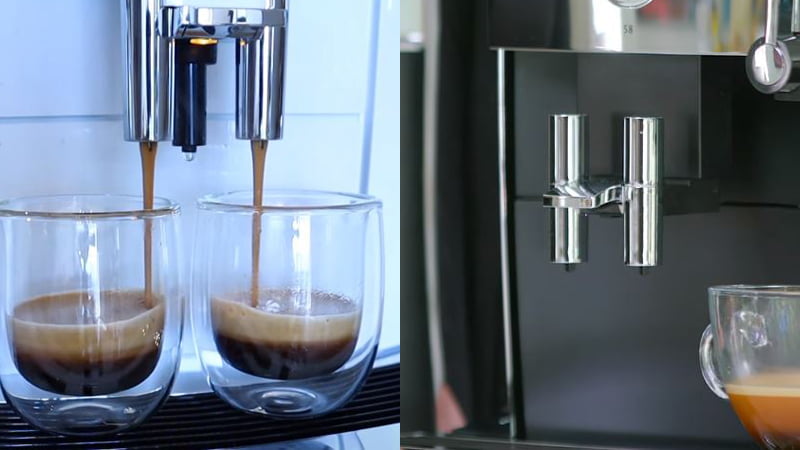 Another commonality these robust machines boast of is the "cup illumination" feature providing a stylish aesthetic touch by lighting up the cup as the espresso is being dispensed. Interestingly, I noticed that the illumination adjusts its color based on the chosen drink: a warm orange-yellow for coffee variants and a pure white for milk-infused selections.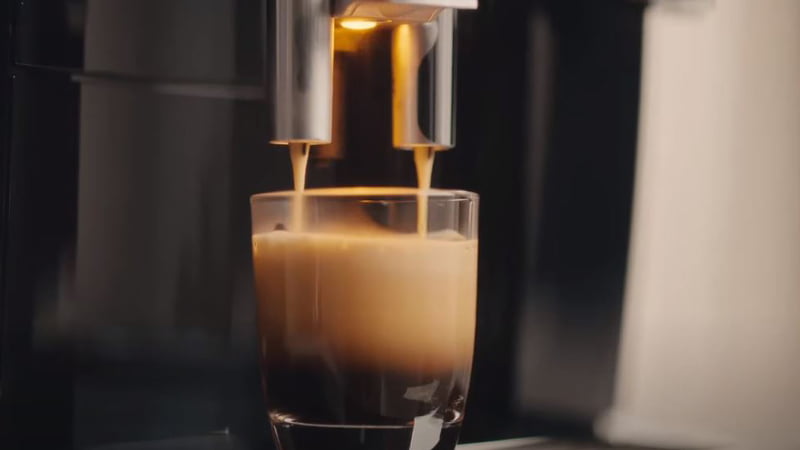 Their milk spout, with a peak height of 6 inches, fits all cups and mugs in my collection, including insulated or travel variants. The milk spout also dispenses heated water, perfect for a comforting cup of tea. So with one of these coffee machines in your kitchen, you can bid farewell to your traditional kettle.
Water Reservoir & Bean Hopper
| | Jura E8 | Jura S8 |
| --- | --- | --- |
| Water Reservoir | 1.9 liter | 1.9 liter |
| Bean Hopper | 0.29 liter | 0.29 liter |
The Jura E8 and S8 share a 1.9-liter water reservoir. I wouldn't call their tanks spacious, but they are more than enough for home use and must be refilled at the end of the day. However, for a bustling office environment, a more sizeable option like the Jura Z6, with its robust 2.4-liter reservoir, might be a better fit.
Let's focus on an often neglected yet crucial aspect impacting espresso flavor – water quality. It doesn't take a genius to realize that water carries various minerals, like calcium, magnesium, and their compounds. When heated at high temperatures, they precipitate and form insoluble solids – this is the primary instigator of scale accumulation within an espresso machine. This issue could degrade the quality of your espresso, and if left unresolved, it could eventually cause obstruction in the machine's internal water conduits over time.
Don't worry! These machines are smart enough to warn you when they must be descaled. As the cherry on top, they come equipped with an intelligent water system (I.W.S.), which can identify the insertion of a Clearyl Smart Plus filter, promptly switch to filter mode, and commence the rinsing process. That way, any scaling problem will be tackled from the get-go, making the need for descaling an old story.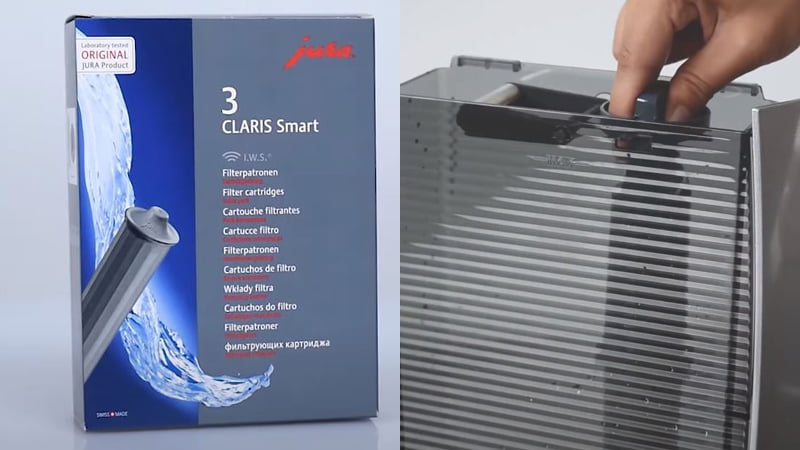 Of course, it requires frequent filter changes, resulting in a recurring charge. Personally, I believe that if your water has a hardness level lower than 10 ppm, using this filter is like using a sledgehammer to crack a nut. Measuring the hardness level of water isn't a rocket science project- just utilize the Aquadur test strips included in the package.
Regarding the bean hopper, both models come with 0.29-liter hoppers and aroma preservation covers. These covers are equipped with silicone gaskets that create an airtight seal to ensure no air or moisture seeps into the hopper, preserving the beans' freshness for a long time. As a result, your precious beans can remain stored in the machine's hopper for an extended period without compromising their delightful aroma or flavor.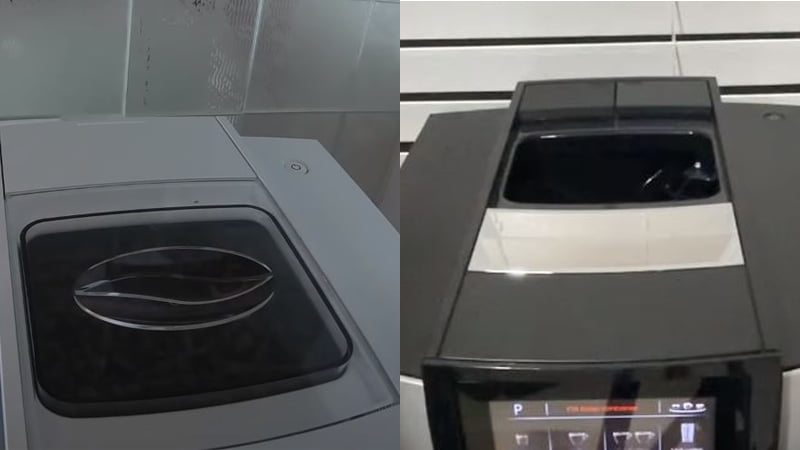 Cleaning & Maintenance
Winner: Tie
I was told these machines could be paired with a Clearyl Smart Plus filter to eliminate the need for descaling. And if you opt not to use the filter, it becomes necessary to descale the machine more frequently to prevent the buildup of mineral deposits and maintain optimal performance. So I personally recommend going with the filter for better-tasting coffee and less maintenance!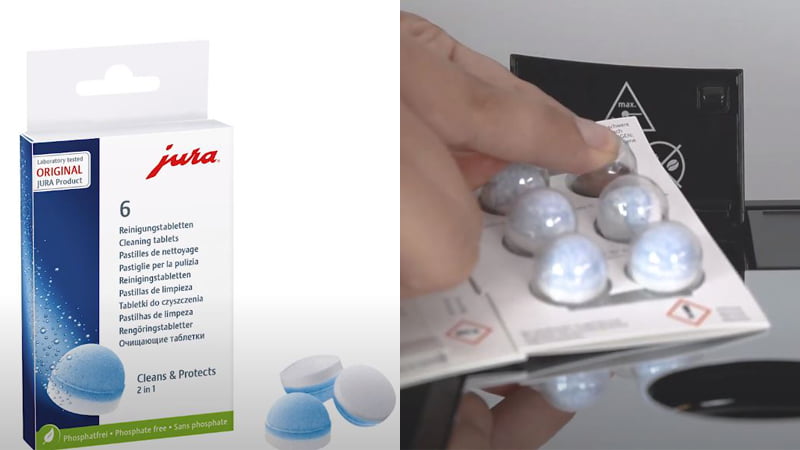 Descaling the machine is also a hassle-free process since most of the process is automated. All you need to do is drop the cleaning pellet into the bypass chute, take a seat, and leave the machine to do its job. Likewise, cleaning the milk system is simpler than ever with Jura Milk System Cleaner and a two-compartment cleaning container.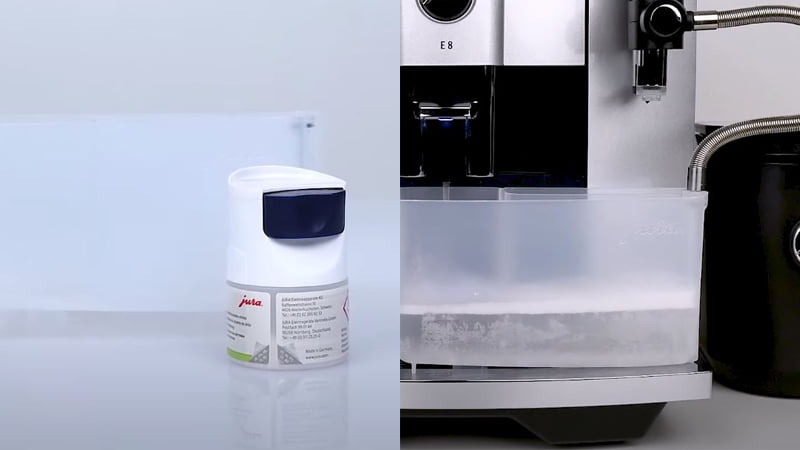 I shouldn't have to tell you that emptying the drip tray and pulp basket should be done daily. Also, it is highly recommended to wipe down the machine casing with a damp cloth. You have spent your hard-earned thousand bucks on an espresso machine, so you should keep it looking sleek and snazzy!
Utilities & Other Features
Winner: Jura S8
User Interface & App Connectivity
The Jura S8 features a large color touchscreen display that shows plenty of information, with the eight most common coffee drinks at the start screen. On the other hand, the E8 sports a non-touch LED screen that is very intuitive and easy to use. If you have a preference for a modern and slightly futuristic aesthetic, the touchscreen option is undoubtedly more visually appealing. But I prefer to use the button since I hate leaving fingerprints on the screen.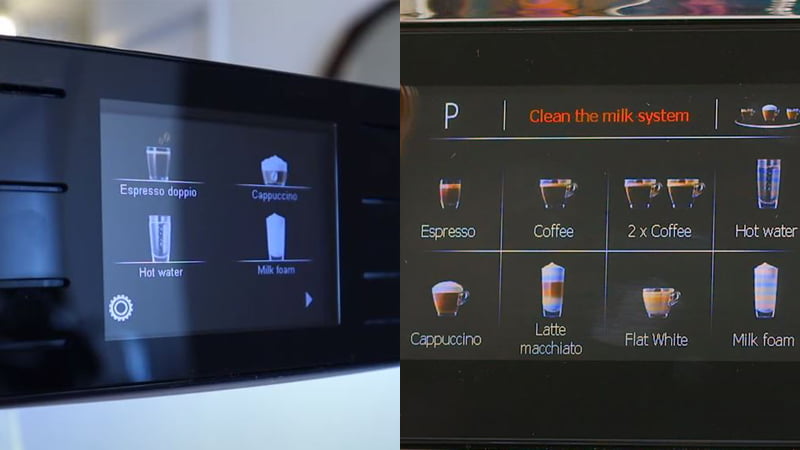 Enhancing their convenience, both the Jura E8 and S8 offer the added advantage of remote control through the J.O.E. (Jura Operating Experience) app, making them a true delight for technophiles. This remarkable feature empowers you to prepare your favorite drinks and adjust settings effortlessly, all from the comfort of your couch or even from the coziness of your bed.
The J.O.E. app is also available for Apple Watch, allowing you to make coffee with just a tap of your wrist! However, these machines don't come with WiFi Connect, so you will need to purchase Smart Connect separately to use this feature.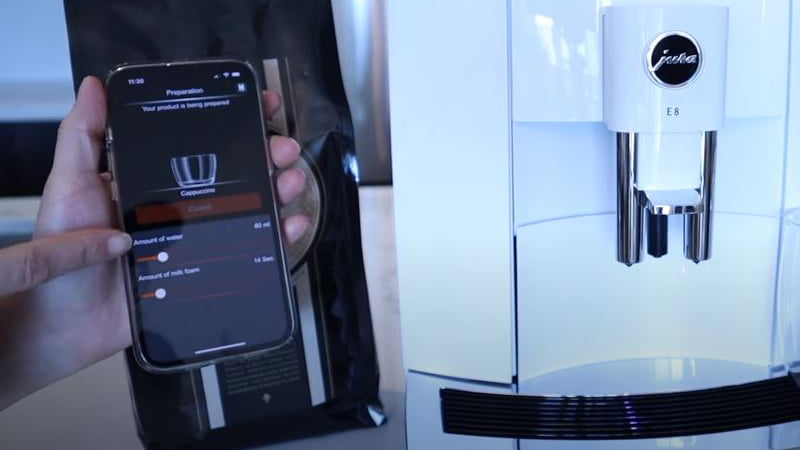 Artificial Intelligence (AI)
If you went back a few decades and told me that one day an espresso machine could remember my favorite drink, I would be surprised. But yes, that's really what these models can do. Through a self-learning algorithm, they can take note of your drink options and keep them on the start screen. That way, you can stumble out of bed and effortlessly indulge in your favorite brew with just a simple touch of a button.
Automatic Switch-Off & Energy-Saving Mode
Jura has added an auto-off feature to these machines, allowing them to automatically shut down after a preset period of time. However, the S8 is ahead of the game with the energy-saving mode, which reduces your power consumption and monthly electricity bill.
Quick Rundown Of Jura S8
Jura S8 Automatic Coffee Machine 64 oz, Moonlight Silver
ONE TOUCH: Prepare 15 barista quality specialties including espresso, coffee, cappuccino, flat white and latte macchiato at the touch of a button.Filter type:Reusable
PERFECT ESPRESSO: Ultimate coffee quality thanks to JURA's exclusive Pulse Extraction Process
CONICAL BURR GRINDER: Fast and precise AromaG3 grinder grinds whole beans to the optimum fineness
: JURA is always freshly ground, not capsuled - fresh taste with very limited waste - single serve machine
CAPACITY: 64 ounce water tank, 10 ounce bean container
Last update on 2023-09-22 / Affiliate links / Images from Amazon Product Advertising API
Quick Rundown Of Jura E8
Sale
Jura Z10 Aluminum White
VERSATILITY: A world first for hot and cold brew coffee specialties; choose from 32 options
OPERATION: Touchscreen display, optional Artificial Intelligence, equipped with WiFi Connect for use with J.O.E. app
CUSTOMIZATION: Customize, duplicate, rename and reposition coffee favorites
GRINDER: Exclusive Product Recognizing Grinder adjusts in a fraction of a second to the predefined consistency of grind
TECHNOLOGY: Pulse Extraction Process, Cold Extraction Process and Eighth-generation Brewing Unit
Last update on 2023-09-22 / Affiliate links / Images from Amazon Product Advertising API
Product Videos
Related Articles to Jura S8
Related Articles to Jura E8
References: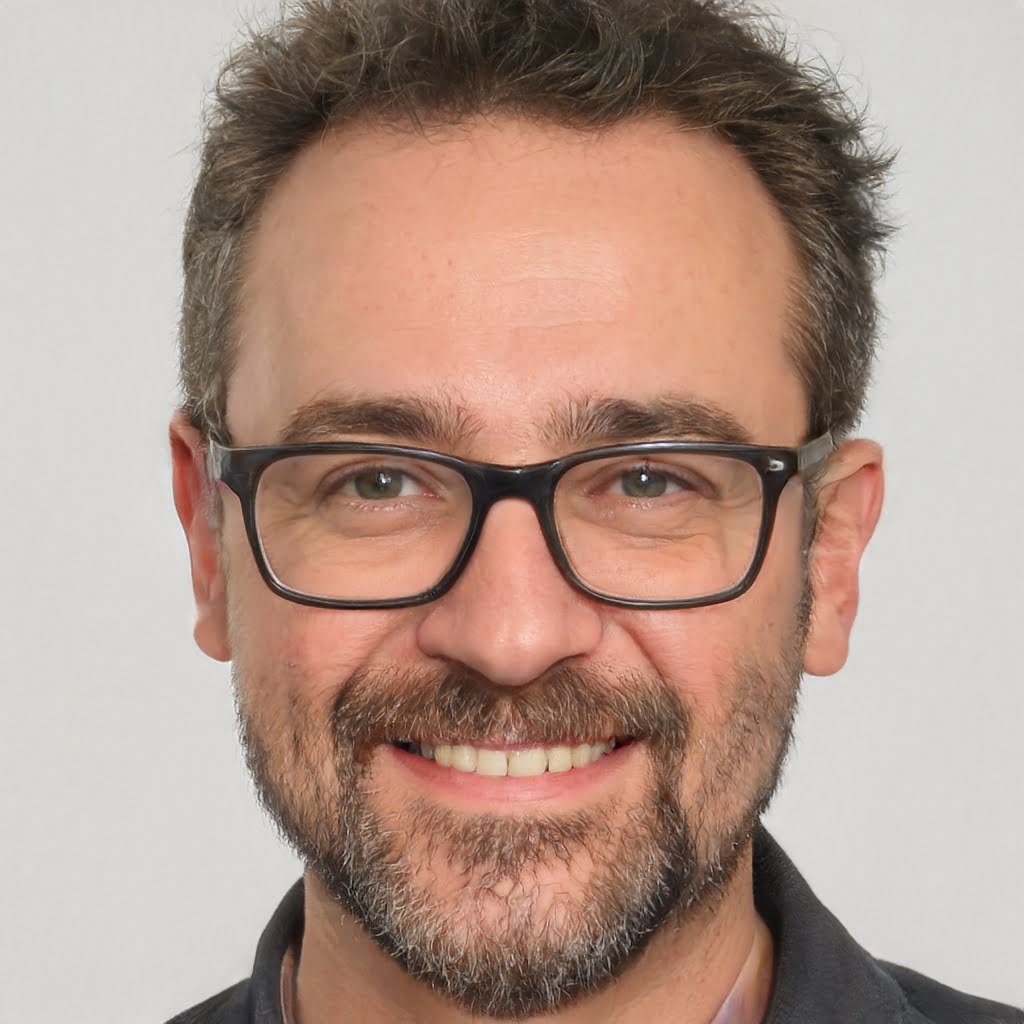 I'm Floyd J. Alcock, an experienced barista with a deep love for coffee. I curate personalized coffee experiences, guiding customers through diverse flavor profiles and suggesting ideal brewing methods. My extensive knowledge of espresso machines enables me to recommend the best equipment to match specific needs and budgets. Sharing my expertise and passion with coffee enthusiasts brings immense satisfaction. I look forward to continuing my journey of coffee discovery with every customer I serve, fostering connections over a shared love for this magical beverage.