The tantalizing caffeine-rich beverages that our favorite baristas craft are practically irresistible, wouldn't you agree? Yet, what if I told you that you could recreate these liquid masterpieces right in your own cherished home kitchen without needing any specialized barista training or know-how? To bring this dream to life, you'd just need a trusty bean-to-cup espresso machine, such as the Jura ENA 8 vs Gaggia Babila. Granted, it may require a sizable initial outlay, but considering the endless favorite caffeinated drinks you can have with minimal exertion over the years, it appears to be a steal.
Gaggia, an esteemed Italian brand, initially carved its niche by focusing on crafting espresso machines specifically designed for commercial use. They later expanded their expertise to the realm of home-use coffee machines with numerous value-for-money models, including the Gaggia Babila. This one has many unique selling points, such as a ceramic burr grinder with 15 grind settings, a double boiler system, various customizations, and more.
The Jura ENA 8, hailing from a renowned Swiss brand, is also a strong contender with a wide range of bells and whistles, such as the ability to be controlled remotely and remember drinking habits. But given its price point, I initially expected to get more grind settings and a dual boiler system.
Jura ENA 8 Vs Gaggia Babila: Comparison Chart
Image
THE WINNER (#1)
THE RUNNER-UP (#2)
Dimensions/Weight
9.6 x 14.2 x 16.5 inches/29.5 lbs
10.7 x 12.7 x 17.5 inches/20.7 lbs
Heating System
Single Thermoblock boiler
Filter
AquaClean water filter (Optional)
CLARIS smart filter (Optional)
What I Like
Eye-catching and compact design.
Has a ceramic burr grinder that doesn't overheat.
Dual boiler for brewing espresso and steaming milk at once.
Has many preset drinks with tons of customizations.
Has both an automatic milk frothing system and a steam wand.
Has a high-quality Aroma G3 grinder.
The thermoblock heating system heats up quickly.
Easy to use and clean.
Artificial intelligence remembers drinking habits.
Can be controlled remotely.
THE WINNER (#1)
Image
Dimensions/Weight
9.6 x 14.2 x 16.5 inches/29.5 lbs
Filter
AquaClean water filter (Optional)
What I Like
Eye-catching and compact design.
Has a ceramic burr grinder that doesn't overheat.
Dual boiler for brewing espresso and steaming milk at once.
Has many preset drinks with tons of customizations.
Has both an automatic milk frothing system and a steam wand.
THE RUNNER-UP (#2)
Image
Dimensions/Weight
10.7 x 12.7 x 17.5 inches/20.7 lbs
Heating System
Single Thermoblock boiler
Filter
CLARIS smart filter (Optional)
What I Like
Has a high-quality Aroma G3 grinder.
The thermoblock heating system heats up quickly.
Easy to use and clean.
Artificial intelligence remembers drinking habits.
Can be controlled remotely.
Last update on 2023-09-28 / Affiliate links / Images from Amazon Product Advertising API
Jura ENA 8 Vs Gaggia Babila: Differences
After all, the Gaggia Babila triumphs over the Jura ENA 8 with a score of 3-2. So let's delve deeper into my review and comparison for more insightful details!
Coffee Flavour
Winner: Gaggia Babila
Built-in Grinder
Both come with a built-in grinder, saving you from buying one separately and finding an extra place for it. The Jura ENA 8 has a new-generation Aroma G3 grinder, while the Gaggia Babila sports a high-quality ceramic burr grinder.
The Aroma G3 stainless steel conical burr grinder boasts of extracting 12% more aroma—a claim I can't definitively attest to. But what I can verify from my own usage is that it was quieter and quicker than its predecessors while maintaining consistent grind quality. With noise levels ranging from 55-60 dB, this one enables you to kick in an early morning brewing cycle and swiftly get your favorite drink without disturbing the household's slumber.
The Gaggia Babila's ceramic burr grinder has a significant advantage-it minimizes heat accumulation during the grinding process. That said, it can prevent the coffee grounds from scorching, which would negatively impact the delicate aroma inherent in the coffee beans. Its noise level is around 69 dB, which is equivalent to the sound emitted by my vacuum cleaner in operation – it falls neither into the quiet nor too loud category.
The Gaggia Babila astounded me with its remarkable range of 15 grind settings! Such a wide array of grinding sizes is seldom found in models within this price bracket or even those on the more expensive end of the spectrum. Meanwhile, the Jura ENA 8 has 7 grind settings, which is impressive for its price point as well. In layman's terms, the greater the number of grind settings on your espresso machine, the more flexibility you have to adjust the grounds' fineness or coarseness to your liking.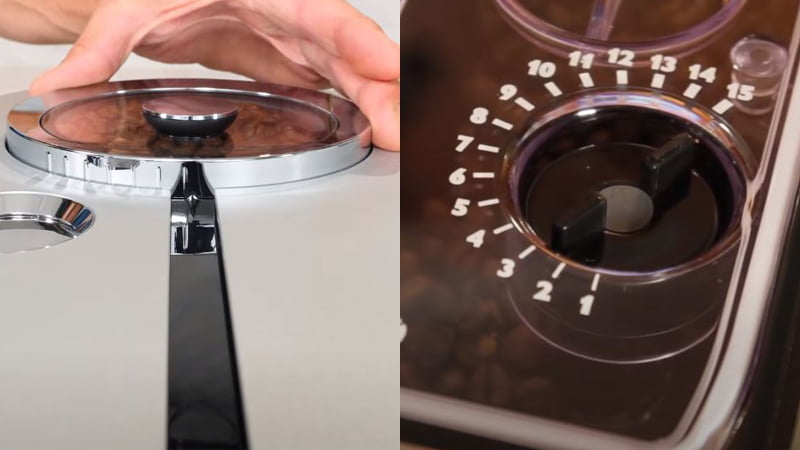 It is worth noting that you should only tweak grind settings while the grinder is operational, which is like saying you can only shift gears on a bicycle while it is moving. Moreover, it's advisable to steer clear of oily beans. Both recommendations aim to prevent potential damage to the grinder, or at least they are what the manufacturers recommend.
Heating System
As you likely know, the water for brewing espresso (195-205°F) must be hotter than the proper temperature for steaming milk (150-155°F). Single boiler models, like the Jura ENA 8, can only carry out one operation at a time, necessitating an interval between tasks to adjust the water to the correct temperature.
Fortunately, the Jura ENA 8 features a thermoblock heating system that heats the exact quantity of water required for each process. As a result, the interval is shortened to more than 10 seconds, and the water used is always fresh. It will be fine to make only a few cups of milk-based coffee daily. But if you plan to prepare multiple milk-based beverages consecutively, a model with a dual boiler system like the Gaggia Babila would be a better fit.
Yes, the Gaggia Babila has two boilers: one is dedicated to heating water for espresso extraction, and the other caters to the needs of milk steaming – this implies that it can brew espresso and steam milk at once. Not only does this system allow the machine to operate more swiftly than its single-boiler counterparts, but it also ensures optimal temperature for each procedure. Again, the Gaggia Babila is one of the few models equipped with two boilers at this price point, which is great!
Brewing System
If there's a universal truth in the world of coffee, it's that the pre-infusion process consistently yields superior espressos. This involves moistening the coffee grounds with an appropriate amount of hot water before extraction, maximizing the aroma drawn from the beans. The pre-infusion process has become essential in today's super-automatic coffee machines, including the Jura ENA 8 vs Gaggia Babila. For the Jura ENA 8 and its siblings, the task is undertaken by the "Intelligent Pre-Brew Aroma System" (IPBAS for short). It seems Jura constantly endeavors to distinguish itself from its competition by creating bewildering acronyms that have users scratching their heads in confusion.
It's worth noting that the Gaggia Babila allows for customization of the pre-infusion time with three distinct levels: delicate (which corresponds to 0 seconds or no pre-infusion), balanced (involving a 2-second infusion), and full-bodied (encompassing a 4-second infusion).
On the other hand, Jura's Pulse Extraction Process (commonly known as P.E.P.) is certainly a game changer here. According to the brand, this process is devised to yield espressos that boast a "strong, quintessentially Italian finish." Bypassing this cryptic terminology, let me break it down: P.E.P. operates by pulsating heated water through the coffee grounds in rapid bursts rather than applying steady pressure. Thanks to this groundbreaking approach, all my espresso shots from the ENA 8 were full-bodied and tasted remarkable.
Milk Frothing System
The ENA 8 features a basic automatic milk system that is easy to set up. Still, it includes only a siphon tube and regrettably omits a milk pitcher, which is disappointing considering its steep price. It appears that Jura's intention is to generate additional revenue by separately selling their milk containers.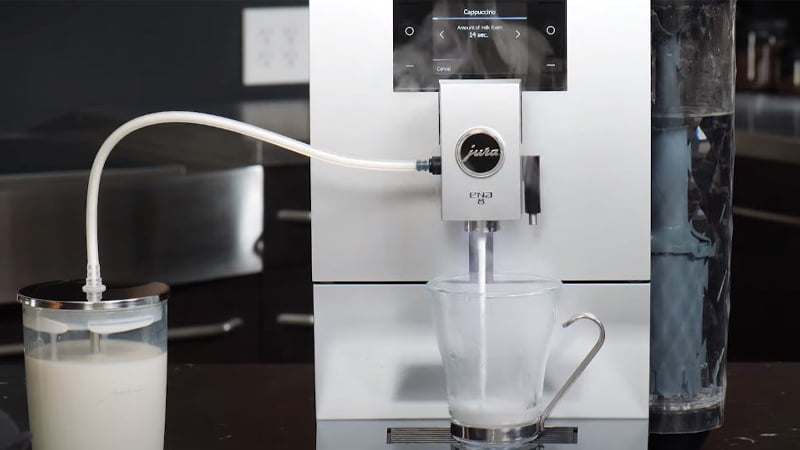 You can use a milk container or a glass of milk you have, but I recommend spending a few extra bucks on a Jura's simple glass milk container or a refracted cool control to preserve the machine's premium aesthetics (if the visual appeal is important to you, of course). Additionally, they sell separately a stainless steel milk pipe that perfectly complements the machine's aesthetic.
Regarding brewing drinks with milk foam with the Jura ENA 8, all you need to do is just push the button and wait for a few seconds. This one is equipped with fine foam technology, which produces frothed milk with good consistency and temperature. It allows for adjusting the quantity of milk foam, and it would be better if the temperature or texture of the milk were also customizable. So if you want to get all these customizations and more, you'll need to spend more on pricier models.
The Jura ENA 8 passed my latte macchiato test with flying colors. Its milk frother gracefully dispensed the velvety foam and patiently allowed it to settle for a customizable duration (ranging from 0 to 60 secs) before gently incorporating the espresso. This meticulous process resulted in an exquisite and visually appealing multi-layered beverage showcased impeccably in my crystal-clear glass.
The Gaggia Babila, on the other hand, comes with both an automatic milk frothing system and a steam wand – a remarkable combination that left me in awe at first sight. This means that whether you're a beginner looking for a "one touch" process or a barista yearning for full control over the milk frothing process, this model has got you covered.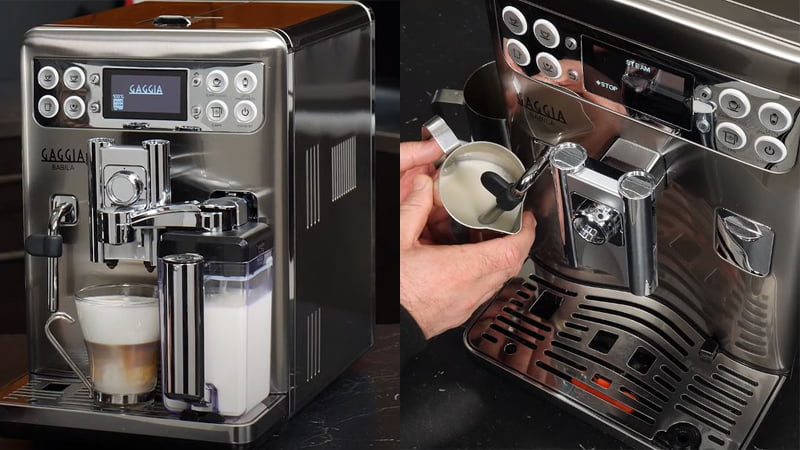 The Gaggia Babila's automatic frothing system offers a delightful twist – instead of traditional hoses or tubes, it has a well-positioned milk container right at the forefront. This 0.5-liter container features a large dispensing spout that can be conveniently moved over a cup whenever you're ready to whip up some creamy milk foam. It can also be disassembled and stored in the refrigerator, effectively preserving the freshness of the milk for multiple days.
I got a creamy cappuccino in seconds, and it was good but not outstanding. The milk was too frothy, with bigger foam instead of neat microfoam, as I initially expected. Nonetheless, the taste remained commendable and lived up to my expectations.
As mentioned earlier, the Gaggia Babila also features a manual steam wand, giving you the option of manually frothing milk if you want to have more control over this process. While it may not achieve microfoam that matches competition-level standards, it does afford you the opportunity to astound others with your hard-to-obtain barista skills.
Design & Usability
Winner: Gaggia Babila
Dimensions, Footprint, & Weight
| | Jura ENA 8 | Gaggia Babila |
| --- | --- | --- |
| Dimensions | 10.7 x 12.7 x 17.5 inches | 9.6 x 14.2 x 16.5 inches |
| Weight | 20.7 lbs | 29.5 lbs |
The ENA 8 is simply a small, sleek, and simple machine that stands out with a cylindrical water reservoir designed to emulate a crystal carafe. Meanwhile, the Gaggia Babila not only exudes visual appeal but also boasts a robust metal construction reminiscent of something from the brilliant mind of Tony Stark.
These beasts are on the smaller end of the size spectrum and don't look oversized or bulky at all. But they are quite heavy, probably mainly due to the material. Take my word for it—you won't willingly move these heavyweights often unless you're the Hulk.
Pre-programmed Coffee Options
Jura ENA 8
Gaggia Babila
Ristretto
Espresso
Coffee
Espresso Doppio
Macchiato
Cappuccino
Flat White
Latte Macchiato
Portion of Milk Foam
Hot Water
Ristretto
Espresso
Espresso Lungo
Caffè
Cappuccino
Latte Macchiato
Flat White
Hot Milk
Milk Froth
Hot Water
Both have a long list of pre-programmed drinks, from timeless choices like ristretto and espresso to beloved favorites such as cappuccino and latte macchiato – All ready to serve at the push of a button. A one-touch Americano is absent, but no problem, as you can easily concoct this one by diluting espresso with hot water. It is easy, right?
Better yet, just like your favorite barista can customize drink recipes on demand, get ready to become your own master mixologist with these machines' impressive customization options. The Gaggia Babila provides five strength levels, three brewing temperatures, and the option to adjust the coffee volume. Meanwhile, the Jura ENA 8 takes customization to the next level with its impressive ten levels of strength, three brewing temperatures, and the ability to adjust the coffee volume and milk foam.
The abundance of possible combinations ensures that you'll find the exact recipe that suits your taste. And here's the best part: once you've discovered your preferred settings, you can easily save them and effortlessly recreate your perfect drink with a touch of a button, making the process as effortless as child's play.
I'm well aware that not everyone jumps for joy at the thought of caffeinated drinks. Fortunately, both the Jura ENA 8 vs Gaggia Babila include a bypass chute that allows for using ground coffee to make decaf. It also acts as a fail-safe solution for moments when you find yourself without coffee beans, enabling you to make decaf versions of your favorite beverages.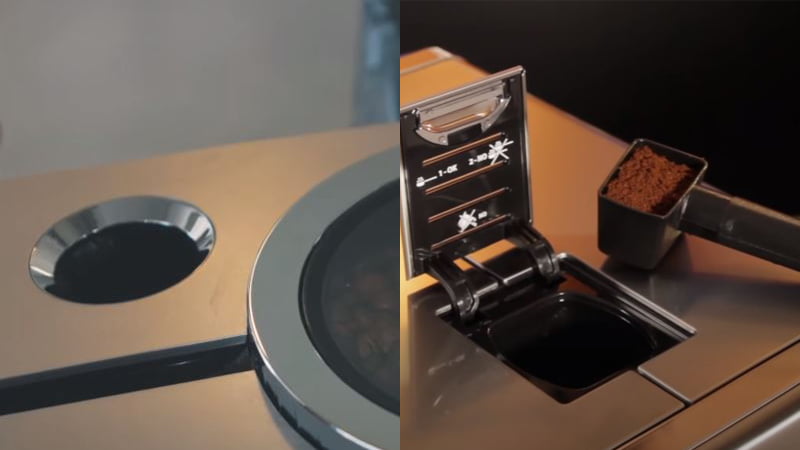 Spout & Cup Clearance
| | Jura ENA 8 | Gaggia Babila |
| --- | --- | --- |
| Spout Type | Single | Dual |
| Cup Clearance | 2.2–5 inches | 3.0-6.4 inches |
The Jura ENA 8 vs Gaggia Babila's spouts can easily be moved up and down: they can be lifted when you want to make a larger drink or lowered closer to the cup to preserve a rich, luxurious crema during espresso preparation. The Gaggia Babila has the upper hand here since its spout assembly can be pushed back or even removed to accommodate even mammoth-sized insulated travel cups. Its dual spout also facilitates brewing two cups of black or a double shot by pressing the one-touch button twice.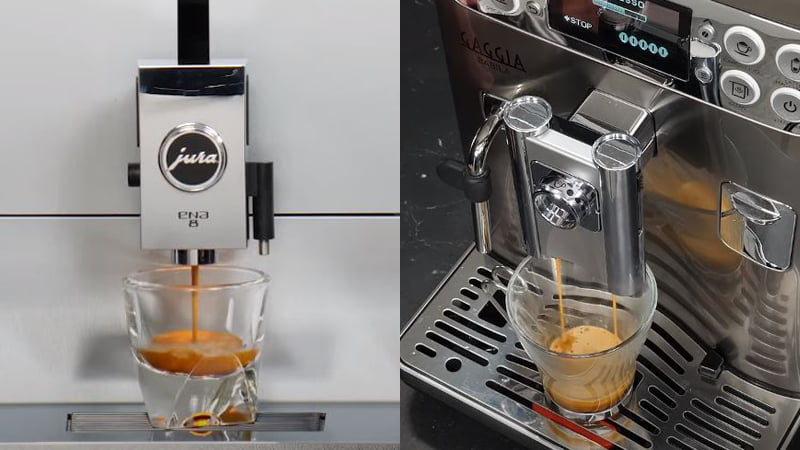 There is a flow control knob on the front of the Gaggia Babila – that was the first time I saw this feature on an espresso machine. As its name implies, I could increase or decrease the flow rate of espresso as it was brewing by twisting this knob. I don't know the precise purpose of this feature, but some experts argue that it can influence the overall balance and flavor of the coffee. Anyway, it's good to have it there.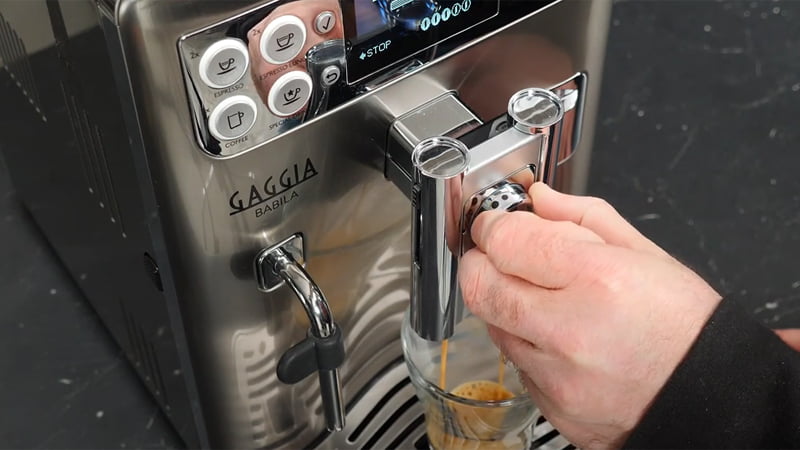 Water Reservoir & Bean Hopper
| | Jura ENA 8 | Gaggia Babila |
| --- | --- | --- |
| Water Reservoir | 1.1 liter | 1.5 liter |
| Bean Hopper | 0.13 liter | 0.31 liter |
The Gaggia Babila, once again, takes the lead with a larger water tank and bean container. Their bean hoppers boast ample capacity, enabling you to store a substantial amount of beans, and the aroma seal lids effectively preserve their enticing aroma. Their water reservoirs are top-loading, so you don't even need to disassemble them for refilling. And unless there are avid coffee consumers in your household, a single refill at the end of the day is enough.
Interestingly, their water reservoirs can house a filter as an option: The Jura ENA 8 is compatible with the CLARIS smart filter, while the Gaggia Babila utilizes the AquaClean water filter. These filters are specifically designed to remove minerals from the water, which minimizes the need for frequent descaling of the machine (instead of completely eliminating the need for descaling as claimed) and maintains the optimal flavor profile of the espresso. So unless you use distilled water or already have filters in your kitchen tank, I highly recommend them.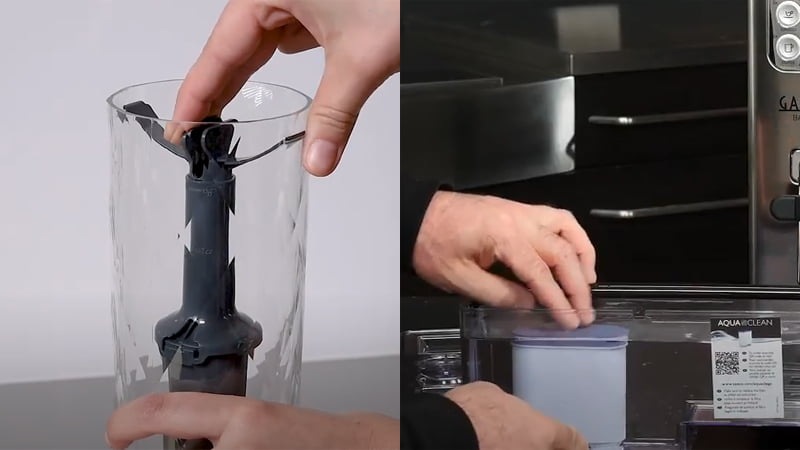 Jura ENA 8 vs Gaggia Babila bean hoppers can hold up to 125 and 300 grams of coffee beans, respectively. Both have an airtight lid to preserve the aroma of the coffee beans for a long time.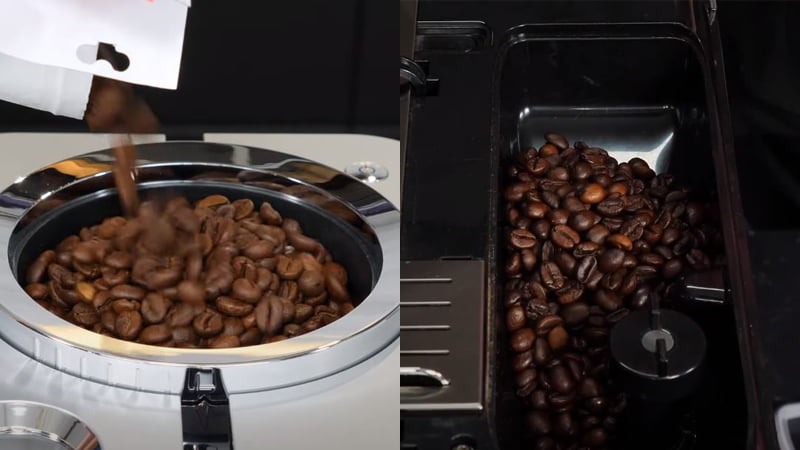 Cleaning & Maintenance
Winner: Tie
I can empathize if you've felt overwhelmed by the task of cleaning and maintaining a traditional manual espresso machine in the past. However, when it comes to the Jura ENA 8 and Gaggia Babila, you'll find the process as effortless and automated as the rest of their functionalities.
Of course, there remain a few chores that you need to do yourself, like emptying the drip tray and grounds bin, as well as refilling the water reservoir and bean hopper. Depending on your frequency of usage, these tasks usually arise every few days, and the machine will alert you whenever these tasks need to be performed. However, I recommend completing them daily. In the case of the Gaggia Babila, its removable brewing group will also require periodic cleaning.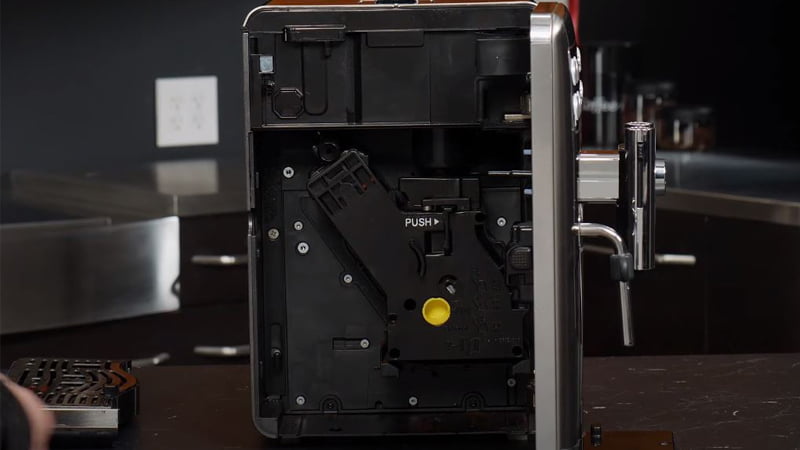 The machine will also let you know when the descaling cycle needs to happen. This process is automated as well, and you need to use the descaling solution/tablet recommended by the manufacturers: Jura's cleaning tablet for Jura ENA 8 and Gaggia descaler for Gaggia Babila. As mentioned above, using a filter will reduce the frequency of descaling.
Regarding the milk system, the ENA 8's system automatically flushes itself when it is turned off/on or 15 minutes after preparing a milk-based drink. The machine will notify you when it's time for deeper cleaning, involving using a milk system cleaner and a separate milk system container. I also suggest replacing the milk tube at least every couple of months.
The Gaggia Babila, on the other hand, will automatically run steam through the milk circuit and activate an automatic cleaning cycle whenever you're done making a milk-based drink and push the carafe's spout back over. Of course, this doesn't replace deep cleaning the carafe under the tap.
Utilities & Other Features
Winner: Jura ENA 8
User Interface
The Jura ENA 8 comes equipped with a state-of-the-art 2.8-inch TFT color display, where all options are presented as vivid and intuitive icons. It isn't a touchscreen and has buttons on each side to select drinks. It may seem small in proportion to the overall machine size, but all the information is very clear, and the operation is easy to navigate. The Gaggia Babila evokes a sense of nostalgia with its pixel display that is reminiscent of my first gaming console, but I don't consider this as a con or bad thing at all.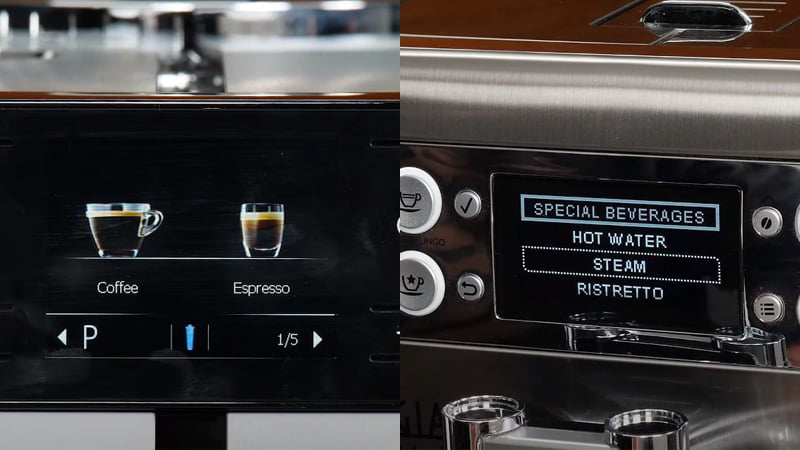 Remote Control
We live in an era where it feels as if we can remotely control virtually any device. All right, that's an exaggeration, but it's undeniable that an increasing number of devices, from refrigerators to televisions, vacuums, and even super-automatic espresso machines, can connect to our smartphones.
The Jura ENA 8 is among the Jura espresso machines that can be controlled remotely via the JURA Operating Experience (J.O.E.) app. It basically turns your phone into a temporary control panel, and you can choose your drink and make any necessary customizations without being physically present in front of the machine. However, you need to purchase a Smart Connect transmitter and plug it into the machine separately to use this cool feature.
Energy Saving
Both the Jura ENA 8 vs Gaggia Babila have a number of features that allow you to reduce power consumption and cut down on your monthly electricity bill. For example, Jura ENA 8 has Energy Save Mode (E.S.M.), while the Gaggia Babila features ECO Mode. In addition, they can also be pre-programmed to automatically turn off after an adjustable amount of time, contributing further to energy savings.
Artificial Intelligence
The Jura ENA 8 can also remember your favorite drinks and display them on the start screen. Sounds crazy, doesn't it? But that's exactly what the ENA 8 and many Jura super-automatic espresso machines can do.
Quick Rundown Of Gaggia Babila
Sale
Gaggia Babila RI9700/64 espresso Machine, Stainless Steel, Medium
One touch brewing and frothing: bean-to-cup feature. Milk carafe includes automatic milk frothing for cappuccinos, and milk froth. Manual steam wand doubles as a hot water dispenser
ACCESSORIES INCLUDED: 1 bottle of Gaggia Descaler, 1 AquaClean Water Filter, 1 Water Hardness Test Strip, 1 Tube of Brew Group Lubricant, 1 Brew Group Brush, 1 Coffee Scoop/Grinder Key
PROGRAMMABLE: 8 Programmable brewing options for espressos, espresso lungos, coffee, ristrettos, lattes, cappuccinos, macchiato, flat whites and milk foam
Easy access to water reservoir: features a top Loading removable 50.7oz water reservoir; Brew Boiler Wattage: 1400
Last update on 2023-09-28 / Affiliate links / Images from Amazon Product Advertising API
Quick Rundown Of Jura ENA 8
Jura ENA 8 Metropolitan Black Automatic Coffee Machine, 37 ounces
COMPACT ONE TOUCH: Prepare 10 barista quality specialties including espresso doppio, cappuccino, flat white and latte macchiato at the touch of a button
PERFECT ESPRESSO: Ultimate coffee quality thanks to JURA's exclusive Pulse Extraction Process
CONICAL BURR GRINDER: Fast and precise AromaG3 grinder grinds whole beans to the optimum fineness
ECO FRIENDLY: JURA is always freshly ground, not capsuled - fresh taste with very limited waste - single serve machine
CAPACITY: 37 ounce cylindrical-shape, easy-grip water tank, 4.4 ounce bean container, optional pre-ground chute
Last update on 2023-09-28 / Affiliate links / Images from Amazon Product Advertising API
Product Videos
Related Articles to Gaggia Babila
Related Articles to Jura Ena 8
References: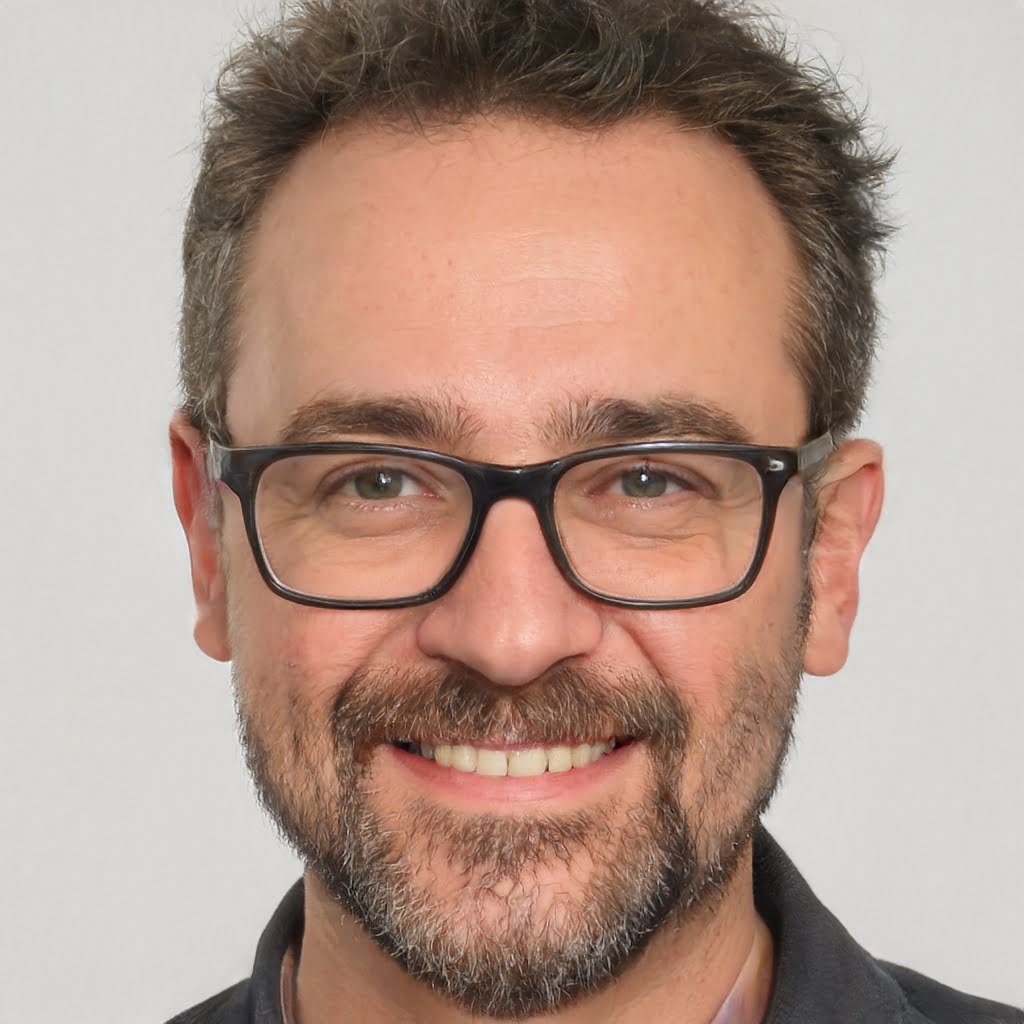 I'm Floyd J. Alcock, an experienced barista with a deep love for coffee. I curate personalized coffee experiences, guiding customers through diverse flavor profiles and suggesting ideal brewing methods. My extensive knowledge of espresso machines enables me to recommend the best equipment to match specific needs and budgets. Sharing my expertise and passion with coffee enthusiasts brings immense satisfaction. I look forward to continuing my journey of coffee discovery with every customer I serve, fostering connections over a shared love for this magical beverage.