The Jura ENA 8 is a compact and aesthetically pleasing super-automatic espresso machine. Sure, anyone can spot that in a heartbeat, but is it a good match for your hard-earned money? My straight-to-the-point response is an unambiguous YES! My Jura ENA 8 review will show you!
What would you get from a machine worth two grand? These are Jura's top-shelf technologies, such as an Aroma G3 grinder, a Thermoblock heating system, the Pulse Extraction Process, the ability to remember drinking habits thanks to a self-learning algorithm, and more. These high-end features are typically exclusive to Jura's top-tier models, so what more are you hoping for?
Of course, this one isn't the ultimate Jura coffee maker. There are a few give-and-takes to keep the price tag wallet-friendly, such as a limited number of adjustable settings and the inability to make two espressos simultaneously.
Main Specifications
Image
Jura ENA 8
Dimensions/Weight
10.7 x 12.7 x 17.5 inches/20.7 lbs
Heating System
Single Thermoblock boiler
Water Reservoir/Bean Hopper
Filter
CLARIS smart filter (Optional)
What I Like
Has an eye-catching and compact design.
Advanced brewing technology for premium coffee quality.
Has 7 grind settings.
Wide range of customizable settings.
Has many pre-programmed drinks.
Boasts a thermoblock boiler for quick heating.
Jura ENA 8
Image
Dimensions/Weight
10.7 x 12.7 x 17.5 inches/20.7 lbs
Heating System
Single Thermoblock boiler
Water Reservoir/Bean Hopper
Filter
CLARIS smart filter (Optional)
What I Like
Has an eye-catching and compact design.
Advanced brewing technology for premium coffee quality.
Has 7 grind settings.
Wide range of customizable settings.
Has many pre-programmed drinks.
Boasts a thermoblock boiler for quick heating.
Last update on 2023-09-23 / Affiliate links / Images from Amazon Product Advertising API
Jura ENA 8 Review
The Jura ENA 8 is one of the best super-automatic espresso machines within its price bracket. It uses many leading-edge features and technologies from the company without the cost am arm and a leg!
Coffee Flavour
Built-in Grinder
As I mentioned up top, the Jura ENA 8 is armed with an Aroma G3 grinder – a stainless steel conical burr grinder. Compared to its older siblings and standard grinders, it's faster, less noisy, and ensures consistent particle size. This means you can whip up a rich, full-bodied espresso in a flash without breaking the tranquility.
With seven grind settings, it didn't quite meet my expectations considering the price. For comparison, it's about the same price as the Gaggia Babila, which offers a whopping 15 settings. But it's worth noting that numerous more expensive Jura models I've tested, including those with over $3,000 tags, come with only six settings. So, it does earn some brownie points for that. Just remember to only make changes when the grinder is running.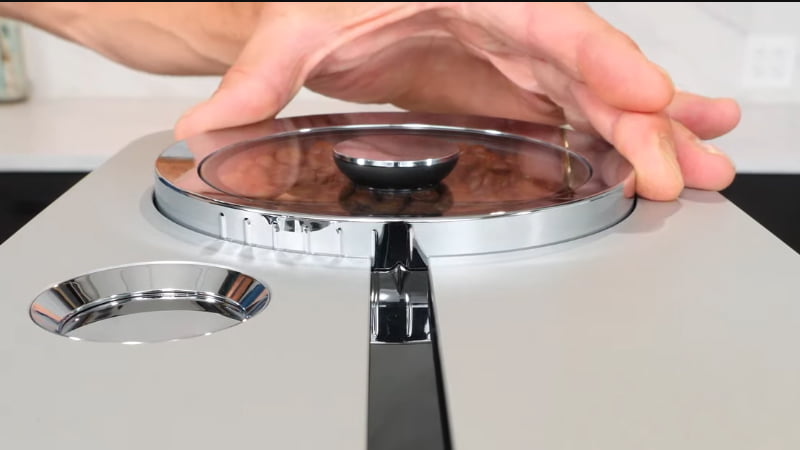 Heating System
The Jura ENA 8 has a single thermoblock heating system, which means it can't simultaneously brew espresso and steam milk like models equipped with dual boilers can. Instead, it handles these processes one at a time, and there is a brief delay for the water to be heated up to the optimal temperature.
The good news is that it doesn't make you wait until the cow comes home for your favorite drink. In fact, it takes just over 10 seconds to heat the water to the right temperature for brewing espresso (195-205°F) or steaming milk (150-160°F). It's almost like magic, isn't it?
Instead of heating a large batch of water like conventional boilers, the thermoblock boiler only heats a sufficient amount of water for each process. There is a double benefit: swift transition times between processes and reduced power consumption. It's a smart and efficient solution that's anything but magic! However, in a bustling coffee house or mini bar where demand is high and speed is crucial, a dual boiler machine like the Giga 6 would still be the preferred choice.
Brewing System
After the grinder has done its job well, the coffee grounds are sent to a chamber, where the pre-infusion process happens. This step was performed by the Intelligent Pre-Brew Aroma System (or I.P.B.A.S.), which involves moistening the coffee grounds with an appropriate amount of hot water so that they bloom for optimal extraction.
Then the system pulses heated water through the coffee ground in short bursts instead of at a steady pressure – This is called the Pulse Extraction Process (or P.E.P. for short). This is Jura's brainchild, touted as the secret to giving the coffee a strong finish, typically Italian. For me, everything is simply espresso with a potent aroma and thick topping of crema, an essential part of any coffee purist's morning routine.
Milk Frothing System
The Jura ENA 8 features an automatic milk frothing system, sparing you from buying a stand-alone milk foamer that is not really efficient and hard to clean. With this bad boy, you can forget about needing barista-level expertise to brew up drinks with milky froth – just press a button and let the magic happen.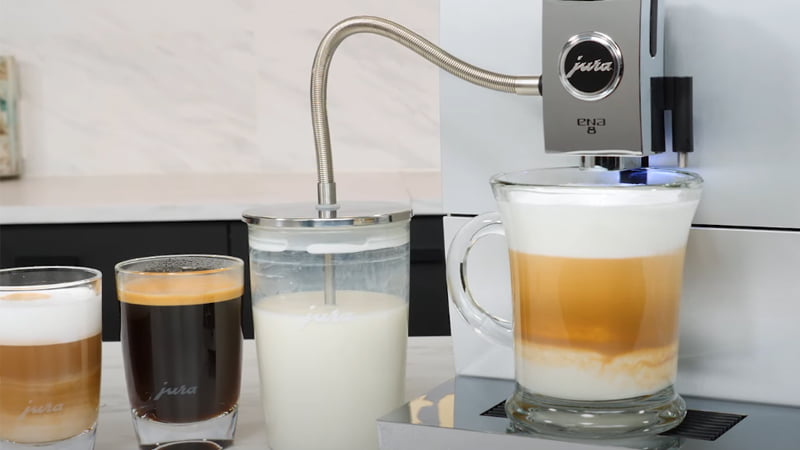 My only quibble is the lack of a milk pitcher, which led me to buy a separate glass container (another option is a fancy cool control that keeps the milk nicely chilled at 4 °C). Given the pretty salty price Jura's asking for this machine, having a milk holder included doesn't seem like too much to ask, right? You can also just insert the milk hose directly into a container, a glass, or anything that can hold your milk, as long as you're fine with the fact that it might throw off the machine's swish aesthetics.
I found it produced airy, consistent foam, which is my thing, all thanks to the fine foam technology. However, I couldn't find a way to adjust the foam texture, and the only tweakable thing seemed to be the milk duration, measured in seconds, not oz or ml. That said, whether my heart was set on a cappuccino, a flat white, or a latte macchiato, the milk foam remained the same.
For a latté macchiato, I was able to adjust the interval, giving the foam a moment to settle before the espresso got extracted on top. The result was a stunningly layered drink in a glass that I absolutely adored.
Design & Usability
Dimensions, Footprint, & Weight
The Jura ENA 8 is a stunning machine with a sleek, elegant, and modern look. Its transparent water reservoir might remind you of posh crystal carafes. But don't get bamboozled by its ritzy appearance – it's made from plastic, not crystal.
It comes in a trio of snazzy colors: Metropolitan Black, Massive Aluminum, and Sunset Red. As per usual, Jura likes to spice things up with quirky names for their product colors and technologies. There's a minor price difference among the color choices, and to be clear, it won't impact how the machine works.
I love its limited dimensions since not everyone is blessed with a roomy kitchen that can accommodate a gargantuan espresso machine. This one is on the smaller end of the size spectrum, and I'm pretty sure it won't look like a towering hulk on your countertop.
Pre-programmed Coffee Options
Anyone who's shelling out on a super-automatic espresso machine surely cares about the pre-set beverage choices it offers. The Jura Ena 8 offers 10 one-touch drinks, including my go-tos: espresso and cappuccino. While many might mock Jura for classifying hot water as a specialty, I see it as a worthwhile add-on. Whether you want to steep some tea, make hot chocolate, or prepare a bowl of ramen, the hot water function has you covered.
Much like your cherished barista, who crafts a drink to your exacting description, the Jura ENA 8 gives you generous control over each beverage. Specifically, it allows for adjusting grind size (7 levels), brewing temperature (3 levels), coffee strength (10 levels), coffee Volume (varies with the drink), milk foam amount (3-120 sec), and the interval time (0–60 sec, only for latte macchiato). So, go ahead, play around, and experiment until you find your own custom-made blend.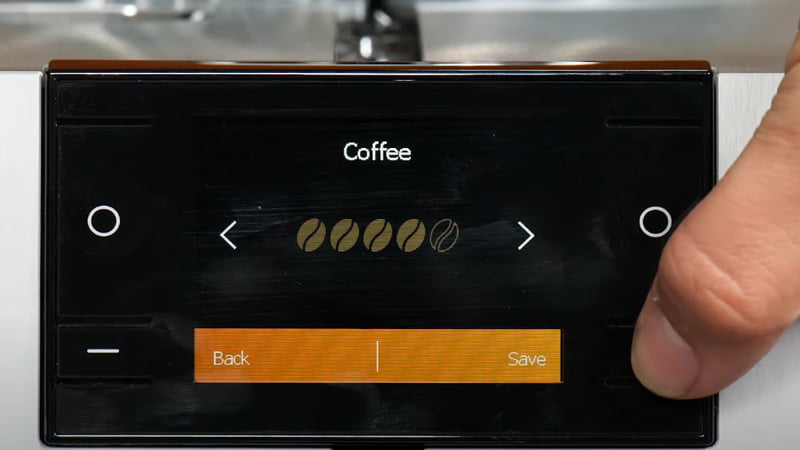 The ENA 8 also features a bypass chute that allows for using ground coffee to make decaf. This feature is especially helpful if there's a dedicated decaf drinker in your family while you or another member relies on the caffeinated stuff to power through the day.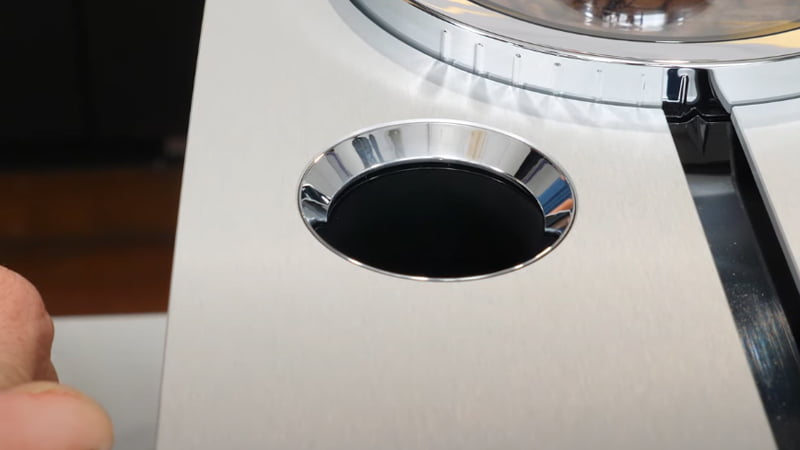 Spout & Cup Clearance
The Jura Ena 8's dispensing spout assembly is easily lifted (up to 5 inches) to fit a large glass when preparing a latte macchiato or moved down to preserve the rich, luxurious crema when brewing espresso. However, it is a single spout, which implies that it can't brew two cups of espresso at the same time.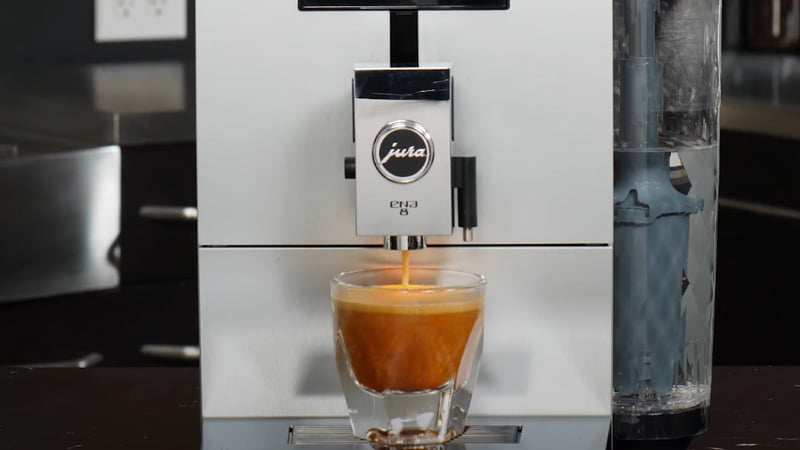 There's a little light bulb fixed to the spout assembly that illuminates and changes hue based on your chosen drink: Vibrant amber for coffee drinks and fresh white for milk-based beverages.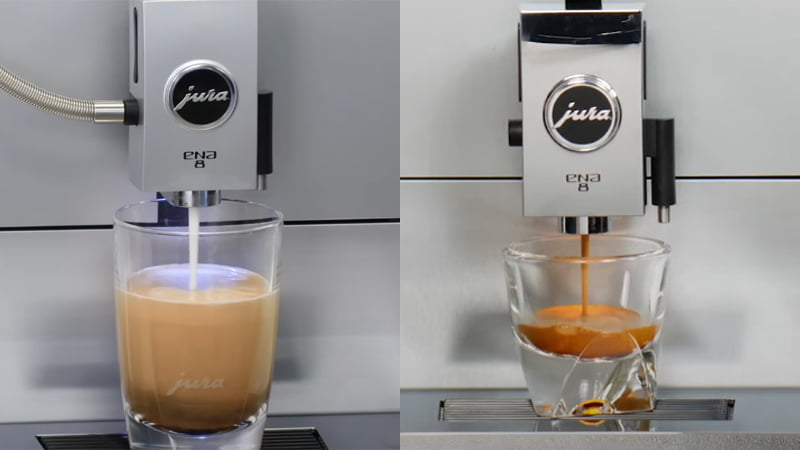 Water Reservoir & Bean Hopper
The Jura E8's cylindrical water reservoir can hold up to 1.9 liters of water, enough to keep you caffeinated with 5-6 espresso cups before it begs for a refill. It can also house a CLEaryL Smart filter cartridge to remove minerals from water.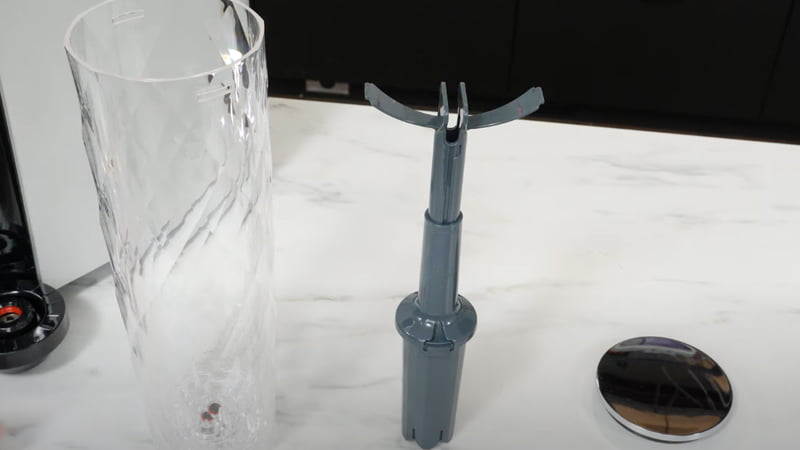 You can opt to use a filter or not, but unless you're utilizing distilled water, I'd highly recommend it to ensure every new brewing cycle is kick-started with filtered water, thereby minimizing the need for descaling. To make things even easier, this model is equipped with an Intelligent Water System (or I.W.S.), which communicates with the filter using RFID technology. That way, the machine automatically knows when a filter is in place and will give you a nudge when it's time for a new one.
The Jura Ena 8's 0.13-iter bean hopper can hold up to 125 grams of coffee beans. Should you find yourself not using all the beans within a single day, it's not an issue – the hopper comes with an airtight top lid designed to keep the coffee beans fresh and maintain their aromatic quality.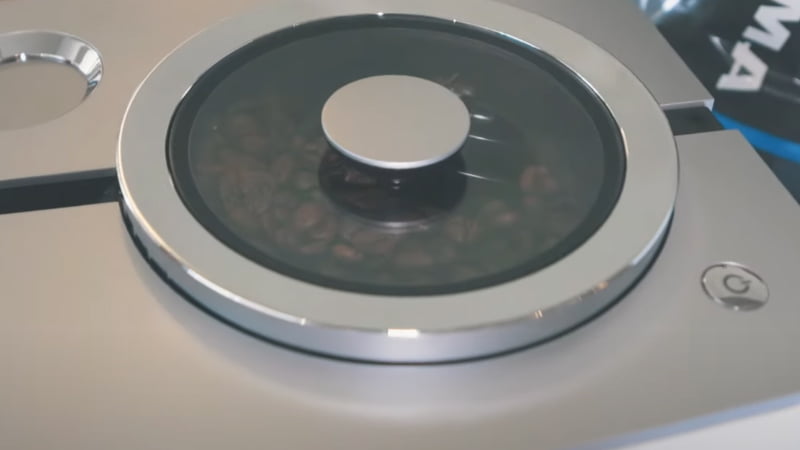 Cleaning & Maintenance
Like it or not, you'll still need to give your espresso machine a touch of care to keep it performing at peak levels. The good news is, taking care of the Jura ENA 8 is as easy as pie and considerably less daunting than maintaining a manual espresso machine – it's virtually all automated.
The Jura ENA 8 will remind you when to descale it or clean the milk system and give you step-by-step instructions via the screen. As for descaling the machine, just drops a Jura's descaling tablet into the bypass dose chute and initiate the descaling program through the user interface. Personally, I advocate for the use of a filter to cut down on the frequency of descaling. It's indeed a smart investment to preserve the great taste of your espresso for the years ahead.
Taking care of the milk system is straightforward and also automated. You'll require a Jura's milk system cleaner and a dual-chamber container to carry out this task. I suggest running a cleaning cycle after every use or, at the very least, once daily.
Also, some other tasks need to be done daily for the best, such as emptying the dreg chamber and drip tray, refilling the water tank, and wiping down the machine's exterior. Just bestow a little love and care on your machine, and it will grace you with exquisite espresso cups for years to come.
Utilities & Other Features
Remote Control
Yes, there is no exaggeration here. The Jura ENA 8 truly offers remote control capabilities through the JURA Operating Experience (J.O.E.) app. This means you can select your preferred beverage, customize it to your liking, and commence brewing, all from anywhere in your home. What's more, it can be synced with your Apple iWatch, allowing you to conjure up your favorite drink with a simple tap of your wrist. But you must buy a Smart Connect transmitter separately to enjoy this convenience.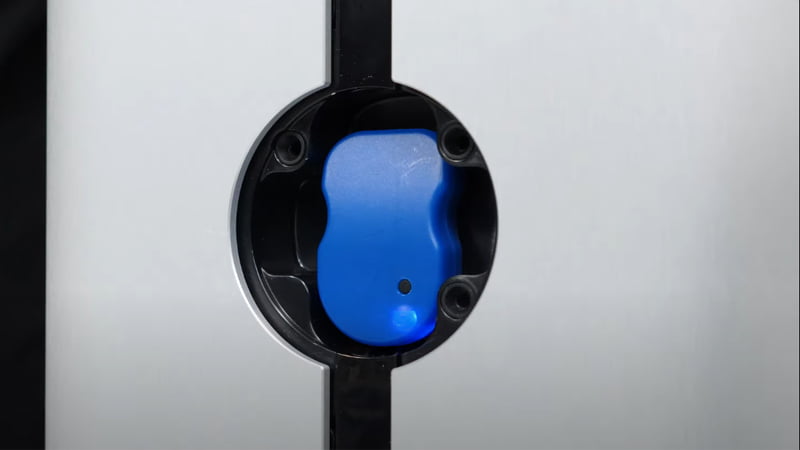 Artificial Intelligence
This one also has an intelligent algorithm that keeps track of your drinking habits and keeps your favorites displayed on the start screen. This makes preparing your go-to drink in the morning daily even more convenient and swift.
FAQs
1. What Types of Coffee Beverages Can the Jura ENA 8 Make?
The Jura ENA 8 can make a variety of coffee beverages, including ristretto, espresso, coffee, espresso doppio, macchiato, cappuccino, flat white, latte macchiato, a portion of milk foam, and hot water.
2. Is the Jura ENA 8 Energy Efficient?
Yes, THIS ONE features an Energy Save Mode (or E.S.M.) and programmable switch-off time, enabling you to save energy without sacrificing convenience and performance.
3. Can I use any type of coffee beans with the Jura ENA 8?
Yes, but it's recommended to avoid darker roasts since they can lead to more coffee oil, which could clog the machine over time.
4. What Should I Do if My Jura ENA 8 Is Not Frothing Milk Properly?
If your machine isn't frothing milk properly, it could be due to a few reasons, such as a blocked milk spout or the milk being too cold. Be sure to clean the milk system regularly and use fresh, cold milk for frothing.
5. Does the Jura ENA 8 Have a Cup Warming Tray?
No, it doesn't come with a cup warming tray, but you can pre-warm your cup by filling it with hot water before brewing.
Quick Rundown Of Jura ENA 8
Jura ENA 8 Metropolitan Black Automatic Coffee Machine
COMPACT ONE TOUCH: Prepare 10 barista quality specialties including espresso doppio, cappuccino, flat white and latte macchiato at the touch of a button
PERFECT ESPRESSO: Ultimate coffee quality thanks to JURA's exclusive Pulse Extraction Process
CONICAL BURR GRINDER: Fast and precise AromaG3 grinder grinds whole beans to the optimum fineness
ECO FRIENDLY: JURA is always freshly ground, not capsuled - fresh taste with very limited waste - single serve machine
CAPACITY: 37 ounce cylindrical-shape, easy-grip water tank, 4.4 ounce bean container, optional pre-ground chute
Last update on 2023-09-23 / Affiliate links / Images from Amazon Product Advertising API
Product Videos
Related Articles to Jura Ena 8
References: https://us.jura.com/en/homeproducts/machines/ENA-8-Metropolitan-Black-NA-15281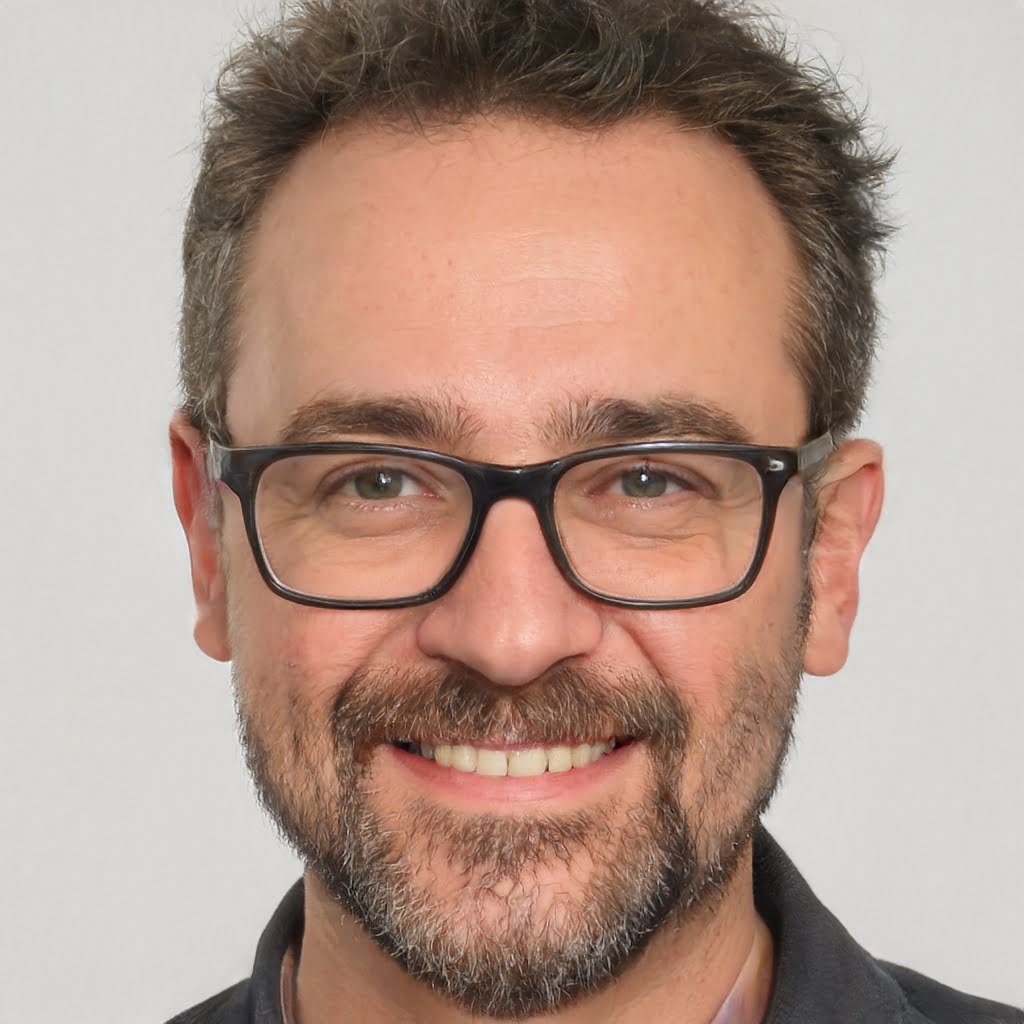 I'm Floyd J. Alcock, an experienced barista with a deep love for coffee. I curate personalized coffee experiences, guiding customers through diverse flavor profiles and suggesting ideal brewing methods. My extensive knowledge of espresso machines enables me to recommend the best equipment to match specific needs and budgets. Sharing my expertise and passion with coffee enthusiasts brings immense satisfaction. I look forward to continuing my journey of coffee discovery with every customer I serve, fostering connections over a shared love for this magical beverage.