Jura, no doubt, is a titan in the realm of espresso machines, providing top-tier models for all coffee enthusiasts worldwide. Whether you're a lone dweller seeking the perfect espresso cup or a bar owner looking for a high-capacity model, Jura has you covered. Today, I focus on a side-by-side analysis of Jura We6 and E6, both home-use favorites.
The Jura E6 is a great machine that takes all the stress out of brewing specialties at home and doesn't daunting novices with a myriad of perplexing features. While it does sit at the higher end of the pricing scale for home-use coffee machines, when you weigh in its ability to churn out a variety of dreamy coffees for a long time, it's worth every penny!
If you're a coffee purist and investing in an all-in-one machine is beyond your budget, you'll be fine with the Jura We6. This one doesn't come cheap, but it can justify this with a host of top-notch features and technology, and you need to do almost nothing to have delicious espressos.
Jura We6 Vs E6: Comparison Chart
Image
THE WINNER (#1)
THE RUNNER-UP (#2)
Dimensions
11.6 × 16.5  × 17.5 inches
Heating System
Single Thermoblock boiler
Single Thermoblock boiler
What I Like
Equipped with CLEARYL Pro Smart filter Intelligent Water System.
Remote control via J.O.E app.
Hands-free cleaning and descaling.
Has an automatic milk frothing system.
Pulse Extraction Process ensures maximum aroma.
Has a large water tank.
Minimize machine descaling with the CLEARYL Pro Smart filter.
Easy to use and maintain.
Can be controlled remotely.
The Aroma G3 grinder operates quickly and quietly.
THE WINNER (#1)
Image
Heating System
Single Thermoblock boiler
What I Like
Equipped with CLEARYL Pro Smart filter Intelligent Water System.
Remote control via J.O.E app.
Hands-free cleaning and descaling.
Has an automatic milk frothing system.
Pulse Extraction Process ensures maximum aroma.
THE RUNNER-UP (#2)
Image
Dimensions
11.6 × 16.5  × 17.5 inches
Heating System
Single Thermoblock boiler
What I Like
Has a large water tank.
Minimize machine descaling with the CLEARYL Pro Smart filter.
Easy to use and maintain.
Can be controlled remotely.
The Aroma G3 grinder operates quickly and quietly.
Last update on 2023-09-21 / Affiliate links / Images from Amazon Product Advertising API
Jura We6 Vs E6: Differences
The Jura E6 clinches a close win over the Jura We6 by a margin of 4-3. Continue reading to find out which one aligns best with your needs!
Coffee Flavour
Winner: Jura E6
Built-in Grinder
Both the Jura We6 vs E6 come equipped with an inbuilt Aroma G3 grinder, which is touted to improve aroma release by 12% compared to traditional grinders. Naturally, it's difficult to substantiate this claim objectively, so I will focus on sharing my personal insights garnered from the hands-on testing of these machines.
To kick things off, I found its operation to be quiet and seamless, comparable to the soft murmur of an ordinary conversation or light roadway noise. So with this level of quiet, you could make your morning espresso without causing a stir in your child's slumber. Moreover, the grinder is constructed from durable stainless steel and has a finely crafted grinding curve. That way, it enables a more refined grind, resulting in a much smoother espresso.
The number of grinding settings on a coffee machine is also an important factor since even the tiniest adjustment can change the coffee's taste – the rule of thumb is that the finer the grind, the stronger the coffee. Both have 6 grind settings, which might not provide much room for experimentation but are quite reasonable considering their price point, and I quickly found my sweet spot without breaking a sweat.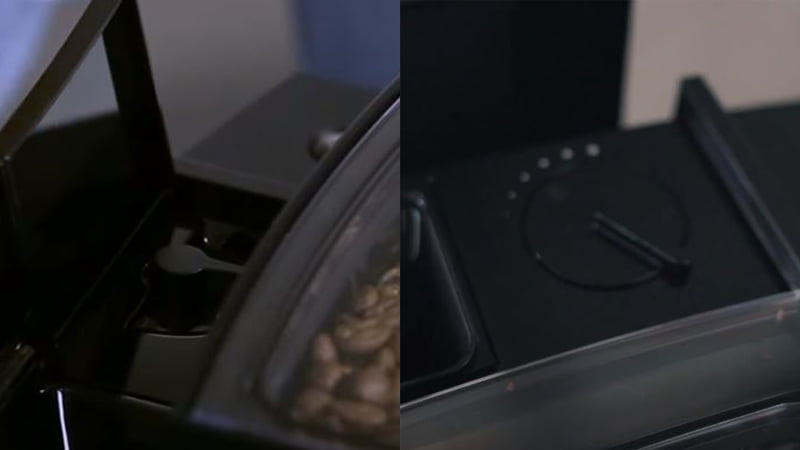 Heating System
Another shared feature between the Jura We6 vs E6 is a single Thermoblock heating system, implying that these machines can only handle brewing and milk steaming (or vice versa) sequentially, not concurrently. This could throw a wrench in the works for cafes, bars, or any place that needs to whip up large batches of specialties, including milk-based drinks, in the blink of an eye. For such cases, a model with a double boiler like the Jura Giga 6 would be the best bet.
However, I'd like to say that the delay between processes is in seconds, thanks to Thermoblock technology. Unlike conventional boilers that heat a large volume of water, the Thermoblock boiler only heats the water on demand. As such, it attains the needed temperature far quicker than its traditional counterparts, allowing you to transition from brewing to milk-steaming almost instantly. The technology is touted to cut down the waiting time to just 10 seconds, but my findings suggested a marginally longer downtime of around 14 seconds. Still, this difference is insignificant.
In addition, the Thermoblock boiler has a long list of other advantages, such as being more energy-efficient than traditional boilers (as it only heats the water necessary for the task at hand) and mitigating the risk of limescale accumulation (which reduces the maintenance burden).
Brewing System
Both machines brewed espressos that got a hearty thumbs-up from me. Naturally, some fine-tuning might be needed to hit your sweet spot. I was delighted that they use the finest brewing system – the Pulse Extraction Process (P.E.P.). Coupled with the Intelligent Pre Brew Aroma System (IPBAS), they can whip up any beverage you'd fancy to kick-start your day. Yes, I know that you may be confused by these confusing terms, but they are much simpler than you think.
Let's talk about the Intelligent Prebrew Aroma System first. It essentially conducts a pre-extraction process that infuses coffee grounds with the ideal amount of hot water. This process prompts those grounds to blossom to their full flavor potential, thereby guaranteeing the most optimal extraction.
Once the coffee grounds have been pre-soaked, the Pulse Extraction Process kicks into gear, involving forcing hot water through the ground in quick pulses – this technology is claimed to ensure the maximum aroma of all specialties. I was truly impressed with the results, especially for briefly brewed coffee specialties like espresso.
As I mentioned earlier, you have the freedom to modify your favorite beverage options if the factory settings don't satisfy you. The Jura We6 allows tweaking each coffee specialty according to 8 strength levels, water volume (from 0.5 oz to 8.0 oz), and two brewing temperatures (normal and high). On the other hand, the Jura E6 also gives you the latitude to personalize coffee strength (10 levels), water level ( 0.5 – 2.5 oz), milk foam duration (3 – 120 sec), and brewing temperature (normal and high).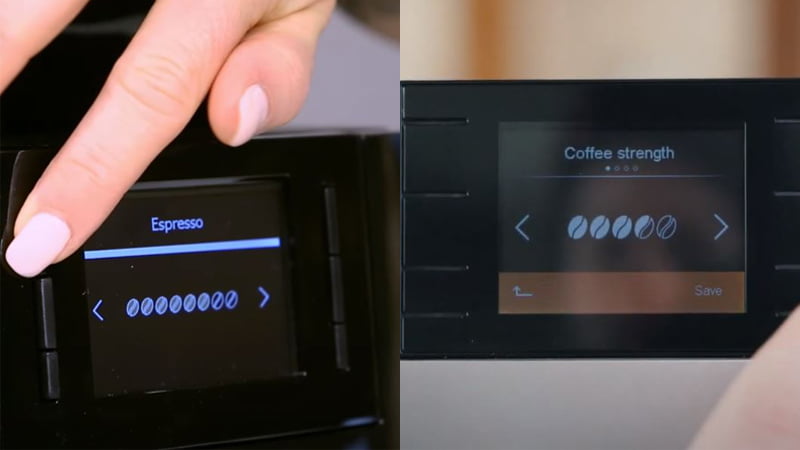 Milk Frothing System
The Jura We6 is intended for coffee purists only, as it does not have a milk frothing system and cannot create milk-based drinks itself. On the other hand, the Jura E6 features a milk frother that can steam milk automatically instead of being equipped with the traditional steam wand like the traditional models.
Better yet, the Jura E6 comes with HP1 professional fine foam technology, which can create delicate milk foam with very fine bubbles – ideal for flat whites and cappuccinos. It also allows for adjusting the texture of the milk foam, producing drinks that truly cater to my palate. Still, it doesn't offer hot milk to concoct other traditional milk-infused beverages, such as lattes. If you're after a model that facilitates easy interchangeability between hot milk and milk foam, the Jura J6 could be a worthy contender.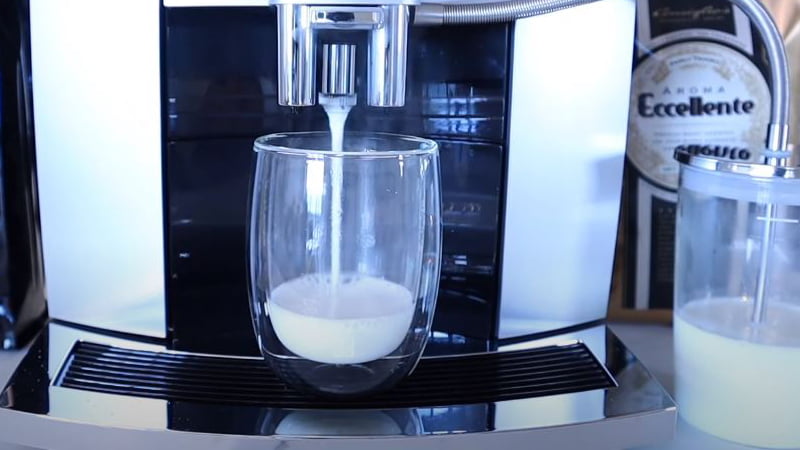 Nonetheless, I have a few grumbles with its milk-frothing system. Firstly, its frother initially produced a loud cloud, which was somewhat irksome for me. Also, like all the Jura modes I've tested, this one doesn't come with a milk jug. Of course, you can use a cup, a container, a basket, or whatever you have on hand, but I recommend purchasing a Jura glass carafe or a cool control to complement the machine's overall visual appeal.
Design & Usability
Winner: Tie
Dimensions, Footprint & Weight
| | Jura We6 | Jura E6 |
| --- | --- | --- |
| Dimensions | 11.6 × 16.5  × 17.5 inches | 11 × 13.8 × 17.6 inches |
| Weight | 22 pounds | 20 pounds |
Honestly, the appearance of an espresso machine doesn't impact its functionality, yet it's an important aspect that many individuals, including me, take into account. After all, it's quite satisfying to have an appliance that not only performs brilliantly but also pleases the eye, wouldn't you agree?
Luckily, the Jura We6 and E6 strike the perfect balance between form and function. These boys have a chic look that's at once modern and sleek. And augmented by a TFT display, they have a slightly futuristic feel without seeming too sci-fi. I personally reckon that either would add a dash of panache to any kitchen setting.
On the other hand, while these models aren't exactly compact, they're far from the most space-consuming I've encountered. Hence, finding an appropriate spot for either of these should be a breeze for anyone. It's pertinent to mention that they are pretty hefty, so you might need a helping hand to get them in place
Pre-Programmed Coffee Options
Jura We6
Jura E6
Ristretto
Espresso
Coffee
Hot water
2 × Ristretto
2 × Espresso
2 × Coffee
2 × Special coffee
Espresso
Coffee
Caffè Barista
Americano
Macchiato
Cappuccino
Cappuccino Extra Shot
Portion of milk foam
Hot water
2 × Espresso
2 × Coffee
The Jura We6, with its eight coffee-based preset drinks, is ideally suited for coffee loyalists who say no to the luxurious, creamy milk foam of cappuccinos. Meanwhile, the Jura E6 aims to appease both sides by adding some milk-based options. But don't expect it to serve your office well – in this case, you'll need something with a longer menu, such as the Jura Z10 with 32 specialty drinks.
Intriguingly and oddly, hot water is also listed as a specialty! Initially, I considered it a silly thing. But in hindsight, I appreciated its usefulness in preparing tea or diluting an espresso to get an americano.
Should the preset options not meet your expectations, you can fine-tune them to your liking by modifying settings such as coffee strength, brewing temperature, the quantity of milk foam, coffee volume, and more through an "expert" mode. As for the Jura E6, it would be better if it allowed for adjusting the milk temperature.
In addition to the "bean-to-cup" beverage options above, you can occasionally make decaf cups by adding pre-ground coffee to the bypass dose chute of the Jura E6. This feature serves as an emergency measure when your grocery store runs out of coffee beans and you need something to enjoy before you leave the house. The Jura We6 also has a bypass doser, but not for this purpose.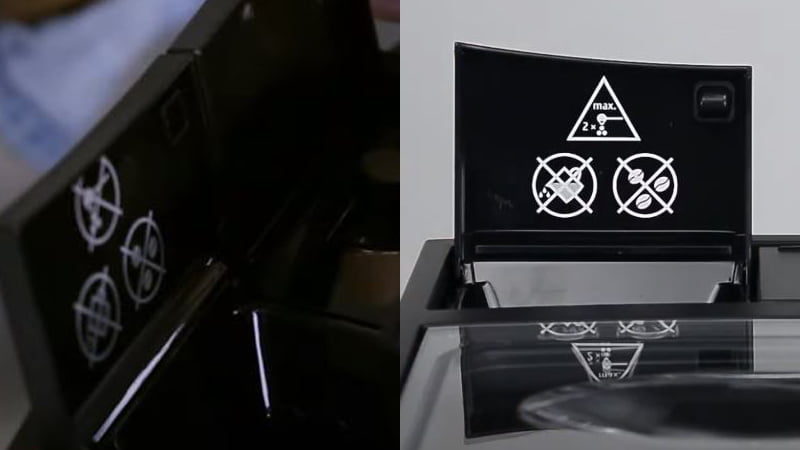 Spout & Cup Clearance
| | Jura We6 | Jura E6 |
| --- | --- | --- |
| Spout Type | Dual | Dual |
| Cup Clearance | 2.6–4.4 inches | 2.6–4.4  inches |
Both the Jura We6 vs E6 share a dual coffee spout that can be adjusted vertically. It wasn't compatible with some of my mammoth-size mugs, but that's not a big deal – just a matter of choosing the cup more carefully. These machines facilitate making two cups of some drinks simultaneously, which is ideal for couples or whenever you're entertaining your loved ones!
One design misstep I attribute to the Jura E6 is the shared nozzle for water and milk foam, necessitating frequent spout changes. This could be a nuisance for those who frequently switch between non-milk beverages and milk-based ones. In addition, this spout can potentially retain milk residue, which can cause allergies for those who are lactose intolerant.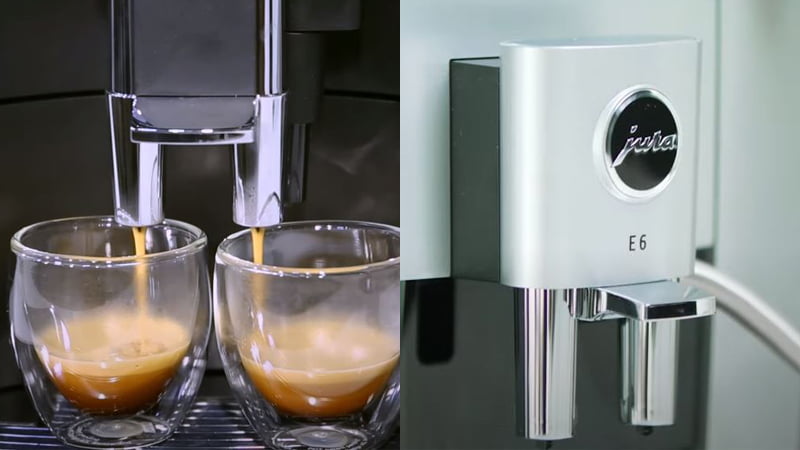 Water Reservoir & Bean Hopper
| | Jura We6 | Jura E6 |
| --- | --- | --- |
| Water Reservoir | 3 liter | 1.9 liter |
| Bean Hopper | 0.52 liter | 0.29 liter |
The Jura E6 features a 1.9-liter water tank, which I consider reasonable for home use. Meanwhile, with a 3-liter water reservoir, the Jura We6 can satisfy your caffeine craving for several days in a row without needing to be refilled. Still, I'm against leaving water there for days on end. After all, fresh water is always better, right?
Both are compatible with the CLEARYL Pro Smart filter to ensure high-quality inlet water for extraction. Better yet, they are also integrated with the Intelligent Water System (I.W.S.), which can automatically detect the presence of a filter (via RFID technology), activate the filter mode, and notify each time the filter needs to be changed. That means there are very few manual steps you need to take.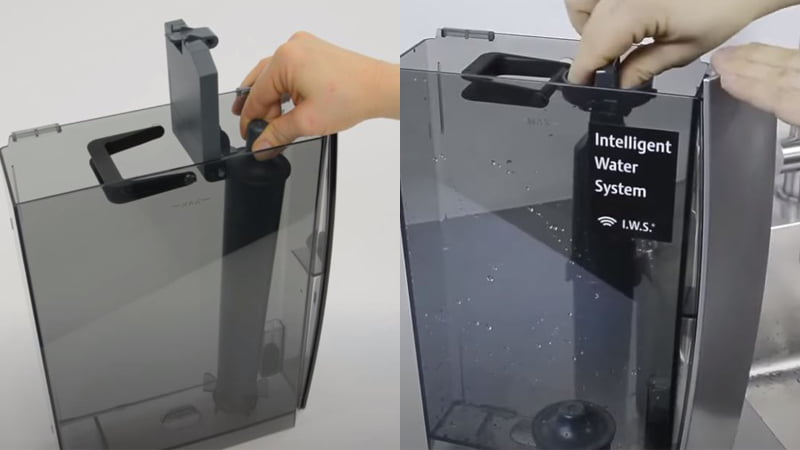 My only gripe is that these machines don't have a water level indicator, meaning they can't alert when their tanks are about to run out of water. Instead, they will stop brewing and notify you when the tank is completely empty. But given their reservoirs are transparent plastic, you can easily ascertain the present water level at a single glance.
The Jura E6 has a 0.29-liter hopper that can hold up to 280 g of coffee beans, while the Jura We6's 0.52-liter hopper can house 500 g. Their lids have airtight seals, so you can rest assured that your delicious coffee beans can stay there for a long period of time without going bad.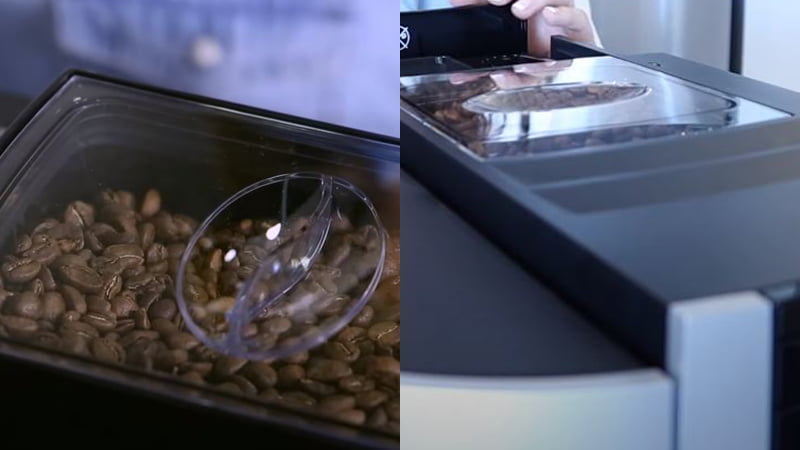 Cleaning & Maintenance
Winner: Tie
Cleaning and maintaining the Jura We6 vs E6 is also a pain-free task. But because the former doesn't have a milk frother so things are a little quicker and easier.
It is best to empty the water tank and clean it at the end of each day. The drip tray and dregs basket should be emptied and rinsed daily as well. The same goes for the Jura R6's milk frother and pipe (which are dishwasher safe).
Periodic descaling of the machine is essential to keep the machine running at peak performance and preserve the flavor of the espresso. The digital screen will alert you to know when the descaling process should occur and walk you through the process – of course, you can do it at any time. All you need to do is put a cleaning tablet into the bypass chute, and the machine will take care of the rest.
As previously stated, using a filter will decrease the frequency of descaling the machine. However, this results in a recurring cost substantial enough to make many individuals think twice. If you ask me, I highly recommend it if your water has a hardness greater than 10.
Cleaning the Jura E6's milk system should also be performed after each use. The process is also almost fully automated, and you just need to do some simple setup. I will let you Google this part!
Utilities & Other Features
Winner: Tie
User Interfaces
Both the Jura We6 vs E6 are equipped with a useful TFT display. It's not a touchscreen, meaning you'll need to press buttons to select your beverage and make necessary adjustments. The display showcases options graphically with eye-catching icons, alerts you when there's a matter needing attention, and provides detailed guidance for problem-solving.
Via the display, you can also enable Energy Save Mode (E.S.M.) to cut down on power consumption – a move that Mother Nature and your wallet will appreciate. Additionally, you can schedule when the machine automatically powers down with the "Automatic switch-off" feature.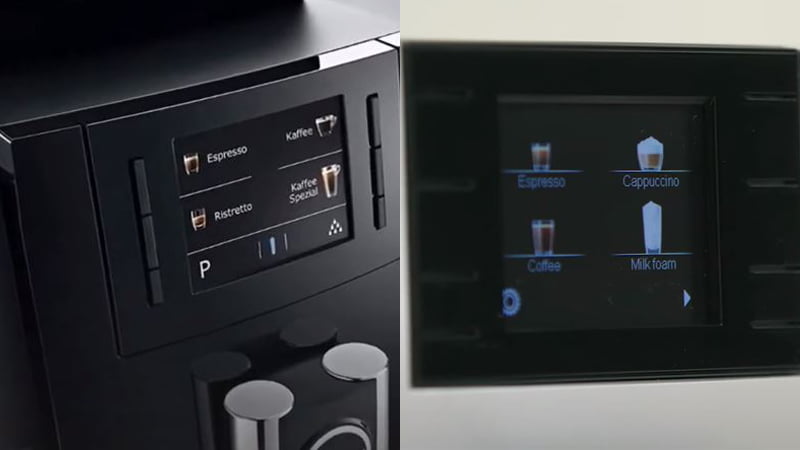 App Connectivity
These machines can be controlled remotely through the Jura Operating Experience (or J.O.E.) app. Putting aside Jura's playful and somewhat exaggerated puns for a moment, I must concede that this feature is extremely practical. It allowed me to choose my favorite coffees, tweak settings, and save personal preferences without needing to be physically present at the front of the machine.
Besides, it can be paired with my iWatch, allowing me to trigger the brewing process with a simple touch of my wrist. In addition, by setting up Siri shortcuts for your favorite coffee creations, you can kick-start the process of crafting your beverage with a command – a neat trick to awe your friends.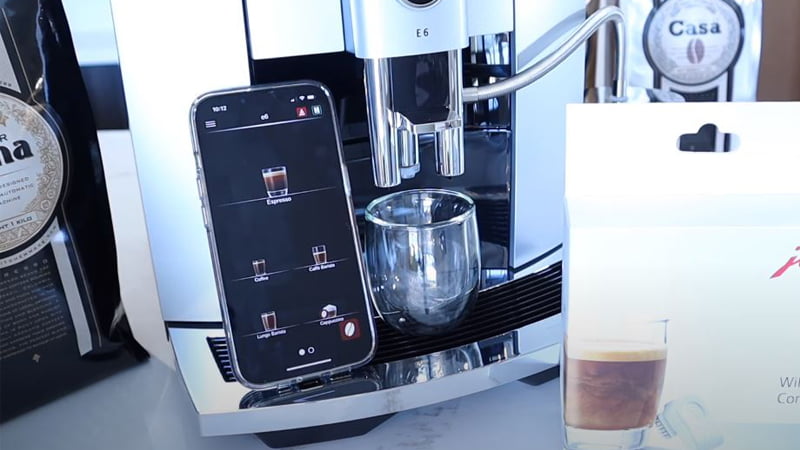 Quick Rundown Of Jura E6
Jura E6 Automatic Coffee Center,1892.71 liters, Platinum
Makes 6 specialty drinks including: cappuccino, Coffee, two coffees, Espresso, two Espresso, milk foam
Controls make it easy to find, customize and brew your favorite drinks
Pulse extraction process brews Coffee with a full, rich bouquet and delicious flavor
Eight Coffee strength levels allow you to fine tune each drink
Fast, quiet G3 grinder creates 60 percent less Leftover ground Coffee
Last update on 2023-09-21 / Affiliate links / Images from Amazon Product Advertising API
Quick Rundown Of Jura We6
Last update on 2023-09-21 / Affiliate links / Images from Amazon Product Advertising API
Product Videos
Related Articles to Jura E6
Related Articles to Jura We6
References: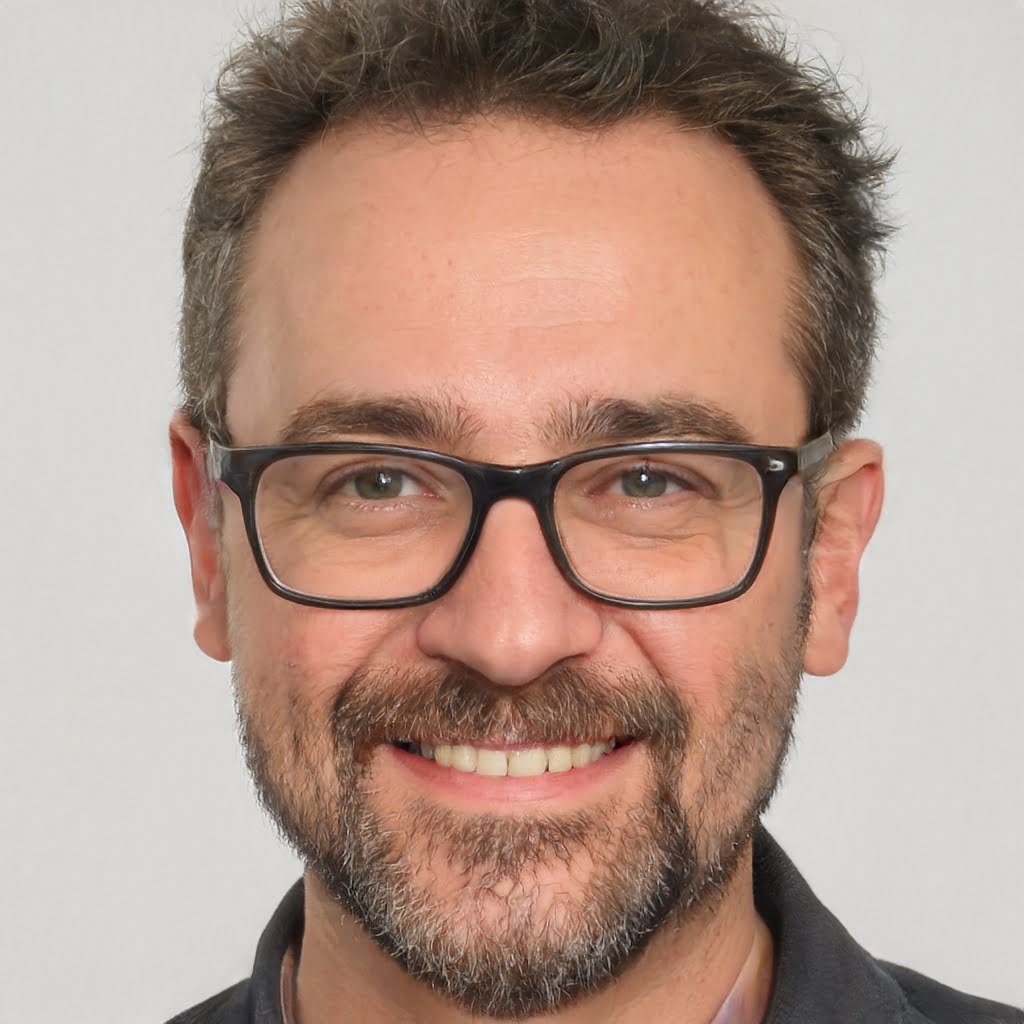 I'm Floyd J. Alcock, an experienced barista with a deep love for coffee. I curate personalized coffee experiences, guiding customers through diverse flavor profiles and suggesting ideal brewing methods. My extensive knowledge of espresso machines enables me to recommend the best equipment to match specific needs and budgets. Sharing my expertise and passion with coffee enthusiasts brings immense satisfaction. I look forward to continuing my journey of coffee discovery with every customer I serve, fostering connections over a shared love for this magical beverage.