The days when your morning was incomplete without a visit to your cherished coffee shop for a professionally brewed espresso are long past. Today, with the marvels of cutting-edge technology, specifically the super-automatic machines from Jura like the Jura Z6 vs Giga 6, you can craft the perfect, full-bodied cup of coffee right in the comfort of your own kitchen. While they might not serve up visually enticing latte art, it's a minor price when weighed against the joy of crafting your exquisite cup of coffee.
The Jura Giga 6 is ideal for those who relish a great cup of coffee but shy away from complex operations since most of the processes are virtually automated. This one is among the most intelligent and user-friendly super-automatic machines available in the market today. However, with its long list of pre-programmed drinks, large water tank, double bean hopper, and double boiler, the Giga 6 demands plenty of use to take full advantage of all it offers. Also, its over-four-grand price tag may seem extravagant to many.
On the other hand, the Jura Z6 emerges as an excellent choice for home coffee enthusiasts, primarily due to its more compact water tank, single boiler system, and wallet-friendly price tag. But don't be misled by its unattractive appearance – it features many of the punches of the brand!
Jura Z6 Vs Giga 6: Comparison Chart
Image
THE WINNER (#1)
THE RUNNER-UP (#2)
Dimensions
12.6 x 18.9 x 16.3 inches
12.6 x 17.7 x 14.8 inches
Heating System
Single Thermoblock boiler
Interface
Non-touch Color TFT Display
Built-in Grinder
Two Ceramic Flat Burr Grinders
Aroma G3 Ceramic Conical Burr
What I Like
A double boiler for brewing and steaming at one.
A long list of specialty coffees.
Two bean hoppers allow to use two types of coffee beans.
AI learns and remembers the user's drinking habits.
The IPBAS and PEP technologies are big bonuses.
The Aroma G3 produces 12.2% more aroma than conventional.
Can connect to a smartphone.
The auto-frothing system is beginner-friendly.
Easy to use and maintain
AI displays the most popular drinks on the start screen.
THE WINNER (#1)
Image
Dimensions
12.6 x 18.9 x 16.3 inches
Built-in Grinder
Two Ceramic Flat Burr Grinders
What I Like
A double boiler for brewing and steaming at one.
A long list of specialty coffees.
Two bean hoppers allow to use two types of coffee beans.
AI learns and remembers the user's drinking habits.
The IPBAS and PEP technologies are big bonuses.
THE RUNNER-UP (#2)
Image
Dimensions
12.6 x 17.7 x 14.8 inches
Heating System
Single Thermoblock boiler
Interface
Non-touch Color TFT Display
Built-in Grinder
Aroma G3 Ceramic Conical Burr
What I Like
The Aroma G3 produces 12.2% more aroma than conventional.
Can connect to a smartphone.
The auto-frothing system is beginner-friendly.
Easy to use and maintain
AI displays the most popular drinks on the start screen.
Last update on 2023-12-01 / Affiliate links / Images from Amazon Product Advertising API
Jura Z6 Vs Giga 6: Differences
The Giga 6 triumphs over the Jura Z6 with a score of 4-1, demonstrating that the former prevails in almost every respect!
Coffee Flavour
Winner: Jura Giga 6
Built-in Grinder
The taste and extraction of espresso are influenced by a multitude of factors, with the built-in grinder being a vital component among them.
The Jura Z6 is ahead of the game with a professional Aroma G3 conical grinder. To my mind, this one delivers superior results in achieving optimal fineness, all the while preserving the aroma of the coffee beans – a feat unattainable by the older-generation Aroma grinder and its counterparts. Jura's marketing boasts a 12.2% enhancement in aroma, but substantiating such a claim is fundamentally infeasible.
The Aroma G3 grinder has a fast grinding mechanism, resulting in a shorter waiting time while keeping noise levels to a minimum. But perhaps its greatest triumph is its answer to a common Achilles heel of flat grinders – it avoids overheating during the grind, a problem that can burn the coffee powder and taint the taste of the ensuing espresso.
Contrastingly, the Jura Giga 6 is outfitted with a duo of electronically adjustable flat-burr grinders. They are constructed from ceramic, ensuring they avert overheating and thus giving them an upper hand over their stainless steel disc counterparts. This grinder's noise level is notably subdued (about 68 dB), but it doesn't quite reach the whisper-quiet operation of the Aroma G3 grinder.
Regarding the grind settings, the Jura Z6 offers six levels. For such a super-automatic machine, I initially expected to get more grind settings to have more control over the resulting coffee powder's fineness and coarseness.
On the other hand, each grinder of the Giga 6 features five distinct grind settings, and you can adjust them via its touch screen instead of turning a knob like with the Jura Z6. In addition, it also allows for programming specific mixes from the left and right bean hoppers in increments of 25%, 100% left, 75% left – 25% right, 50-50, 25% left – 75% right, and 100% right (the default setting is 50-50).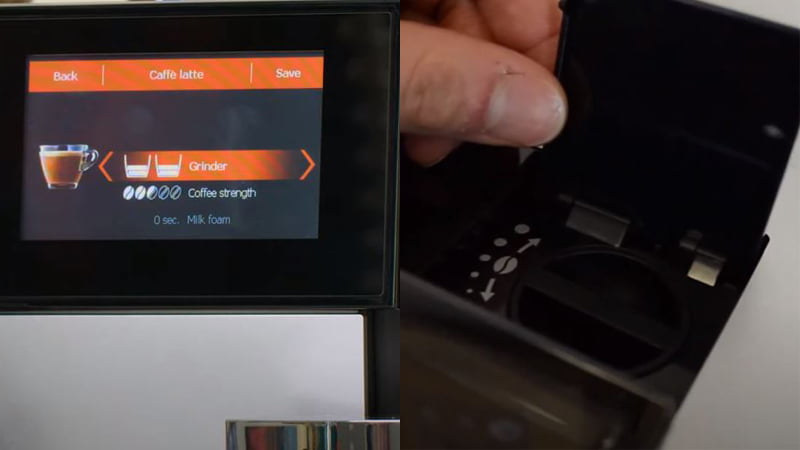 Heating System
The Jura Z6 is equipped with a solitary thermoblock boiler, whereas its counterpart, the Giga 6, boasts a dual thermoblock boiler system. This difference facilitates simultaneous brewing and steaming in the Giga 6. And bolstered by its twin pump and double spout setup, it can produce two milk-based beverages concurrently. This ability is a boon, particularly for fast-paced catering environments, like coffee houses or bars, where swiftly preparing sizable batches of beverages is essential.
On the flip side, the Jura Z6 basically necessitates the completion of either brewing or steaming before initiating the other. In addition, there is a pause between these two processes, allowing the machine to reach the appropriate temperature for the second process. Fortunately, this one is equipped with thermoblock technology, which shortens the downtime by heating only the necessary quantity of water on demand – this is in stark contrast to traditional boilers that heat large volumes of water irrespective of the actual requirement.
Thus, the waiting time to steam milk following the completion of the brewing process was hardly noticeable (approximately 14 seconds). Nevertheless, I'd still earmark the Jura Z6 for home use, where the requirement for milk-based beverages is typically limited to one or two servings per day.
Brewing System
In my testing, both the Jura Z6 and Giga 6 crafted balanced and delightful espressos, making it a challenging task to crown a winner. The secret seems to lie in the harmonious collaboration of the Intelligent Pre-Brew Aroma System (IPBAS) and the Pulse Extraction Process (P.E.P.) – hallmarks of most Jura super-automatic machines. But don't let these scientific terms put you to sleep, allow me to demystify them for you:
The Intelligent Pre-Brew Aroma System essentially pre-infuses the ground coffee with a small quantity of heated water. This pre-brewing stage aims to coax out the maximum flavor from the coffee powders, preparing them for an optimal flavor extraction process.
Once the coffee grounds have been moistened through the pre-brewing process, the Pulse Extraction Process takes charge by dispensing small increments of heated water over the grounds in rapid intervals. Ultimately, you will have perfectly balanced and delightfully flavorful espresso cups.
Milk Frothing System
Like most other processes, these models also automate frothing milk. Yes, instead of being integrated with a frothing wand like more traditional machines, both use an auto-frothing system, allowing you to make delicious milk foam for your favorite drinks without being a barista. All required is to connect the milk frother and a milk container using a milk pipe and simply press a button.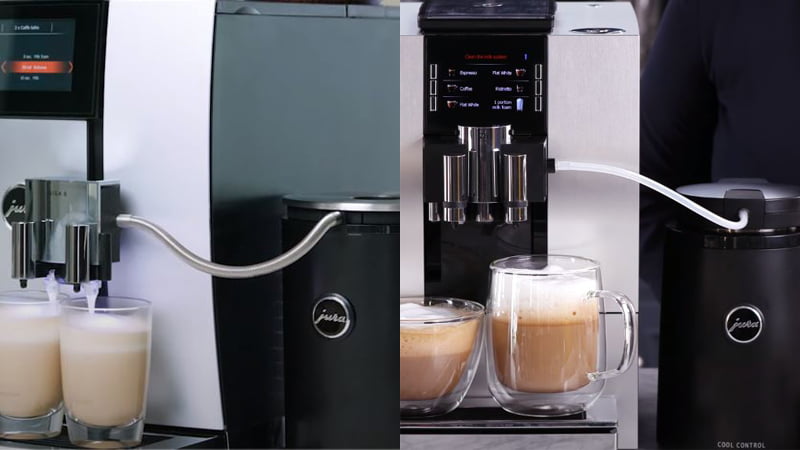 However, considering I've fed thousands of dollars of my hard-earned cash into these machines, the absence of a milk carafe provided by Jura left a sour taste in my mouth. So I had to buy one separately on Amazon. You can also make use of any milk-holding vessel you already have at your disposal, which can help save some bucks.
Leaving this con aside for now, I was glad that these machines provide an extensive array of options for adjusting and controlling the milk and milk foam, ensuring optimal results based on individual preferences. Specifically, they allow fine-tuning the amount of milk/milk foam in secs as well as changing the temperature of milk/milk foam to 10 different levels. Of course, you'll need to do a bit of trial and error to find the optimal formula.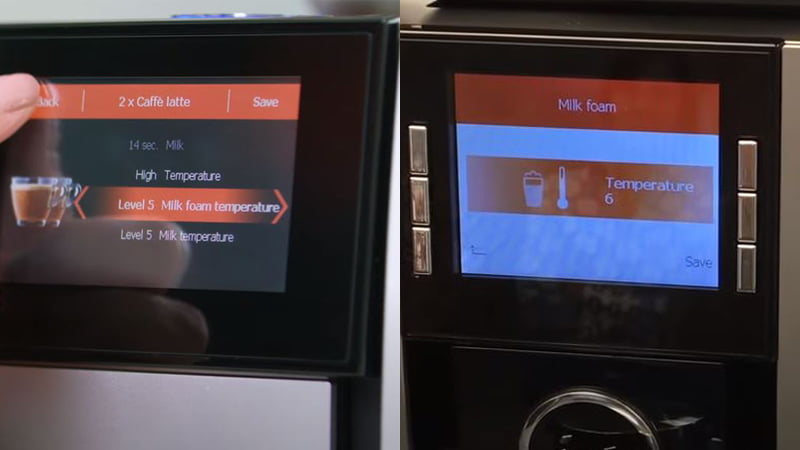 The auto-frothing system is obviously beginner-friendly since the machine takes care of most of the work. Of course, don't expect to get the same level of artistry in milk frothing that only baristas can with the help of a wand-equipped model.
Design & Usability
Winner: Jura Giga 6
Dimensions, Footprint, & Weight
| | Jura Z6 | Jura Giga 6 |
| --- | --- | --- |
| Dimensions | 12.6 x 14.8 x 17.7 inches | 12.6 × 16.3 × 19.6 inches |
| Weight | 25.4 lbs | 39.7 lbs |
Aesthetically speaking, both the Jura Z6 vs Giga 6 don't boast the visually dramatic, artful design often associated with super-automatic espresso machines. It's as if the masterminds at Jura channeled their ingenuity primarily into crafting machines that prioritize function and convenience over simply serving as another piece of eye candy on your countertop.
Oh, don't mistake my words for implying that these machines lack visual appeal! Both still look great with their gleaming aluminum finishes, which add a touch of modern sophistication to any kitchen. There has been some debate regarding the durability of machines encased in aluminum. Yes, it's true that they may not rival the longevity of their steel counterparts. But given proper care, these aluminum-clad beasts can consistently deliver excellent cups of coffee for many years to come. The Jura Giga 6 looks quite similar to the Giga 5, except for the addition of a touchscreen.
The Giga 6 is a mammoth-sized machine that will take up a lot of counter space. So this one doesn't seem like the right choice for those with small to medium-sized kitchens since it could potentially crowd their countertop, leaving less room for other kitchen items. Meanwhile, the Jura Z6 is significantly lighter and more compact, although it is still considered a touch larger than many other domestic coffee machines.
Pre-Programmed Coffee Options
Jura Z6
Jura Giga 6
Espresso
Coffee
Cappuccino
Ristretto
Latte macchiato
Flat white
Espresso
Macchiato
Portion of milk foam
Milk
Hot water
2×Ristretto
2×Espresso
2×Coffee
Espresso
Coffee
Caffè Barista
Americano
Espresso doppio
Jug of coffee
Cortado
Macchiato
Caffè latte
Cappuccino
Flat white
Latte macchiato
Portion of milk foam
Portion of milk
Hot water
Hot water for green tea
2 × Espresso
2 × Coffee
2 × Caffè Barista
2 × Americano
2 × Cortado
2 × Macchiato
2 × Cappuccino
2 × Flat white
2 × Latte macchiato
2 × Portion of milk foam
2 × Portion of milk
My personal favorites have always been the timeless trio of coffee, espresso, and cappuccino—beverages that most super-automatic machines, including the Jura Z6 and Giga 6, excel at preparing. If your preferences align with mine and you're scouting for a coffee machine suitable for home use, rest assured that both can satiate the coffee cravings of your entire family. Their long, one-touch drink lists are also ideal for settings like a workspace break room, a boutique coffee shop, or a bar, where they can cater to a diverse range of tastes.
In addition, these "bean-to-cup" machines also allow you to intervene more deeply in each preset drink with 10 levels of coffee strength, 10 levels of milk temperature, 3 levels of brewing temperature, and 3 levels of water temperature. This basically allows you to make an infinite array of personalized drink permutations. Better yet, once you've created recipes you consider perfect, these machines allow you to save those settings so that they are ready to be summoned at the simple push of a button in the future.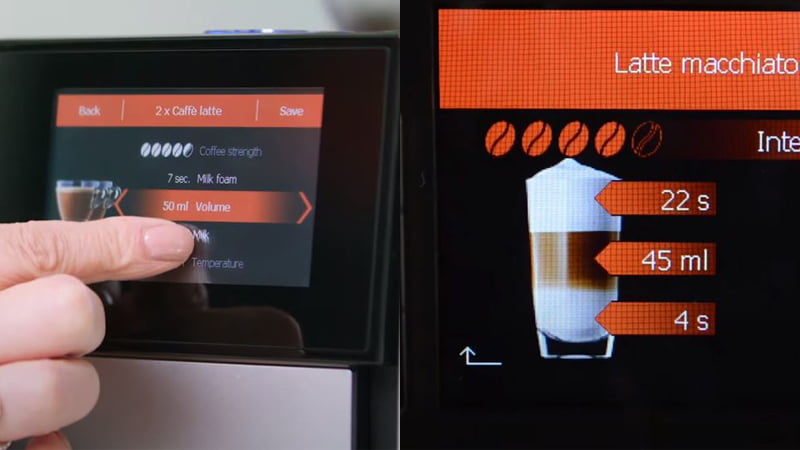 Also, if your local grocery store no longer has whole-grain coffee and you're craving some caffeinated beverages, you can also use pre-ground coffee with these machines thanks to the bypass grinder chute. This feature allows easy swapping between caffeinated and decaffeinated brews, which blesses decaf lovers.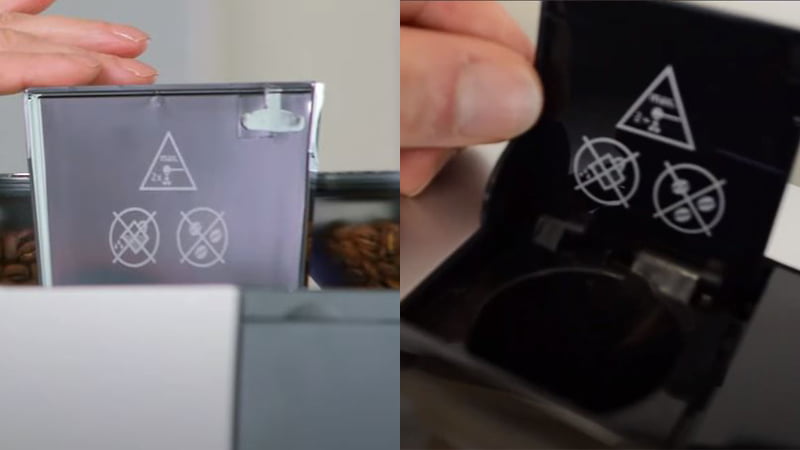 Spout & Cup Clearance
| | Jura Z6 | Jura Giga 6 |
| --- | --- | --- |
| Spout Type | Dual | Dual |
| Cup Clearance | 3.2 – 6 inches | 2.7 – 6.2 inches |
Both the Jura Z6 vs Giga 6 are equipped with a dual butterfly-like coffee spout that can be adjusted vertically and horizontally. The Z6 theoretically accommodates a wider variety of cup sizes due to its more extensive vertical adjustability, although the difference is almost negligible.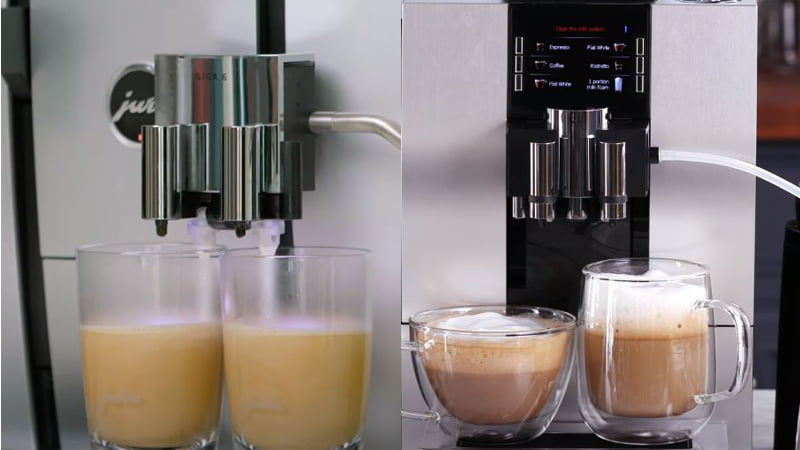 A shared feature between the Jura Z6 and Giga 6 that I find particularly appealing is the "cup illumination." This delightful touch not only adds a visual appeal and allows users to watch the enticing flow of their beverage into the cup underneath, but it is also beneficial to those late-night brews.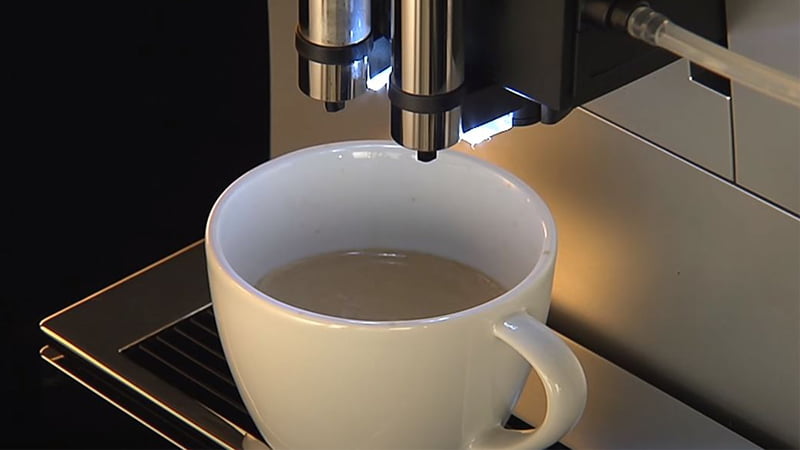 One thing that the Jura Giga 6 has over its rival is that it has a dual milk spout mounted in parallel with a double coffee spout, while the Z6 only has a single milk spout. This gives the former the capability to simultaneously brew two cups of milk-based beverages, such as cappuccinos or flat whites, making it a more efficient choice for those busy mornings or when multiple coffee lovers need to be served.
Water Reservoir & Bean Hopper
| | Jura Z6 | Jura Giga 6 |
| --- | --- | --- |
| Water Reservoir | 2.4 liter | 2.6 liter |
| Bean Hopper | 0.29 liter | 0.29 liter (x2) |
The Jura Z6 sports a 2.4-liter water reservoir, which is slightly smaller than the Giga 6's 2.6-liter tank. For home use, both of these reservoirs are typically more than sufficient and only need to be refilled at the end of the day. However, in a commercial setting, they might be considered a tad undersized, potentially requiring more frequent refills.
It's worth noting that the Jura Z6 is also equipped with "water tank illumination." Similar to the "cup illumination" function previously discussed, this useful addition aids in monitoring the current water level. This enables you to plan ahead and replenish the reservoir before it depletes completely, enabling the brewing process to never be interrupted.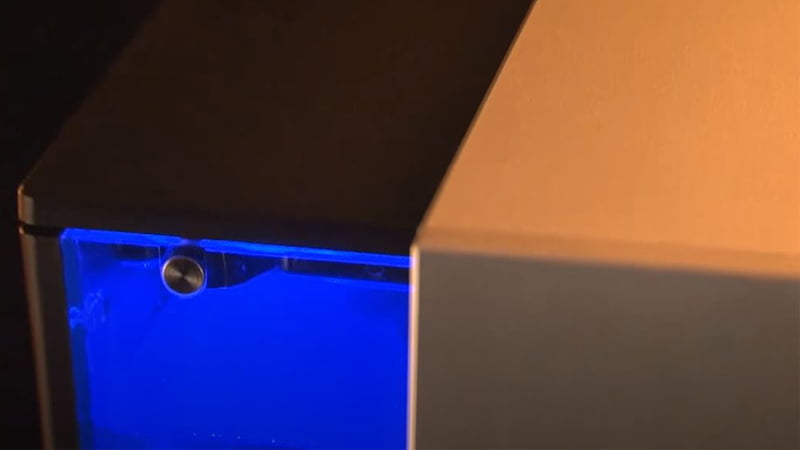 Regarding the bean hopper, the Jura Z6 features a single 0.29-liter hopper that can hold up to 280g of coffee beans. Meanwhile, the Jura Giga 6 is ahead of the game with a pair of 0.29-liter cone-shaped hoppers that facilitate accommodations up to 280g x 2 of one bean type or 280g of two different varieties of beans. What's even more exciting is that the Giga 6 allows you to combine two types of coffee beans with different ratios of fine and coarse grounds. This opens up a world of creativity and experimentation for espresso connoisseurs seeking to explore the artistry of coffee preparation.
It is a no-brainer that coffee beans will quickly go bad if exposed to the atmosphere through oxidation. Fortunately, these boys are equipped with airtight aroma preservation lids, which can keep the beans fresh and delicious for an extended period of time. Once their bean hopper (or water reservoir) runs out, their monitor will send you a timely alert.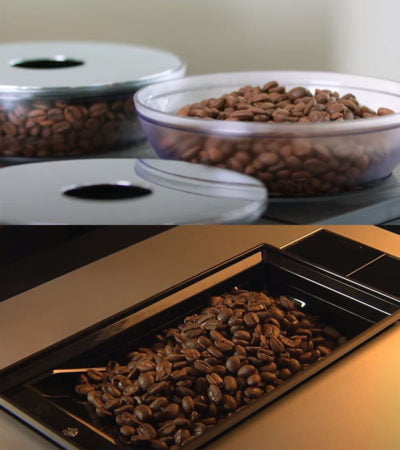 Cleaning & Maintenance
Winner: Tie
One of the benefits of owning a super-automatic coffee machine is that maintenance isn't daunting, as, once again, it automates nearly everything. The display will give an alert when something needs to be addressed, such as "clean machine," "clean the milk system," "decalcify machine," and more.
The whole process of descaling the machine and cleaning the milk system is almost hands-free. But you will need to prepare descaling tablets, milk cleaner, and a two-compartment cleaning container. The display will provide clear instructions on the necessary steps to follow.
On the other hand, you need to do a number of daily or monthly tasks, such as wiping down the machine's casing, emptying the dip tray and dregs basket, changing the milk pipe every three months, and more.
It is worth mentioning that both the Jura Z6 vs Giga 6 are compatible with the Clearyl Smart water filtration, which is designed to remove chlorine and other impurities. That way, it can prevent scaling in the machine for better-tasting coffee and extend machine life.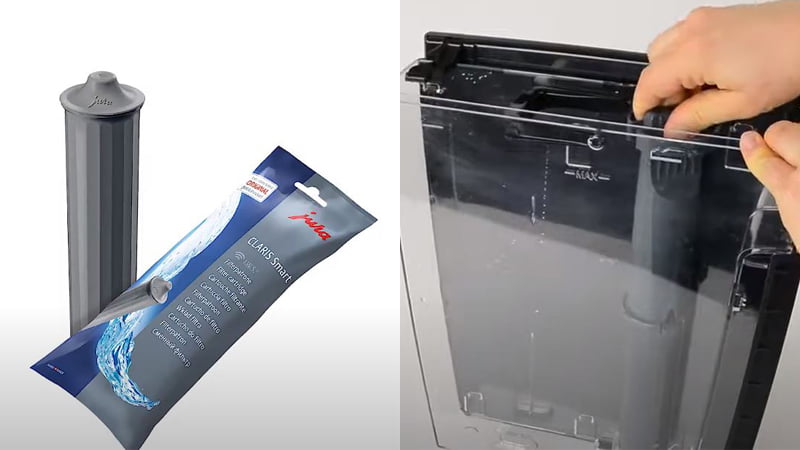 Utilities & Other Features
Winner: Jura Giga 6
User Interface & App Connectivity
The Jura Giga 6 comes with a 4.3-inch touchscreen, while the Jura Z6 is equipped with a non-touch color TFT (Thin Film Transistor) display. Through these user-friendly interfaces, all operations – such as selecting beverages and adjusting settings – can be executed in an intuitive and straightforward manner. And as mentioned earlier, they will notify users whenever there's a need to refill the water tank, change the filter, descale the machine, and clean the milk system, among other maintenance tasks. I found the Jura Z6's screen over-sensitive, but it's not a big deal.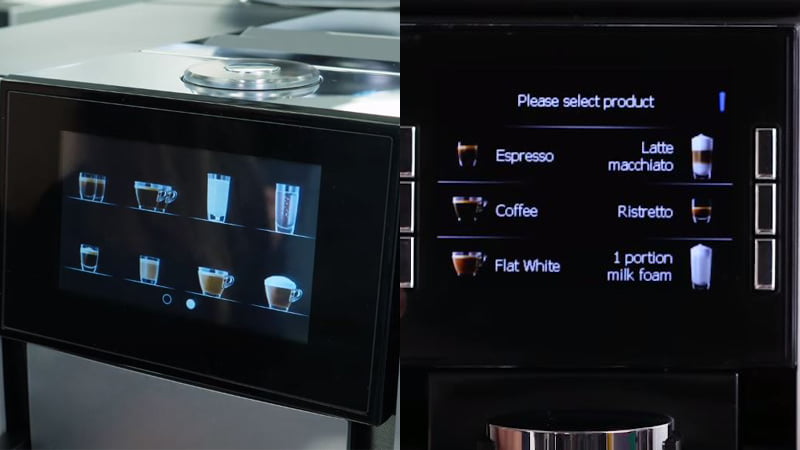 Their artificial intelligence could learn my drink preferences and present my favorite drinks on the start screen using a self-learning algorithm, just like my old favorite barista could predict my order upon my arrival.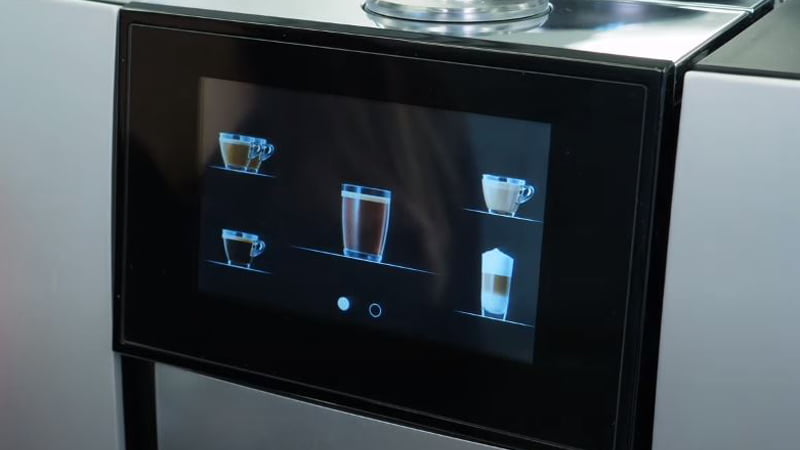 In addition to all the features above, they are also WiFi capable, allowing you to pair your smartphone/tablet to the machine. Then, your phone serves as the control panel, and you can manage all facets of the machine from any location within your home, even while comfortably tucked in your bed.
Energy Saving
The Jura Z6 vs Giga 6 also share Energy Saving Mode (ESM), which aids in reducing power consumption, leading to potential savings on your utility bills. Another feature for the absent-minded is the "Automatic switch-off," which, when activated, automatically shuts down the machine after a selected time period. The Giga 6 also has a "Timer" feature that lets you schedule automatic start and stop times based on the day of the week – this feature is particularly handy for those who maintain a daily habit of drinking coffee.
Quick Rundown Of Jura Giga 6
Jura GIGA 6 Aluminum Automatic Coffee Machine
Stainless steel body with aluminum finish
28 available specialties to choose from
87 ounce water tank
2 electronically adjustable ceramic disc grinders
Automatic Grinder Adjustment (A.G.A.) function
Last update on 2023-12-01 / Affiliate links / Images from Amazon Product Advertising API
Quick Rundown Of Jura Z6
Jura 15093 Automatic Coffee Machine Z6, 81 ounces, Aluminum
The pulse extraction process (P.E.P.) allows the whole bouquet of aromas to Blossom. Result: possibly the best Espresso of all time - at the touch of a button
The innovative nozzle technology prepares fine, compact and very tempting milk foam. The machine switches from milk to milk foam fully automatically
The Z6 packs incredible performance into compact Dimensions. All the control elements are conveniently accessible on the front
Maintenance is just as easy as preparing a Coffee: one touch of a button is all that's needed
Only Original Jura maintenance products Guarantee complete hygiene and protection. Only our protective formulas have been carefully optimized to suit the programmed and materials used in Jura automatic machines.
Last update on 2023-12-01 / Affiliate links / Images from Amazon Product Advertising API
Product Videos
Related Articles to Jura Giga 6
Related Articles to Jura Z6
References: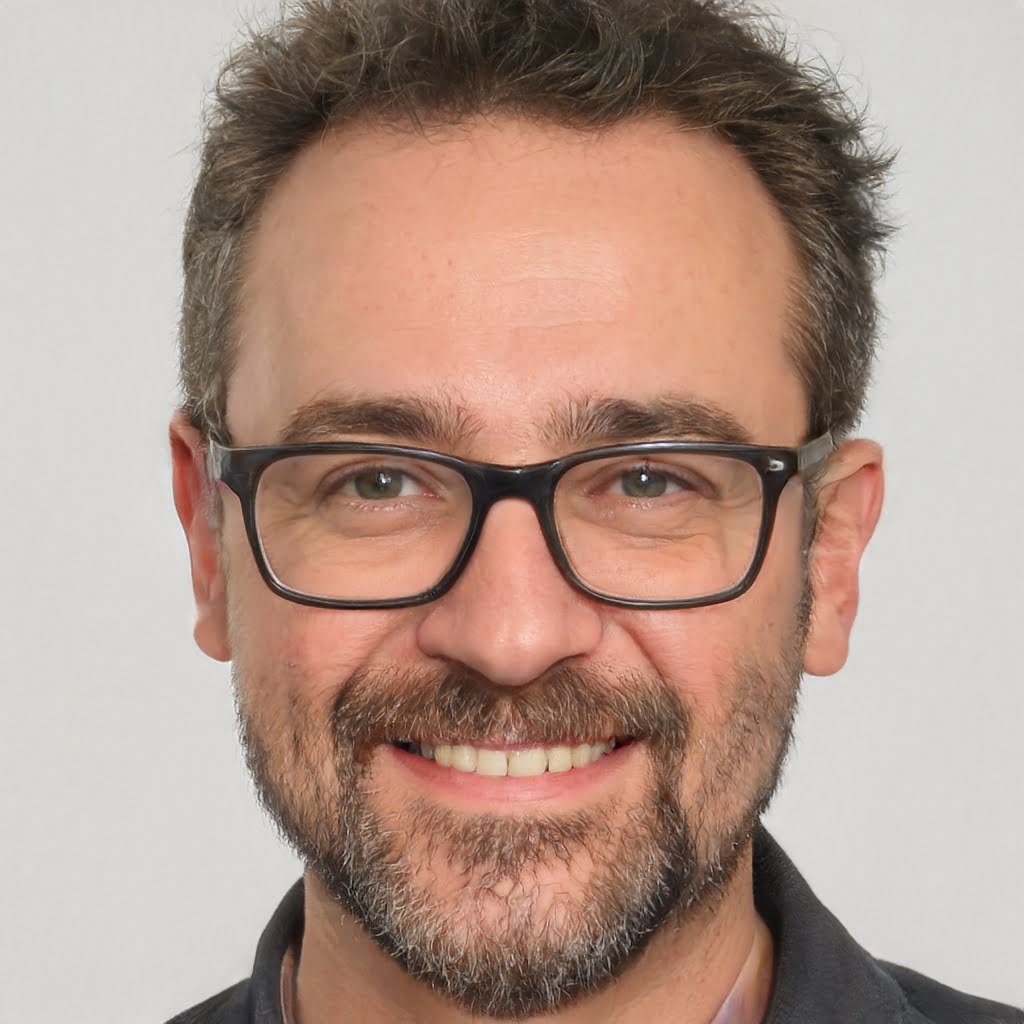 I'm Floyd J. Alcock, an experienced barista with a deep love for coffee. I curate personalized coffee experiences, guiding customers through diverse flavor profiles and suggesting ideal brewing methods. My extensive knowledge of espresso machines enables me to recommend the best equipment to match specific needs and budgets. Sharing my expertise and passion with coffee enthusiasts brings immense satisfaction. I look forward to continuing my journey of coffee discovery with every customer I serve, fostering connections over a shared love for this magical beverage.