Without question, Jura has captivated espresso aficionados worldwide. This Swiss brand has built an esteemed reputation for delivering cutting-edge "bean-to-cup" machines, embodying the perfect solution for those who relish a delectable cup of coffee minus the faff of making it. Today, I'm going to compare the Jura J6 vs Z6, two of their best-selling models.
Boasting an extensive selection of pre-set beverages and an array of customizable strength and temperature options, the Jura Z6 can effectively serve as your private barista. This one is fitted with cutting-edge technologies designed to elevate your coffee experience, including the Pre-Brew Aroma System, the Pulse Extraction Process, an intuitive smart display, artificial intelligence, and even remote control capabilities. It would be better if the package included everything that I needed for descaling the machine and cleaning the milk system.
The Jura J6 represents a more cost-effective choice, albeit with a smaller selection of one-touch beverage options and a reduced water reservoir capacity. Furthermore, this model doesn't appear to have the same hot milk production capability as the Z6. However, it does share most of the high-end features of the winner, effectively making it among the great value-for-money models.
Jura J6 Vs Z6: Comparison Chart
Image
THE WINNER (#1)
THE RUNNER-UP (#2)
Dimensions
12.6 x 17.7 x 14.8 inches
Heating System
Single Thermoblock boiler
Single Thermoblock boiler
Interface
Non-touch Color TFT Display
Non-touch Color TFT Display
Built-in Grinder
Aroma G3 Ceramic Conical Burr
Aroma G3 Ceramic Conical Burr
What I Like
Has a large water reservoir and bean hopper.
Can make two cups of coffee at the same time.
IPBAS and P.E.P technologies for high quality coffee
Easy to use and maintain.
Useful digital display.
Dual spout allows to make two cups of coffee at once.
The Aroma G3 conical burr grinder is a welcome upgrade.
IPBAS and P.E.P technologies for barista-standard coffee.
Artificial intelligence can remember drinking habits.
Energy Save Mode helps reduce electricity bills.
THE WINNER (#1)
Image
Dimensions
12.6 x 17.7 x 14.8 inches
Heating System
Single Thermoblock boiler
Interface
Non-touch Color TFT Display
Built-in Grinder
Aroma G3 Ceramic Conical Burr
What I Like
Has a large water reservoir and bean hopper.
Can make two cups of coffee at the same time.
IPBAS and P.E.P technologies for high quality coffee
Easy to use and maintain.
Useful digital display.
THE RUNNER-UP (#2)
Image
Heating System
Single Thermoblock boiler
Interface
Non-touch Color TFT Display
Built-in Grinder
Aroma G3 Ceramic Conical Burr
What I Like
Dual spout allows to make two cups of coffee at once.
The Aroma G3 conical burr grinder is a welcome upgrade.
IPBAS and P.E.P technologies for barista-standard coffee.
Artificial intelligence can remember drinking habits.
Energy Save Mode helps reduce electricity bills.
Last update on 2023-11-30 / Affiliate links / Images from Amazon Product Advertising API
Jura J6 Vs Z6: Differences
The Jura Z6 wins 1-0 and has three draws against the J6. That is just the tip of the iceberg! So keep reading to see more!
Design & Usability
Winner: Jura Z6
Dimensions, Footprint, & Weight
| | Jura J6 | Jura Z6 |
| --- | --- | --- |
| Dimensions | 11.2 x 13.5 x 17 inches | 12.6 x 17.7 x 14.8 inches |
| Weight | 24 pounds | 25.4 lbs |
Crafted with excellent espresso quality in mind, these machines also offer a visual delight. The Jura J6 presents itself in a luxurious silver or a pristine piano white, whereas the Jura Z6 is available in a captivating diamond black or a sophisticated aluminum finish. Despite being models of futuristic high technology, their design remains elegantly uncluttered. Merely beholding these machines is a pleasure in itself.
These super-automatic espresso machines are heftier and more voluminous than traditional coffee makers, so they command a more significant footprint. They seem designed to meet commercial-grade standards, making them perfectly suited for bustling offices and shared workspaces. Yet, for those with smaller kitchens or limited countertop space, locating an ideal berth for these sizable appliances might be a conundrum.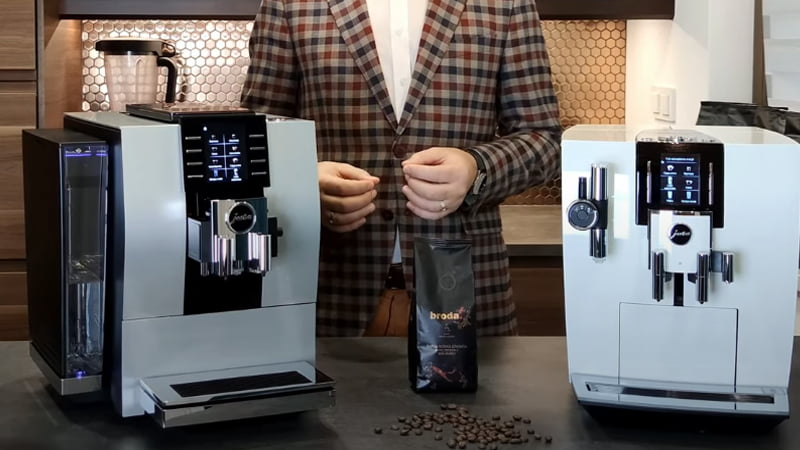 Pre-Programmed Coffee Options
The Jura J6 and Z6 can serve as personal baristas and are ready to cater to a diverse array of tastes in any household with their expansive roster of over ten one-touch drink presets. Yet, for families like mine, where loyalty lies with merely two or three select beverages, such a grandiose menu might seem overkill. However, they are a valuable assistant for bars, office settings, or cafes, thanks to their ability to serve a variety of drinking preferences.
They also allow you to brew in different ways with 10 strength levels, 3 brew temp levels, and 3 water temp levels via their displays or remotely through the J.O.E. app on your phone. Once you find and perfect your personal recipes, you can save them, making them ready to recreate your perfect cup at the touch of a button in the future.
Spout & Cup Clearance
| | Jura J6 | Jura Z6 |
| --- | --- | --- |
| Spout Type | Double | Double |
| Cup Clearance | 2.6 – 5.3 inches | 3.2 – 6 inches |
These models are all equipped with butterfly-configured dual spouts, enabling them to brew two cups of coffee simultaneously. This kind of spout significantly slashes brewing time, particularly for larger quantities, making these machines a prime choice for large families or office settings where coffee demand is high.
As the table above shows, the Jura Z6 has a wider cup clearance spectrum, allowing it to be compatible with a wider range of cups and mugs, including some travel mugs. However, I found its spouts were somewhat close together, so I had to use two slender cups to make sure they could fit underneath each spigot.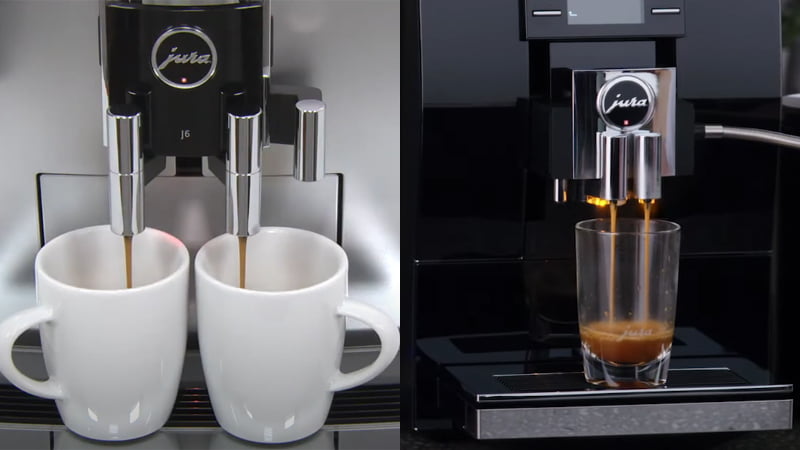 Bean Hopper & Water Reservoir
| | Jura J6 | Jura Z6 |
| --- | --- | --- |
| Water Reservoir | 2.1 liter | 2.4 liter |
| Bean Hopper | 0.26 liter | 0.29 liter |
The Jura J6's water tank, slightly smaller in size, is optimally designed for home usage, while the more substantial reservoir of the Z6 lends itself well to office settings, reducing the need for frequent refills. Both are fashioned from clear plastic, providing a simple way to keep tabs on the water level. But while the Z6's tank is exposed to the outside for easier monitoring, the J6's reservoir is hidden inside the unit to reduce its footprint.
What the Jura Z6 has in its favor is that its water tank is equipped with a built-in blue light. This ingenious addition allows for easy visibility regardless of lighting conditions, proving particularly useful for nocturnal brewing or in scenarios where your machine is positioned in a poorly lit area.
The secret to a flavorful cup of coffee lies not only in the quality of the beans but also in the water used for brewing. Simply put, water hardness implies the concentration of minerals present in the water, such as calcium and its compounds. When water is heated inside the machine, these minerals will deposit, altering the coffee's flavor profile and negatively impacting the machine's performance over time.
Fortunately, both the Jura J6 and Z6 are equipped with some specialized filter systems designed to curb this scaling issue, helping to preserve the delicious flavor of the coffee and reduce the frequency of descaling the machine (more on that in the maintenance and cleaning section).
On the flip side, the Jura J6's bean compartment is also slightly smaller than its competitor but doesn't trail far behind. One thing that these gadgets have in common is the bean monitoring sensor, which is designed to alert you when the bean hopper is running low, ensuring that you never run out of coffee beans and that the brewing process is seamless.
And on top of that, both have an "aroma preservation" cover, ensuring all the beans are securely stored in an airtight environment, maintaining their original flavor, and effectively preventing premature spoilage due to exposure to air. The Z6's cover is also made of transparent plastic, which allows you to monitor the remaining coffee beans left inside.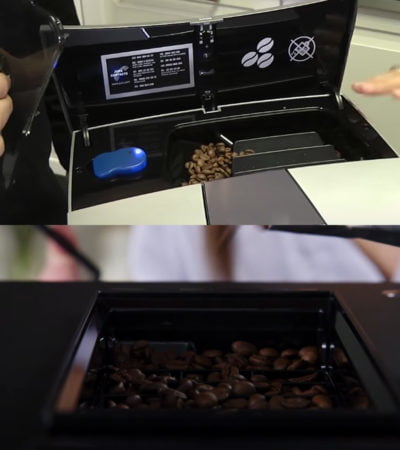 Coffee Flavour
Winner: Jura Z6
Built-in Grinder
Undeniably, the built-in grinder significantly influences the overall espresso experience. Both the Jura J6 vs Z6 boast the Aroma G3 conical burr grinder, meticulously engineered to produce a perfect grinding curve.
This state-of-the-art grinder can retain the beans' rich aroma and full-bodied flavor. It is advertised as giving 12.2% more aroma – I can't personally confirm this claim, but my instincts suggest it's more than mere marketing hype.
Furthermore, this particular grinder significantly reduces both the grinding time and the noise level. Even more advantageous is its ability to prevent overheating during the grinding process, a common issue with many flat grinders – This ensures the beans aren't subjected to scorching, preserving their original flavor. Collectively, these attributes contribute to elevating your coffee experience.
These machines also offer several grind settings so that you have full control over the fineness and coarseness of the coffee powder – the finer the grind, the more intense the resulting flavor. The Jura J6 has 7 grind settings to choose from, while the Z6 has 6. I know some cheaper models, such as the PHILIPS 3200, that offer up to 12 grind settings, but that is okay. Anyway, I could still find the setting that works best for me easily. I was also glad that changing the grind settings on these models was a breeze.
Heating System
These machines only come with a single boiler system, which makes them a bit lackluster. For such high-end automatic espresso machines, I initially expected them to have a double boiler.
With a single built-in boiler, they can only brew beer and steam milk alternately instead of performing two tasks simultaneously, unlike double boiler machines, such as the Jura GIGA 6. Fortunately, they are equipped with a Thermoblock heating system which can allow the machine to reach the desired temperature for the steaming process faster (in about 10 seconds).
So what is the reason behind this miracle?
Instead of heating a large water tank like a traditional boiler, the Thermoblock system heats only the amount of water that is just enough for brewing or steaming. Thanks to that, it not only speeds up the brewing process but also reduces energy consumption – I call this "a stone kills two birds."
Indeed, this technology has enabled me to steam milk almost immediately after the brewing process is complete, which is highly efficient. However, for commercial settings like bars or cafes, where there's a high demand for large batches of drinks, particularly milk-based ones, a dual boiler machine is a more appropriate choice.
Brewing System
Regarding the brewing system, both blew my mind with the combination of the Intelligent Pre-Brew Aroma System (IPBAS) and Pulse Extraction Process (P.E.P.) – distinct hallmarks of Jura's innovative approach. These revolutionary technologies result from many months of hard work and a passion for great coffee. They pledge to deliver richly flavored, full-bodied espresso shots that few brands can match. And if these technical terms are leaving you bewildered, allow me to elucidate!
Let's get started with IPBAS. As its name implies, this is a pre-brew process that ensures the ground coffees are presoaked in a small amount of hot water (heated by the Thermoblock heating system) to ensure maximum flavor. Then, PEP technology will take place by sending small amounts of hot water through the ground coffee in short bursts, extracting every trace of flavor. As a result, the entire brewing process is significantly reduced, while the original aroma of the beans remains.
In fact, I found that these technologies worked as expected. They enabled me to craft shorter drinks like ristretto and espresso, presenting an intense spectrum of aromas I had never experienced before. Good job, Jura engineers!
Milk Frothing System
Another thing that puts the "super" in super-automatic is the auto-frothing system which is user-friendly. With the Fine Foam Technology, it is a breeze to add a finishing flair of foam or milk foam to your delicious specialties. You don't have to go through a learning curve to become a skilled barista to make a cup of cappuccino or latte – all you need to do is choose your desired settings and let the machine do the rest.
That said, these super-automatic machines are definitely the best bet for amateurs. But for seasoned coffee drinkers or professional baristas who want more control over the milk froth process or enjoy the craft of making a milk-based drink, a machine with a steam wand is a suitable choice.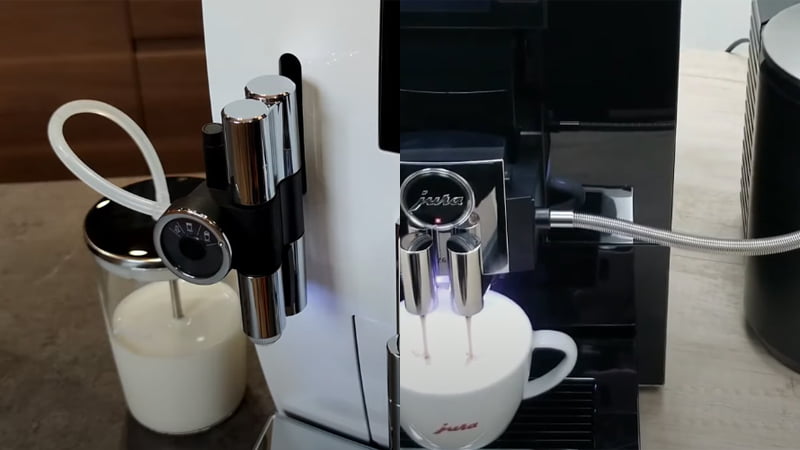 The Jura J6 delivered hot milk, but I found it couldn't reach the same level of milk temperature as the Z6. Having a higher milk temperature is always a crucial factor for me, but individual preferences may vary.
Despite the steep price tag on these luxury machines, I was surprised that they don't come bundled with a milk carafe. After all, for the premium cost that Jura demands, I expected the package to include all essential accessories required for a seamless coffee-making experience. Of course, I had to buy the milk carafe separately – My recommendation is to get one with 2 to 3 times the volume of milk that you want to foam.
Cleaning & Maintenance
Winner: Tie
As mentioned above, these models feature a filtration system called to reduce water hardness and prevent scale build-up. They share a Clearyl Smart water filtration system, which is designed to eliminate impurities from the water before brewing, thereby ensuring that your coffee's taste is uncompromised.
It is not mandatory to use it, but I recommend it when your water's hardness is 10°dH or more. You will get a test strip to help determine the hardness of your water. Then input the number into the machine, and the filter properly handles water.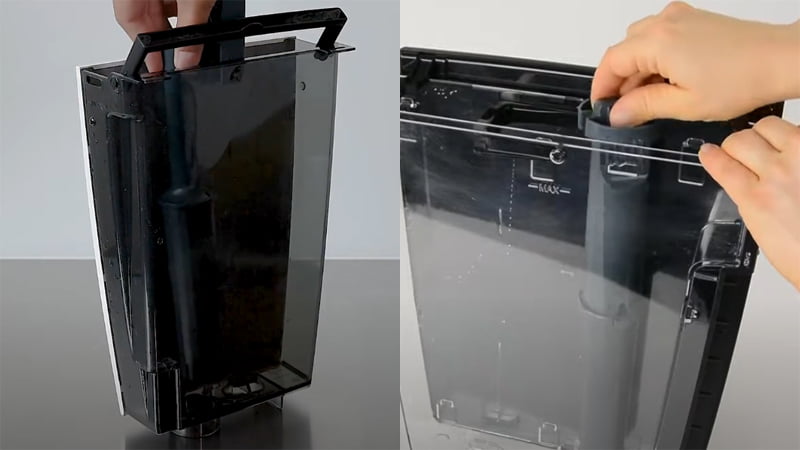 It is worth mentioning that this is the smartest filtration system I have ever known. Unlike some models compatible with Claris plus filter cartridge, such as the Jura C65, both the Jura J6 vs Z6 can run the filter without you having to set it, saving you an extra step.
This filter significantly minimizes the mineral content in the water, extending the intervals between descaling sessions. Nonetheless, it's essential to acknowledge that the machine will inevitably require maintenance, including descaling, at some point in time to maintain performance and ensure the best coffee taste.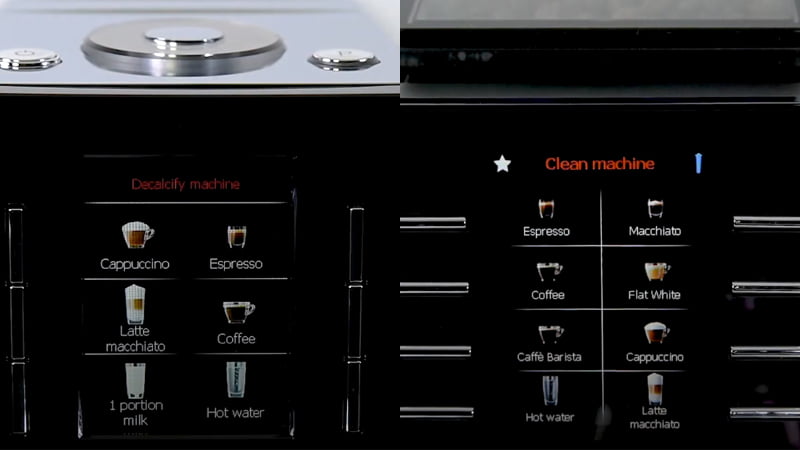 The whole process takes about half an hour, including washing and emptying the dip tray and the pulp container, descaling the machine, and cleaning the milk system. Don't worry! Much of the process is taken care of automatically by the machine, while the display will give an alert when the machine needs to be maintained and provide a step-by-step guide.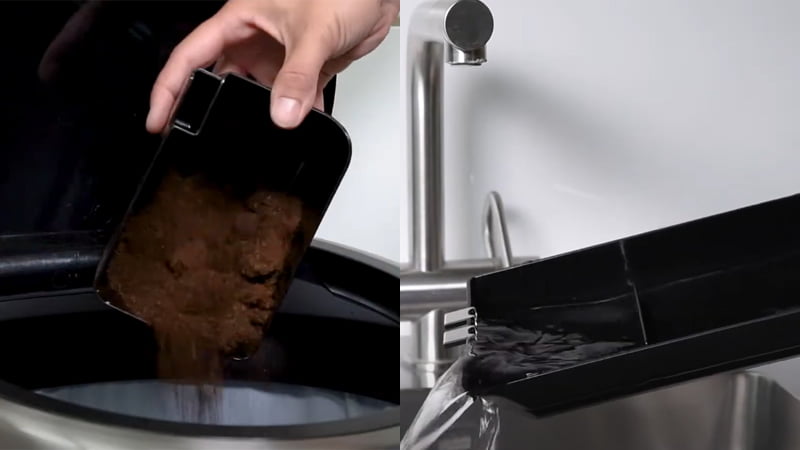 The first step is usually to remove the dip tray and the ground container for cleaning and emptying. Some people claimed these parts are dishwasher-safe, which is still a mystery to me. Next, you will need to descale the machine. All you need to do is drop a cleaning tablet inside the unit and let it do the rest. Finally, cleaning the milk system is very easy with a multi-compartment milk system container and milk system cleaner.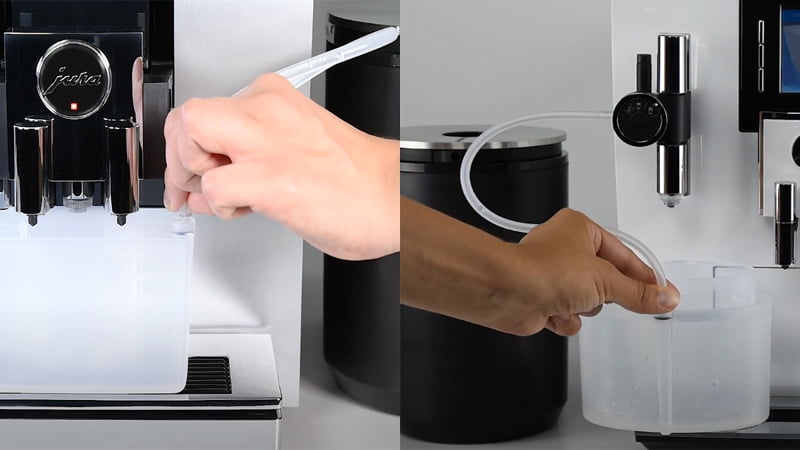 Unfortunately, you'll have to buy cleaning tablets, milk system cleaner, and the CLARIS water filter separately since they are not included in the initial package.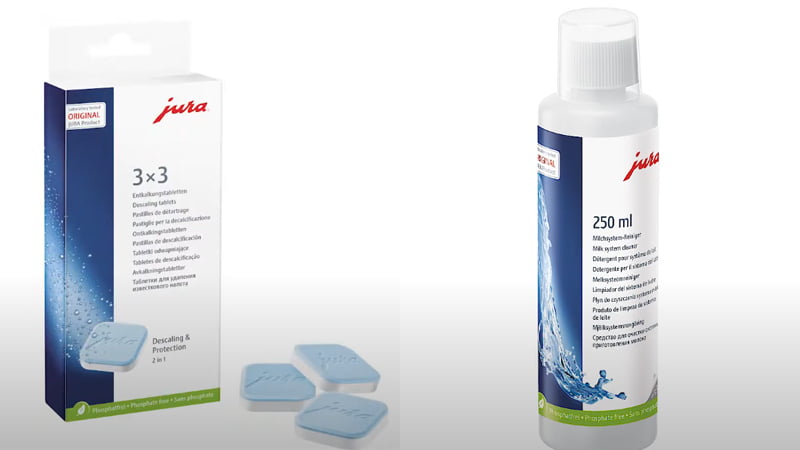 Utilities & Other Features
Winner: Tie
Digital Display
The Jura J6 vs Z6 share a full-color Thin Film Transistor (TFT) display. This one is non-touch, but it's not a problem for me. Along with an on-top knob, selecting my desired beverage option and adjusting strength/temperature was easy and quick. This screen can also issue maintenance alerts and walk users through the necessary steps, as mentioned above. Everything is very easy and intuitive.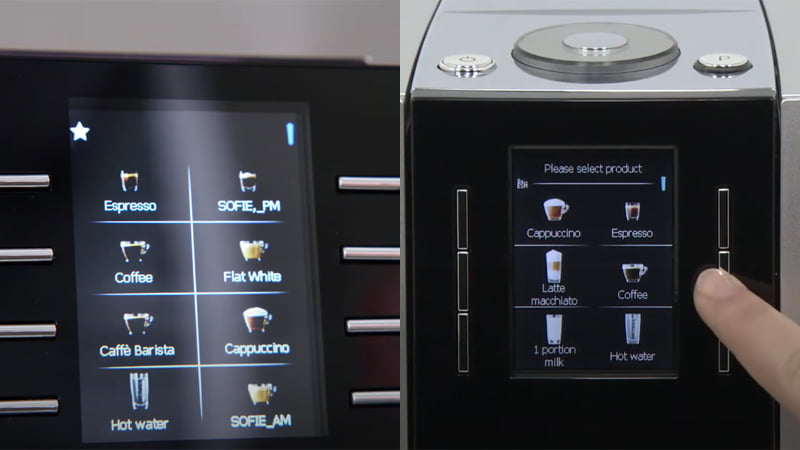 Artificial Intelligence (AI)
One of the remarkable features of these super-automatic machines is their capacity to capture and remember your beverage preferences using an advanced self-learning algorithm. Consequentially, they conveniently showcase the most frequently chosen drinks on the start screen, allowing for swift access. This particular functionality proves exceptionally advantageous during hectic mornings when time is scarce for me.
Bypass Grinder
It is possible to use pre-ground coffee powder for these models thanks to the grinder bypass feature. It's a godsend for decaf coffee fanatics or those who want to experiment with other blends.
Energy Save Mode
This nifty feature reduces the machine's overall energy consumption and lowers the cost of electricity. They also share a zero-energy switch, which disconnects them from the main supply and prevents them from using power when on standby, making it an economically and environmentally friendly option.
Remote Control
Finally, adding to the convenience of these machines is their ability to be controlled remotely via the JOE app. Gone are the days when you had to stand around your coffee machine from the beginning until the brewing process was complete. With this intelligent app, you can effortlessly select your preferred beverage, fine-tune the necessary adjustments and settings, and initiate the coffee-making process, all from the comfort of your desk or bed.
Quick Rundown Of Jura Z6
Jura 15093 Automatic Coffee Machine Z6, 81 ounces, Aluminum
The pulse extraction process (P.E.P.) allows the whole bouquet of aromas to Blossom. Result: possibly the best Espresso of all time - at the touch of a button
The innovative nozzle technology prepares fine, compact and very tempting milk foam. The machine switches from milk to milk foam fully automatically
The Z6 packs incredible performance into compact Dimensions. All the control elements are conveniently accessible on the front
Maintenance is just as easy as preparing a Coffee: one touch of a button is all that's needed
Only Original Jura maintenance products Guarantee complete hygiene and protection. Only our protective formulas have been carefully optimized to suit the programmed and materials used in Jura automatic machines.
Last update on 2023-11-30 / Affiliate links / Images from Amazon Product Advertising API
Quick Rundown Of Jura J6
Jura 15150 J6 Coffee Machine, Brilliant Silver
Fine foam technology. Frequency is 60 hz
Tft display and the rotary selection
Jura Coffee app compatible
Optional cool control milk Cooler (Extra cost)
CLEARYL smart I.W.S. Filter cartridge
Last update on 2023-11-30 / Affiliate links / Images from Amazon Product Advertising API
Product Videos
Related Articles to Jura Z6
Related Articles to Jura J6
References: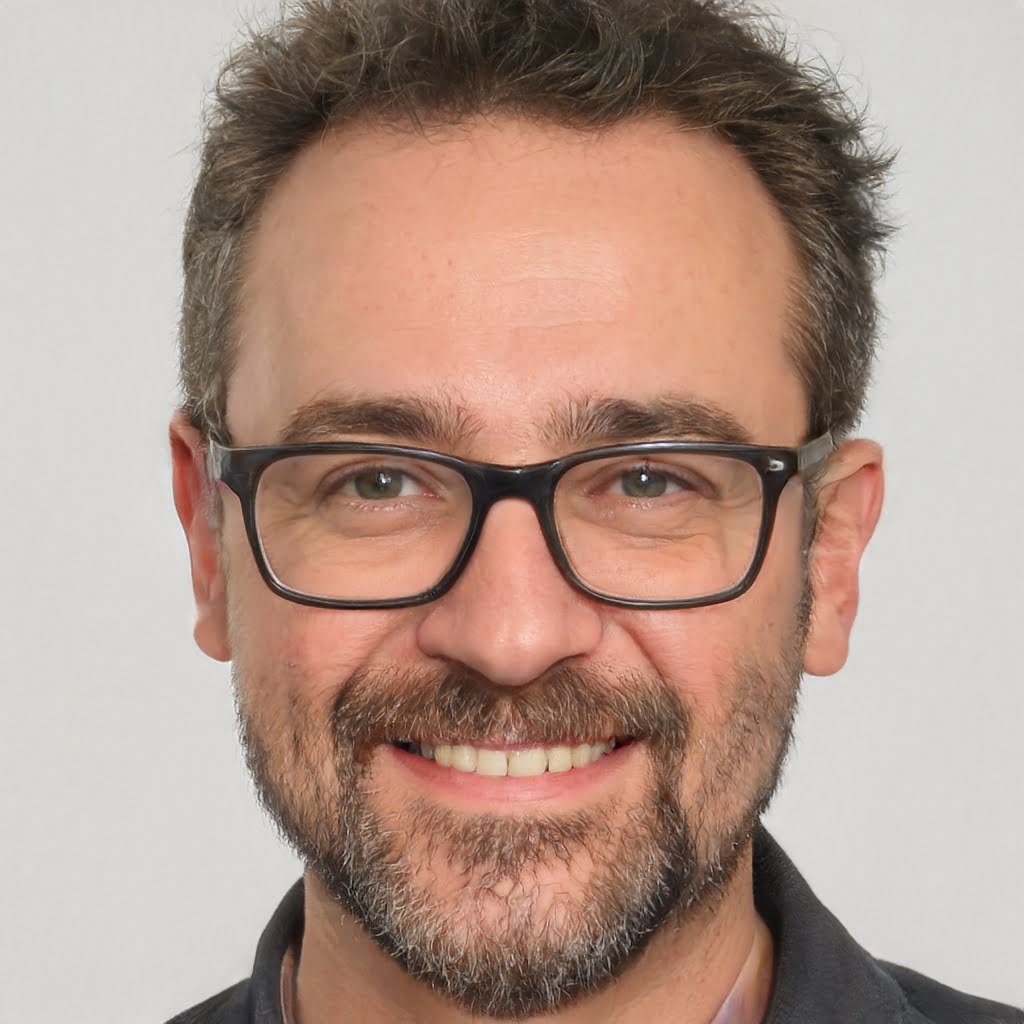 I'm Floyd J. Alcock, an experienced barista with a deep love for coffee. I curate personalized coffee experiences, guiding customers through diverse flavor profiles and suggesting ideal brewing methods. My extensive knowledge of espresso machines enables me to recommend the best equipment to match specific needs and budgets. Sharing my expertise and passion with coffee enthusiasts brings immense satisfaction. I look forward to continuing my journey of coffee discovery with every customer I serve, fostering connections over a shared love for this magical beverage.