Gaggia Brera vs Jura A1: Both are super-automatic espresso machines that are at the lower end of the price spectrum. But the first one is a bit better!
I consider the Gaggia Brera one of the finest super-automatic espresso machines available within a budget of $500. Indeed, it may not have an array of fancy features, but it efficiently takes care of the most significant part of the brewing process. The only exception is milk frothing – that's where you'll need to get hands-on and use its steam wand, a skill that might take a little time to perfect!
The Jura A1 is a cost-effective, compact "bean-to-cup" espresso machine perfect for those who prefer their coffee black, sparing them the unnecessary features designed for creamy lattes or cappuccinos. Its ability to autonomously deliver barista-quality coffee is impressive, and the lack of a milk frothing system not only cuts costs for features that won't be used but also reduces the need for maintenance.
Gaggia Brera Vs Jura A1: Comparison Chart
Image
THE WINNER (#1)
THE RUNNER-UP (#2)
Heating System
Single (Thermoblock) boiler
Pre-programmed Drink Options
What I Like
Easy to use and maintain.
Affordable price.
Beginner friendly.
Auto power off after one hour.
The brew group is removable for deep cleaning.
Compact and eye-catching design.
Affordable price.
Automatically descaling the machine/cleaning the milk system.
Comes with CLEARYL Blue filter cartridge.
Energy Save Mode reduces power consumption.
THE WINNER (#1)
Image
Pre-programmed Drink Options
What I Like
Easy to use and maintain.
Affordable price.
Beginner friendly.
Auto power off after one hour.
The brew group is removable for deep cleaning.
THE RUNNER-UP (#2)
Image
Heating System
Single (Thermoblock) boiler
Pre-programmed Drink Options
What I Like
Compact and eye-catching design.
Affordable price.
Automatically descaling the machine/cleaning the milk system.
Comes with CLEARYL Blue filter cartridge.
Energy Save Mode reduces power consumption.
Last update on 2023-11-30 / Affiliate links / Images from Amazon Product Advertising API
Gaggia Brera Vs Jura A1: Differences
The Gaggia Brera comes to a draw with the Jura A1, scoring 3 points each. Ensure to read to the end of the article to avoid missing out on valuable information.
Coffee Flavour
Winner: Tie
Built-in Grinder
The Jura A1 sports an upgraded Aroma G3 conical grinder, while the Gaggia Brera has a flat ceramic grinder. Each has its own pros, but the first one is better for a few good reasons.
Boasting conical burrs, the Aroma G3 grinder offers a superior grind. What's more, it's both faster and considerably quieter than other grinders on the market, including Gaggia Brera's flat ceramic grinder. Based on my tests, it operates at around 55-60 dB (while the Gaggia Brera's noise is approximately 68 dB), making it a feasible option for an early morning coffee routine without disturbing anyone's sleep.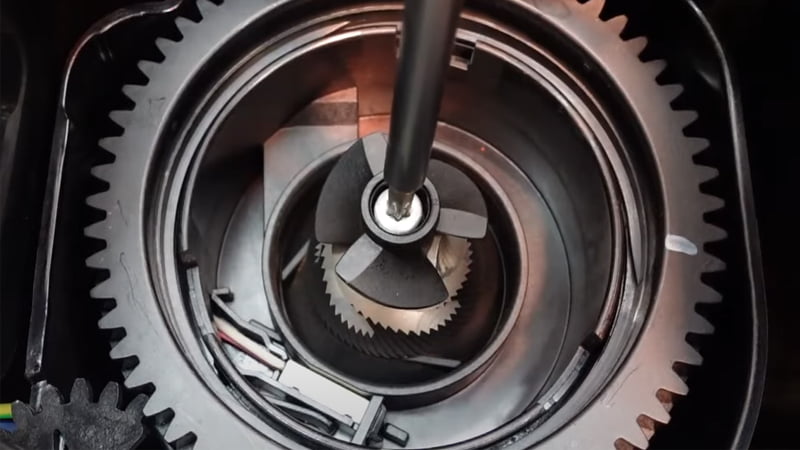 On the other hand, the flat ceramic grinder tends to be cheaper, which helps lower the Gaggia Brera's RRP. And the icing on the cake is that this grinder minimizes heat transfer throughout the grinding process, preventing your coffee grounds from getting burned and preserving the delicious taste of your espresso.
Apart from the kind of grinder, the number of grind settings is another critical consideration. At the end of the day, even the slightest adjustment in the grind settings can have a significant impact on the espresso's flavor profile, which could be better or worse. Of course, the more grind settings the machine has, the better – It allows you and your loved ones to easily find the right setting for your recipe.
Both the Gaggia Brera vs Jura A1 have 5 grind settings, which don't leave much room for experimentation but are reasonable considering their budget-friendly price tags. For folks who are coffee purists or just got into the super-automatic game, they might feel a bit limited. If you're eager to explore coffee's fineness or coarseness more, consider models with more grind settings, such as the Gaggia Velasca (10 settings) or the Jura Ena 8 (7 settings).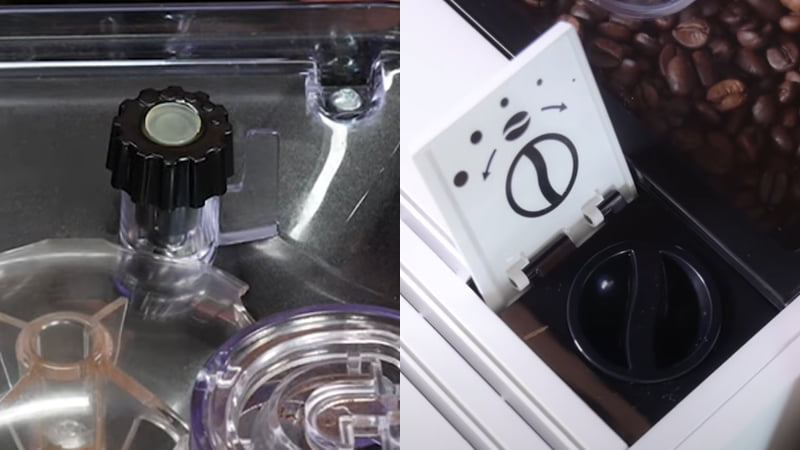 Heating System
They also only have a single boiler, which is unsurprising for budget-oriented super-automatics. For "all-in-one" machines like the Gaggia Brera, I always expect to get a double boiler system that facilitates brewing coffee and steaming milk at the same time. But let's face it, this feature increases the machine's price, and it's usually only found in expensive high-end machines, such as the Jura Giga 6.
A blessing in disguise is the Gaggia Brera is equipped with rapid steam technology, which allows it to heat the steam up in about 10 seconds – on par with the Jura A1's Thermoblock technology, which just heats the water on demand to minimize downtime. That means you won't have to wait too long for the milk frothing process to take place. Anyway, considering these models are designed for home use, I won't complain further about the absence of a double boiler system.
Brewing System
One similarity between the Gaggia Brera and the Jura A1 is their capability to pre-moisten the coffee grounds with just the right amount of water, resulting in consistent, better-tasting espressos. Jura named this process the Intelligent Pre-Brew Aroma System (or IPBAS) – a somewhat scientific and confusing moniker.
However, the Jura A1 stands out with the Pulse Extraction Process (P.E.P) – a Jura hallmark. This process essentially pushes heated water through the coffee grounds in short intervals to avoid under-extracting coffee and maximize flavor. Consequently, it yields an espresso with a flavor that's richer and fuller than what the Gaggia Brera and other competitive models offer.
Milk Frothing System
The Jura A1 comes without an automatic milk frothing system or steam wand, so its offerings are confined to some non-milk beverages. Conversely, the Gaggia Brera is fitted with a Pannarello steam wand, sidestepping an integrated milk system. This feature contributes to keeping the Gaggia Brera's price tag lower than other super-automatic machines with automatic milk frothers, but it introduces a learning curve to mastering milk frothing. The trade-off is clear: the less you spend on a super-automatic machine, the more manual steps are involved.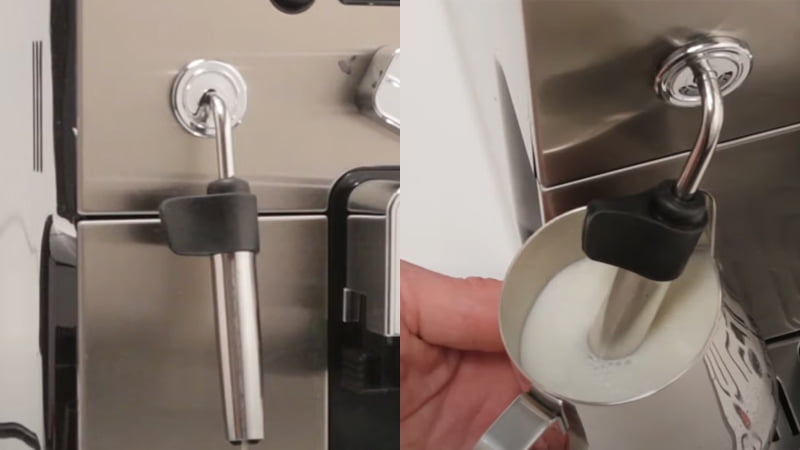 So, is this the cue for beginners to take their leave? Absolutely not! I must confess that the automatic milk systems found in the extravagantly priced Jura machines are highly attractive to beginners – the ease of creating barista-level cappuccinos with just a button press is hard to resist.
But once you've gotten the hang of this wand, you'll truly cherish it and regard it as a standout star in the milk frother category. In fact, baristas typically prefer wand-equipped machines, which give them more control over the milk frothing process and facilitate the performance of foaming artistry.
The process is straightforward: submerge the wand into a milk carafe, flick a switch, and bide your time. Thanks to Rapid Steam Technology, your milk can be steamed in less than 10 seconds on average. Your first milk-based drink may not be as successful as expected, but don't be discouraged. Steaming milk is both an art and a science, so with practice and patience, you will get it!
Design & Usability
Winner: Gaggia Brera
Dimensions, Footprint, & Weight
| | Gaggia Brera | Jura A1 |
| --- | --- | --- |
| Dimensions | 10 × 12.4 × 17.6 inches | 9 × 12.7 × 17.5 inches |
| Weight | 18.7 lbs | 19.6 lbs |
The Brera Gaggia boasts a timeless design and is available in two color variants: a complete silver model or one featuring a silver front with black side panels. Contrary to some brands that aim to bestow their machines with a sophisticated, fashionable look, it's apparent that Brera's designers have put practicality before visual appeal.
Diverging from its top-tier counterparts, the Jura A1 lacks a futuristic aesthetic. It just has an elegant but unobtrusive look and also comes in two gorgeous glossy colors: Piano Black and Piano White. Personally, I lean toward black since it does a better job of concealing stains, and black items always carry a mysterious charm, don't you think?
Both machines are quite compact, allowing them to fit snugly into small kitchens or counters with limited space. It's worth mentioning that they are predominantly constructed from plastic, with a touch of metal in the most needed places, such as drip trays, faucets, etc. They generally don't feel flimsy and cheap, but it's too soon to comment definitively on their durability. Hence, let's allow time to reveal the truth!
Pre-programmed Coffee Options
Gaggia Brera
Jura A1
Espresso
Espresso lungo
Hot water
Coffee
Espresso
Ristretto
The Jura A1's preset drink list is quite modest, with only three options. Likewise, the Gaggia Brera also only has 3 pre-programmed drinks – so to make your luxurious milk-based delights, you'll need to put in some effort using the steam wand. If you want a flat white, a latte macchiato, or anything else your heart calls for simply by pressing a button, you'll need to splurge on an expensive machine like the Jura Z6.
As an added perk, the Gaggia Brera's wand doubles as a hot water dispenser. Hence, besides being utilized for milk-based drinks, it can be employed for brewing tea, concocting hot chocolate, or preparing an Americano by diluting an espresso.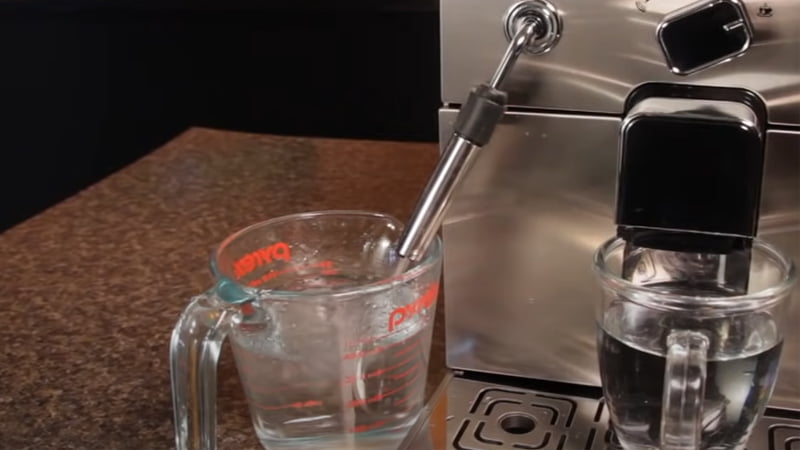 There's minimal room to modify their pre-programmed drink options. The Gaggia Brera only provides flexibility in its preset drinks at three strength levels (light, medium, and strong), while the Jura A1 offers a more limited two levels (normal and strong). Before you critique this limitation, remember that these super-automatics fall on the more affordable side of the price range.
Even the staunchest aficionados of freshly ground coffee may find themselves needing pre-ground decaf at some point. Perhaps it's when they're out of beans, or they oversleep and lack the time for a complete brewing process. Regardless of the situation, the good news is that these machines are fully compatible with pre-ground coffee. It is also a lifesaver for people who are sensitive to caffeine, pregnant, or anyone who wants to cut down on caffeine for any other reason.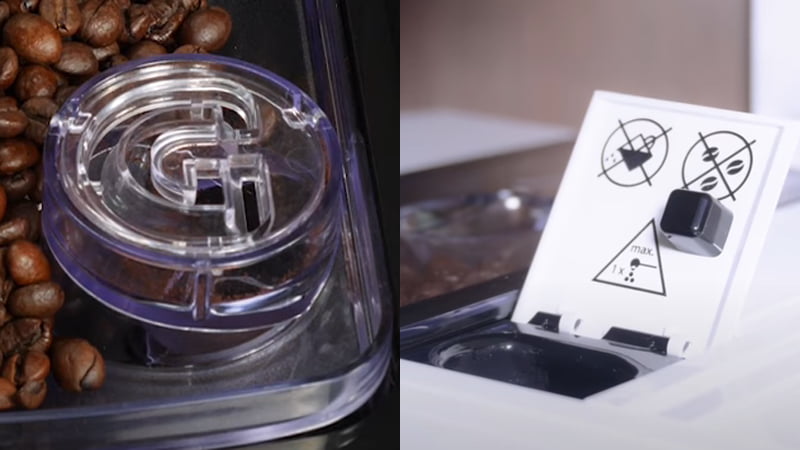 Spout & Cup Clearance
| | Gaggia Brera | Jura A1 |
| --- | --- | --- |
| Spout Type | Dual | Single |
| Cup Clearance | 3.5 – 4.5 inches | 2.5 – 5.5 inches |
While the Jura A1 hosts a single coffee spout, the Gaggia Brera flaunts a double coffee spigot, enabling the brewing of two espresso cups at the same time – fewer people waiting their turn and more cheerful faces to kickstart the day. Both can be adjusted vertically to fit cups of various sizes, but they won't accommodate some Jumbo-sized mugs.
I recommend lowering the spout so that the coffee to dispense is quite close to your mug. By doing so, you'll achieve a superior crema, the creamy, tan-colored froth that garnishes your espresso.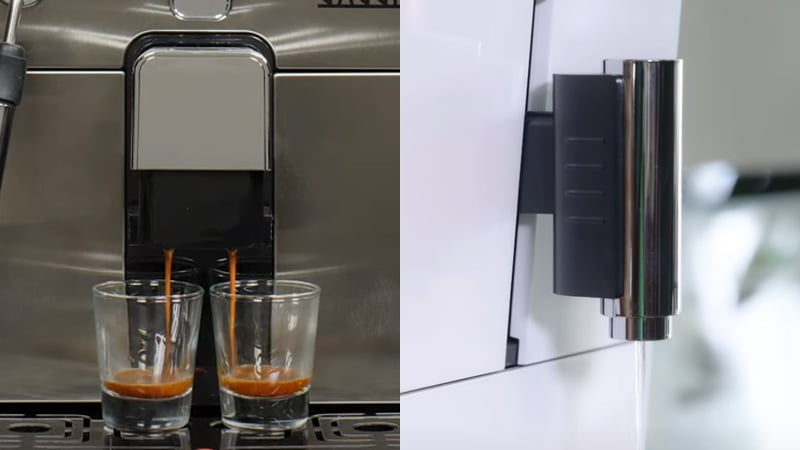 Water Reservoir & Bean Hopper
| | Gaggia Brera | Jura A1 |
| --- | --- | --- |
| Water Reservoir | 1,2 liter | 1.1 liter |
| Bean Hopper | 0.13 liter | 0.13 liter |
In terms of water tank capacity, the Gaggia Brera and the Jura A1 are closely matched. Their reservoirs are generally more than sufficient for one or two-person households and typically require refilling only at day's end unless your coffee consumption is extraordinarily high. The machine will alert you when its tank needs refilling and won't run completely dry. For larger settings, you'd need a model featuring a colossal water tank akin to the Jura Z10.
To mitigate water hardness and minimize the descaling frequency, you can opt to use a filter. The Gaggia Brera is compatible with the Intenza water filter, though it is an extra expense – a detail I can't gripe about, considering the machine's cost. Meanwhile, the Jura A1 comes equipped with the CLEARYL Blue filter cartridge right out of the box. However, you can choose not to use the filter if you wish to sidestep the ongoing filter replacement cost.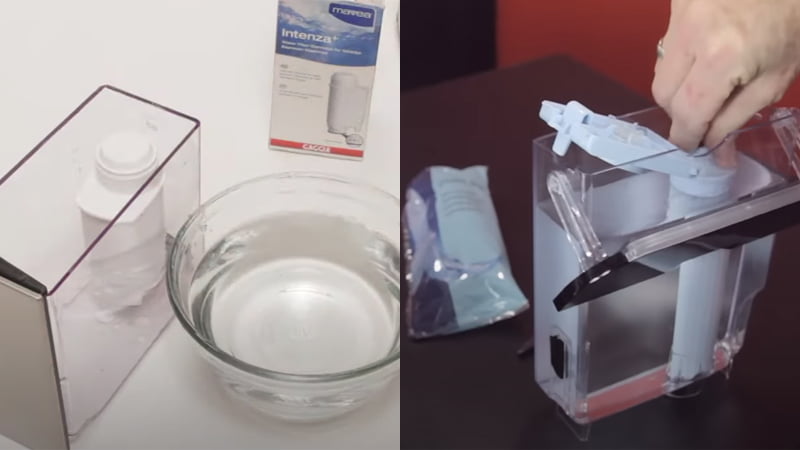 The Gaggia Brera vs Jura A1 share a 0.13-liter bean hopper capable of storing up to 250 grams of coffee beans. Their respective aroma preservation lids effectively seal off the air, thereby securing a prolonged fresh taste of the coffee beans.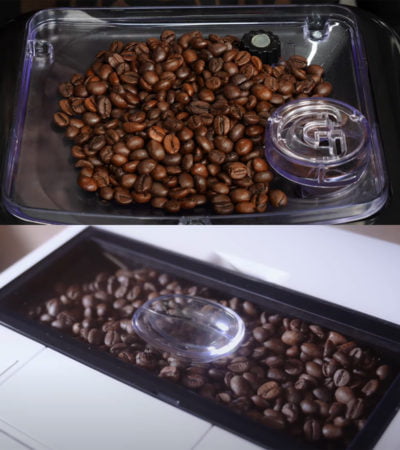 Cleaning & Maintenance
Winner: Tie
Although these machines are crafted to serve for many years, a dash of gentle upkeep keeps them always at peak performance. Fortunately, the maintenance required for these devices isn't daunting or tiresome.
Let's start with cleaning the Gaggia Brera vs Jura A1, their displays will notify you when descaling becomes necessary, and you will need to use Gaggia Decalcifier or Jura's cleaning tablet, respectively. It's crucial not to overlook these alerts, as accumulated mineral deposits can compromise both the flavor of your espresso and the machines' longevity. The descaling process is almost fully automated, and you just need to sit down and wait until your machine is done.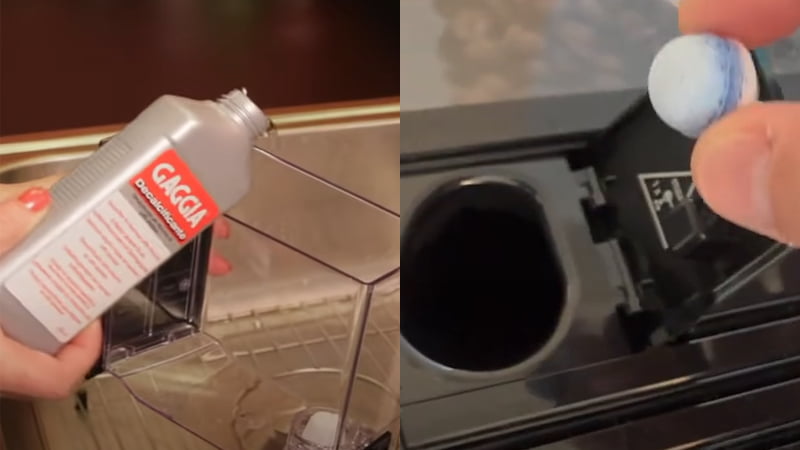 A bit more laborious task is thoroughly cleaning the Gaggia Brera's steam wand. It can be disassembled into several pieces so you can clean each piece easily. This task should be done once or twice a week if you use it daily. Remember that these components are unsuitable for dishwasher cleaning – for more specific instructions, refer to the user manual.
Besides, the Gaggia Brera's brew group can be detached and requires manual cleaning, unlike the automated program you can use for the Jura A1's fixed brew group. It might seem like the Gaggia Brera tries to add one more chore to your maintenance routine, but I believe the extra effort is justified. A brew group that is manually cleaned is destined to have an extended lifespan.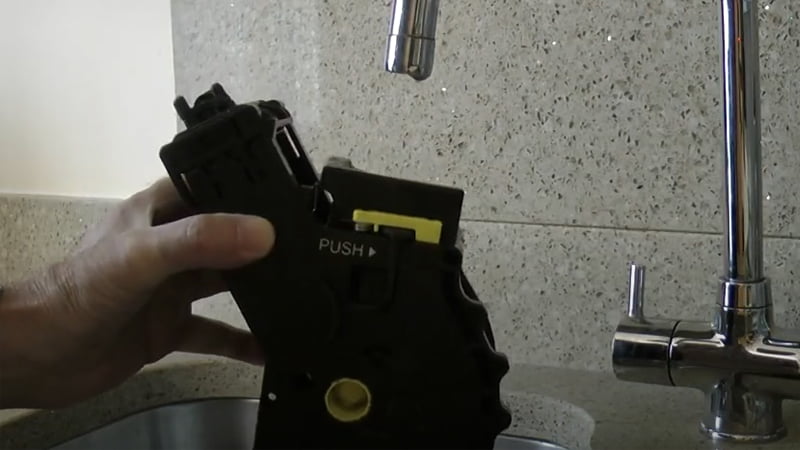 Additionally, it's recommended to refill the water tank, empty the drip tray, and clear out the bean hopper daily. It's equally important to regularly wipe down the control panel to ensure the machine retains its aesthetic appeal at all times.
Utilities & Other Features
Winner: Jura A1
User Interface
There is no fancy screen with various buttons here. For me, the control panel of both is straightforward and simple. For such featureless models, equipping high-tech digital screens seems overkill.
Power Saving Mode
While the Gaggia Brera always automatically turns off one hour after its last use, the Jura A1 allows changing this time interval in three levels: 30 min, 1 hr, and 2 hrs – That's good for your wallet and the environment. I wish I could adjust the Gaggia Brera to power off earlier – about 30 minutes is best. But alas, it was fixed at one hour. But it is just a minor niggle! Another thing that the Jura A1 has in its favor is it has the "Energy Save Mode" feature, which cuts down on power consumption.
Quick Rundown Of Gaggia Brera
Last update on 2023-11-30 / Affiliate links / Images from Amazon Product Advertising API
Quick Rundown Of Jura A1
Jura A1 Super Automatic Coffee Machine, 1, Piano Black
ONE TOUCH: Prepare 3 barista quality specialties including ristretto, espresso and coffee at the touch of a button - coffee only
PERFECT ESPRESSO: Ultimate coffee quality thanks to JURA's exclusive Pulse Extraction Process
CONICAL BURR GRINDER: Fast and precise AromaG3 grinder grinds whole beans to the optimum fineness
: JURA is always freshly ground, not capsuled - fresh taste with very limited waste - single serve machine
CAPACITY: 37 ounce water tank, 4. 4 ounce bean container
Last update on 2023-11-30 / Affiliate links / Images from Amazon Product Advertising API
Product Videos
Related Articles to Gaggia Brera
Related Articles to Jura A1
References: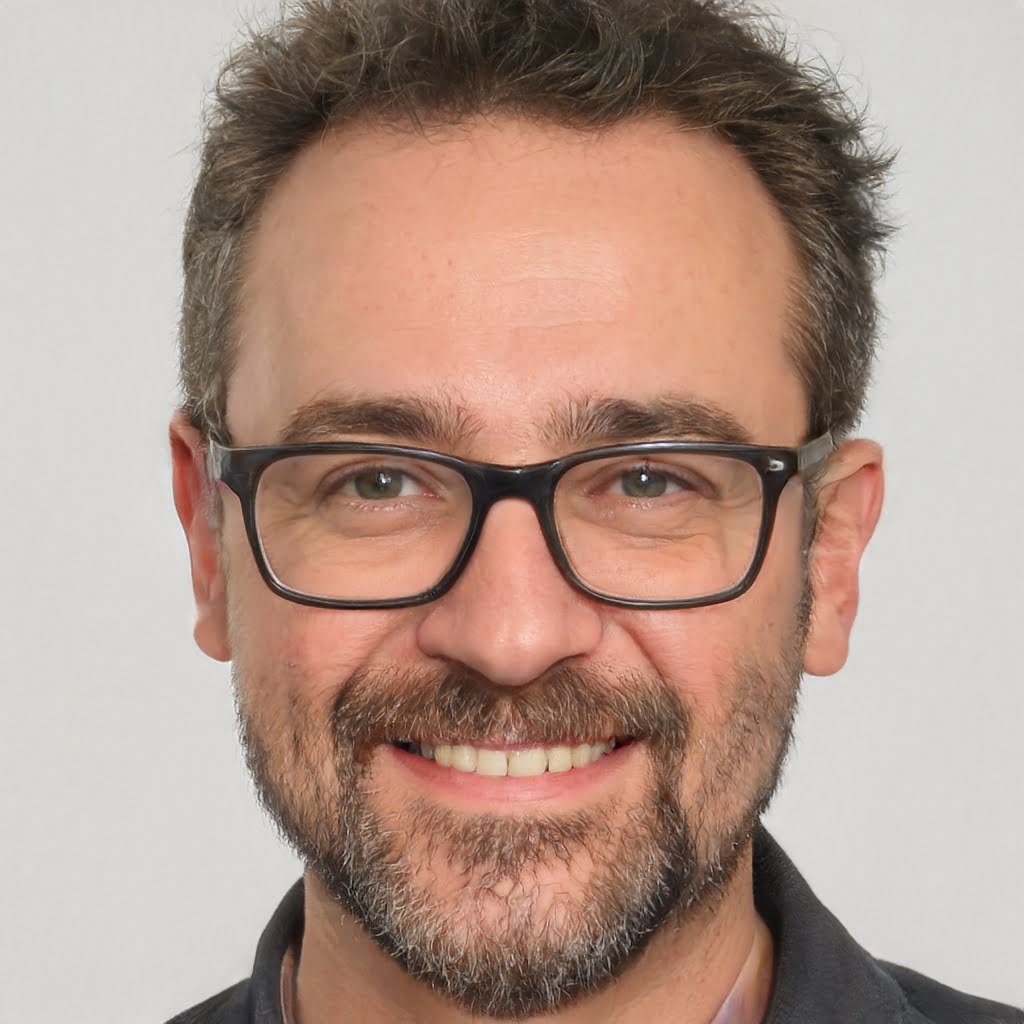 I'm Floyd J. Alcock, an experienced barista with a deep love for coffee. I curate personalized coffee experiences, guiding customers through diverse flavor profiles and suggesting ideal brewing methods. My extensive knowledge of espresso machines enables me to recommend the best equipment to match specific needs and budgets. Sharing my expertise and passion with coffee enthusiasts brings immense satisfaction. I look forward to continuing my journey of coffee discovery with every customer I serve, fostering connections over a shared love for this magical beverage.