These days, creating barista-level drinks at home is a breeze with the help of a super-automatic espresso machine that handles every task, from coffee brewing and milk steaming to self-cleaning. Yet, these machines often come with a price tag running into the thousands, while finding the best espresso machine under 1000 is a feat easier said than done. No, it's not that there aren't many options, but they typically require a compromise somewhere to maintain a low price point.
Fear not! I'm here to lend a hand. I'll point out the top four budget-friendly options and accompany you with a comprehensive buying guide. So let's dive into the detail and read to the end to avoid missing valuable information.
Best Espresso Machine Under 1000: My Top Picks
Best Espresso Machine Under 1000: In-Depth Review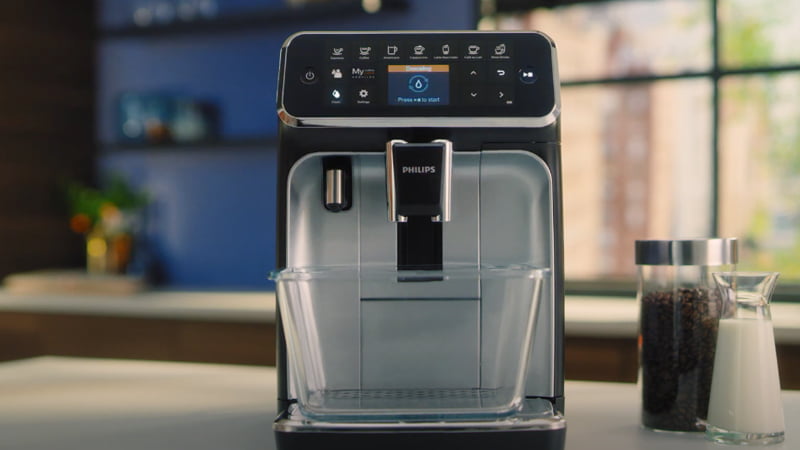 Specifications
Dimensions/Weight: 9.7 x 14.6 x 17.0 inches/17.7 lbs.
Pre-Programmed Options: 8.
Built-in Grinder: Ceramic Burr Grinder/12 Levels.
Pressure: 15 bar
Cup Height: 6.9 – 3.3 inches.
Milk Frothing System: Auto.
Water Reservoir/Bean Hopper: 60.9 oz (1.8 l)/9.5 oz (270 g).
In-Depth Review
The Philips 4300 LatteGo, with its technologically advanced display, feels like a coffee machine transported from the future. Its eye-catching design and compact stature allow it to sit comfortably on any kitchen countertop or tuck neatly under any cabinet. Despite being constructed wholly from plastic, it exudes sturdiness, with no hints of fragility – But it's too soon to make a definitive statement about its durability.
I'm glad that this one comes with an onboard ceramic burr grinder. Unlike its stainless steel counterparts, it operated quietly and didn't overheat, resulting in burnt coffee grounds and less-than-perfect espressos. Better yet, it offers 12 grind settings, allowing more control over the fineness/coarseness of the coffee – a thing seldom found in machines within this cost segment (even the most expensive Jura super-automatics have only 6 settings). Philips advises altering the grind settings only after brewing approximately 100 to 150 cups, or roughly a month's worth of usage.
Its one-touch drink list includes 8 options, including my go-to ones: espresso and cappuccino. It also has a hot water option, which sounds redundant but is very useful for brewing tea or making hot chocolate. I was very impressed with the espresso's overall quality – It was very hot and came with a lovely crema top layer. Likewise, the cappuccino has a good quality and fluffy foam that seems only to be created by a skilled barista. Wand to use decaffeinated coffee grounds? Sure, this model features a bypass dose chute and a 20ml scoop, allowing you to use any type of coffee ground.
Each preset option can also be adjusted better to suit your taste with five levels of coffee strength, three levels of brewing temperature, five cup sizes (how much liquid is in one shot – not your overall cup size), and the amount of milk. One of the features I super like is "User Profile," which includes two user profiles and one guest profile. There's nothing more frustrating than perfecting your recipe over hours of adjustments, only to find it altered the next day, right? It appears this feature was thoughtfully designed to keep peace within the family.
The Philips 4300 sports a dual height-adjustable spout that can fit various cups, including my travel mugs. It also allows for the preparation of two espresso cups simultaneously by increasing the amount of coffee ground used, rather than simply doubling the water quantity as many other models in its price bracket tend to do. Unfortunately, the milk-based drink needs to be created one after another.
The upkeep and cleaning of this model are far from overwhelming tasks. While some components, including the drip tray, coffee grounds basket, removable brewing group, and milk carafe, necessitate manual cleaning and maintenance, the descaling process is entirely automated with Philips descale solution. Plus, if you decide to utilize an AquaClean filter (optional), you'll find that descaling your machine is as rare as a hen's tooth.
Video
Quick Rundown
PHILIPS 4300 Series Fully Automatic Espresso Machine - LatteGo Milk Frother, 8 Coffee Varieties, Intuitive Touch Display, Black, (EP4347/94)
With Philips 4300 Series easily make up to 8 black and milk-based aromatic coffee varieties at the touch of a button! Enjoy the delicious taste and aroma of coffee from fresh beans at the perfect temperature .Cord length : 100 cm, Frequency : 50 Hz. Adjustable spout height : 85 - 145 mm. Pump pressure : 15 bar..Pump pressure : 15 bar. Water tank : Frontal access.
LatteGo Milk System: Top your coffee off with a silky-smooth layer of milk froth
Intuitive Touch Display: Select the perfect coffee for your mood with just one touch
My Coffee Choice Menu: Adjust the strength and quantity of your beverage and choose from three different settings to suit your preferences. The Aroma Extract system intelligently strikes the optimum balance between brewing temperature and aroma extraction by keeping the water temperature between 90 and 98°C
Powerful Filter and Easy Maintenance: Thanks to the AquaClean, enjoy clear and purified water - by changing the filter after being prompted by the machine, you will not need to descale your machine for up to 5000 cups
Last update on 2023-09-23 / Affiliate links / Images from Amazon Product Advertising API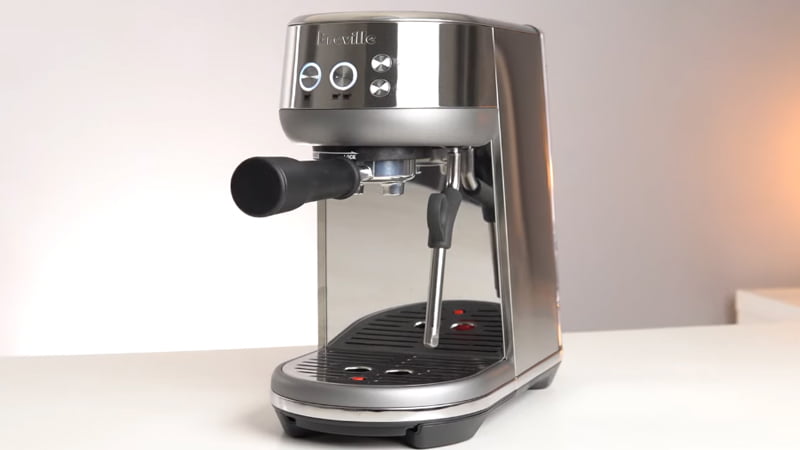 Specifications
Dimensions/Weight: 6.3 x 13.7 x 12 inches/10.8 lbs.
Pre-Programmed Options: Espresso.
Built-in Grinder: No.
Pressure: 9 bar.
Cup Height: Up To 4.5 inches.
Milk Frothing System: Steam Wand.
Water Reservoir: 2.1 liters.
In-Depth Review
The Breville Bambino is, no doubt, small but mighty. It is one of the cheapest machines that can reproduce barista-quality espresso drinks that your money can buy. It's also very elegant and compact, meaning you can put it anywhere without much thought. I also really like the way that the manufacturer takes care of beginners: instead of providing a user manual with many confusing instructions, they built an excellent app called BILT which will walk you through all the steps needed to set the machine up and maintain it (via a 3D guide).
This machine forgoes a new-age built-in grinder or automatic milk frothing system, coming instead with a traditional 54mm portafilter, a tamper, and a standard steam wand. Unlike my number one choice, the Philips 4300, which almost fully automates the process, the Breville Bambino mandates manual execution of tasks, including grinding (with a separate blender), tamping, and frothing. This might appear challenging to first-timers, but it's the trade-off for a low price tag. And believe me, once you get the hang of it, it'll be as easy as pie.
The first thing that this one impressed me with was that it only took 3 seconds to heat up and prepare for the first shot, thanks to the ThermoJet heating system. Three seconds? That's astounding! Even more sophisticated and pricier models can't compete with this. It even surpasses the thermoblock heating system present in luxurious Jura machines. Thus, even if it has no double boiler, I could steam the milk right after extracting a shot without any delay. My only grip is that it doesn't allow for changing the brewing temperature. It is fixed at a standard temperature of 200°F.
There is a cup warming rack on top of the machine to preheat the cup. That way, it can reduce heat loss and preserves the espresso's flavor for a long time – a small but welcome addition.
The Breville Bambino only accommodates the brewing of one or two espresso shots, so if you're craving any milk-based drink, you'll need to engage in some hands-on milk frothing with its steam wand. I found the taste of the espresso was a bit tepid. Its crema and body were passable but not perfect. But its steam wand was nearly perfect: It features a consistent and powerful stream of steam, allowing me to create great microfoam easily. So, believe me, you can achieve cafe-quality outcomes, provided you're ready to put in the effort of manual milk frothing and accept that the initial results might not be up to your anticipated standards.
The maintenance process takes a little time but isn't difficult at all. Daily tasks include emptying the drip tray, cleaning the portafilter, and wiping off the wand. Also, it's advisable to run extra hot water out of the empty group head to remove any lingering coffee grounds and press the steam button to purge the wand of any residual milk particles. You will also need to periodically descale the machine, a 10-minute process with a descaling solution packet.
Video
Quick Rundown
Sale
Last update on 2023-09-23 / Affiliate links / Images from Amazon Product Advertising API
#3. Rancilio Silvia – Best For Experienced Users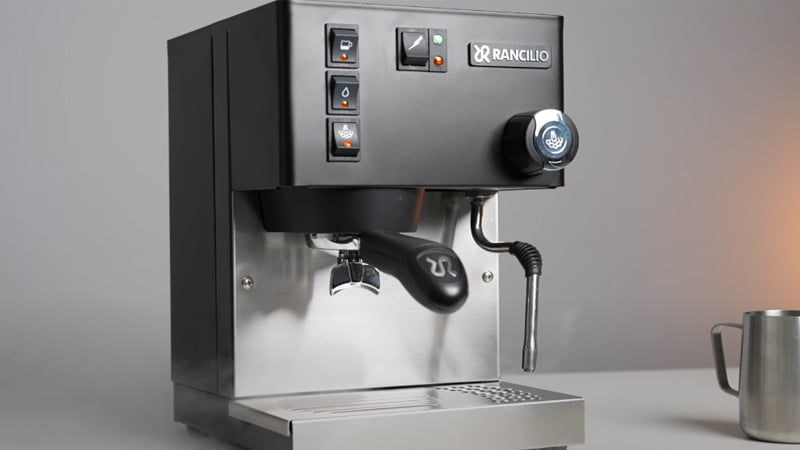 Specifications
Dimensions/Weight: 13.3 x 11.4 x 9.2 inches/30.8 lbs.
Pre-Programmed Options: Espresso.
Built-in Grinder: No.
Pressure: 15 bar.
Max Cup Height: 3.0 inches.
Milk Frothing System: Steam Wand.
Water Reservoir: 2.0 liters.
In-Depth Review
Upon initial glance, the Rancilio Silvia immediately reminded me of a tank! I mean, this square-shaped machine, boasting a stainless steel finish, exudes durability and gives the impression it will endure for years. It flaunts a minimalist aesthetic, suggesting Rancilio prioritized quality and functionality over aesthetics. Although it's not the most space-saving model on this list, I believe it will fit snugly on any kitchen counter. Just remember it is quite heavy, so you may not want to move it around too often.
This one comes with a high-quality 58mm portafilter and tamper, and you'll still need a separate grinder unless you use pre-ground coffee. Honestly, I've never seen a portafilter as beautiful as this on an espresso machine in the same price range – It fitted really nicely in my hand and felt perfectly balanced. In addition, it also comes with a heavy, solid tamper with a comfortable handle, which is quite different from the cheap-feeling plastic ones that come with some Gaggia machines.
Unlike most models with stainless steel or aluminum boilers, the Rancilio Silvia sports a brass boiler, which is known for its rapid heating properties and even temperature. It's common knowledge that the water's temperature for milk frothing greatly differs from the brewing temperature for espresso. Yet, the inability to control or precisely gauge the temperature of its boiler necessitates a complex workaround aptly named "temperature surfing."
Simply put, this solution involves letting the boiler heat up, then stopping powering the heating element and waiting until the temperature seems just right, and pulling an espresso shot (assuming that you frothed milk first). It's entirely dependent on a mix of personal experimentation and deep familiarity with your device, something that can seem overwhelming for newcomers. Alternatively, you have the choice to purchase the Rancilio Silvia with a pre-installed PID for precise boiler temperature control, though this will come with nearly a $200 increase in cost.
The Silvia actually doesn't have a pre-infusion function, but there is a trick! All you have to do is open the wand valve a quarter turn, then press the coffee switch to divert most of the pressure away from the group head. Once your desired pre-infusion time has passed, close the valve, and full-pressure extraction will occur. Voila! You have done a pre-infusion process for Silvia! By doing that, I got great flavor espressos. If you tasted a shot from this one and a shot from a coffee shop side by side, I bet you'd have a hard time telling the difference.
The Rancilio Silvia doesn't feature an automatic milk frother or a Panarello wand but rather comes equipped with a commercial-grade wand with an acorn tip. While it may sound like hyperbole, I assure you that with a bit of finesse and practice, you'll be nonchalantly producing thick, luscious foam for your morning macchiatos or cappuccinos, making a trip to your fancy coffee shop unnecessary.
When it comes to cleaning and upkeep, aside from regularly purging and wiping down the wand after each use, I advise descaling the machine at least quarterly. This process entails adding a cleaning solution to the water tank and letting it circulate through the entire espresso machine. Sounds pretty straightforward, doesn't it?
Video
Quick Rundown
Last update on 2023-09-23 / Affiliate links / Images from Amazon Product Advertising API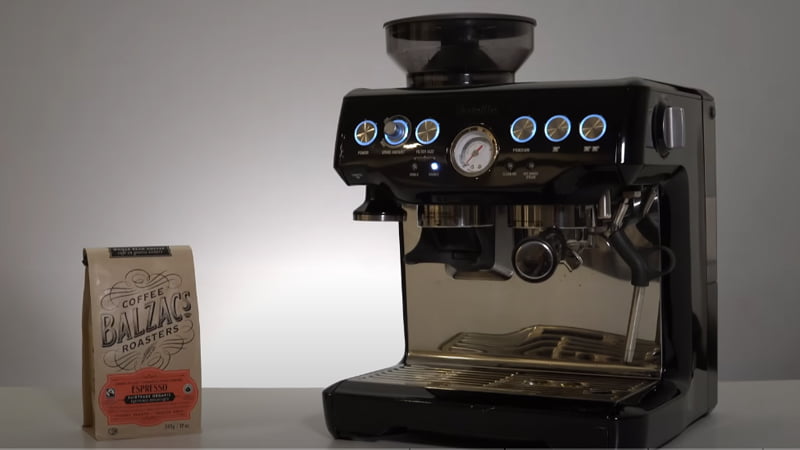 Specifications
Dimensions/Weight: 12.5 x 13.8 x 15.9 inches/23
Pre-Programmed Options: Espresso.
Built-in Grinder: Conical Burr Grinder/ 16 Levels.
Pressure: 15-bar
Max Cup Height: 4.0 inches
Milk Frothing System: Steam Wand.
Water Reservoir/Bean Hopper: 2.0 liters/230 gram
In-Depth Review
The Breville Barista Express is quite visually appealing and exudes an aura akin to a machine from Ironman's workshop. Of course, beauty is in the eye of the beholder, but I believe it can elevate the aesthetics of any kitchen. Although it doesn't have a large footprint and won't hog much countertop space, its substantial height might pose an issue for under-cabinet placement.
It comes out of the box with various accessories, including a well-made 54-millimeter portafilter, a tamper, and up to four filter baskets. A double wall basket is meant for beginners since it can hide inconsistency in grind and tamping, but I always advocate using a single wall basket. While it may demand more time and effort to refine your technique, the resulting improvement in your espresso's flavor will be a delightful reward.
The Barista Express has a conical burr grinder and 16 grind settings, allowing you to fine-tune the grind size for a perfect shot. I found it difficult to achieve consistency with this blender, but a cheap hybrid espresso machine always comes with some trade-offs. Anyway, its presence here is welcome since it eliminates the need to buy a separate grinder and find room for it. Certainly, an upgrade is always an option if you're so inclined. Some grinders on the market are even pricier than this espresso machine itself. I initially adjusted the grinder to setting 5, and my espresso tasted satisfactory, though flat and lifeless. Then, upon dialing down to setting 3, the resulting shot was simply astounding.
The Barista Express operates on a single heating system, meaning it cannot simultaneously brew espresso and steam milk. However, I wouldn't regard this as a major drawback, as it's common for machines within this price bracket. And instead of a traditional boiler that requires a lengthy 30 minutes to reach the desired temperature, it's equipped with a thermocoil that is ready to go in 30 seconds. Of course, it's not as superior as the thermoJet or thermoblock systems, but it certainly saves you from extensive waiting for your desired beverage.
Fortunately, this one also features a pre-infusion function before extraction, and you can adjust the pre-infusion period to suit your taste. The extraction occurs at 9 bar of pressure, and a pressure gauge visualizes whether the internal pump dispenses hot water through the coffee grounds within the ideal pressure range. Most cheaper machines tend to lack this gauge to cut costs or hide that they feature inconsistent performance.
Its steam wand has one hole, takes a long time to get going, and is less powerful than many rivals. Anyway, I could create a beautiful, silky microfoam with this one, so once you get used to it, you will find it pretty fantastic.
Quick Rundown
Sale
Breville Barista Express Espresso Machine, Brushed Stainless Steel, BES870XL, Large
The Breville Barista Express delivers third wave specialty coffee at home using the 4 keys formula and is part of the Barista Series that offers all in one espresso machines with integrated grinder to go from beans to espresso in under one minute.Grind Settings : 16 precision grind settings, Tamping : Manual removable magnetic tamper,.Pressure Gauge : Extraction Feedback pressure gauge. Interface : Simple button control.
DOSE CONTROL GRINDING: Integrated precision conical burr grinder grinds on demand to deliver the right amount of freshly ground coffee directly into the portafilter for your preferred taste with any roast of bean
OPTIMAL WATER PRESSURE: Low pressure pre-infusion gradually increases pressure at the start and helps ensure all the flavors are drawn out evenly during the extraction for a balanced tasting cup
PRECISE ESPRESSO EXTRACTION: Digital temperature control (PID) delivers water at precisely the right temperature, ensuring optimal espresso extraction
MANUAL MICROFOAM MILK TEXTURING: The powerful steam wand performance allows you to hand texture microfoam milk that enhances flavor and enables creation of latte art
Last update on 2023-09-22 / Affiliate links / Images from Amazon Product Advertising API
Video
Buying Guide
Built-In Grinder
An espresso machine with an integrated grinder saves you from needing a separate grinder and the hassle of finding extra space for it. The material of the grinder should also be taken into account – ceramic grinders are typically favored over stainless steel alternatives, as they avoid overheating during grinding, which can burn the coffee grounds. Moreover, the more grind settings an espresso machine features, the greater control you possess over the fineness/coarseness of your coffee grounds.
Heating System
A machine furnished with a dual boiler system holds an edge as it allows for concurrently brewing espresso and frothing milk. However, they often come at a steep price, in contrast to sub-$1000 espresso machines that usually boast a sole boiler. But it's not the end of the world as many models are equipped with some sort of technology to cut down on wait times, such as the Breville Bambino's thermoJet heating system, the Barista Express's thermocoil, or the Jura A1's thermoblock.
Milk System
Beginners often give pops to machines with automatic milk frothing systems, as they require minimal expertise to create milk-based beverages. However, machines equipped with wands provide more control over the milk frothing process, which is why they are favored by seasoned coffee enthusiasts and professional baristas.
Water Reservoir
A larger water tank means fewer refill requirements. Some models even enable the incorporation of a filter into their reservoirs, facilitating the removal of minerals from the incoming water. This leads to less frequent descaling of the machine and enhances the espresso's flavor. However, this convenience comes with a considerable recurring cost, which often gives many potential users pause.
Easy to Maintain
For effortless deep cleaning, an espresso machine should feature detachable components, like the water reservoir, drip tray, and puck container. Some models even include a removable brewing group. This introduces an additional task to your maintenance routine, but in my perspective, they usually have a longer lifespan than their built-in counterparts.
Machine descaling usually relies on an automatic program. And as mentioned above, some machines are compatible with filters to minimize descaling cycles. The frothing milk system or steam wand requires cleaning after each use, and many models feature automatic self-cleaning as well.
Dimensions
Espresso machines are available in different sizes, so it is essential to determine how much space you have before finalizing a purchase. It's also important to verify whether the machine is top, front, or back-loading to establish if it should be accommodated under a kitchen cabinet or an area with ample vertical space.
Features
An espresso machine may come with extra features, notably pre-programmed beverages, and adjustable settings. Many Machines within this price enable you to choose the grind settings, tweak the brew temperature, select the amount of milk/milk foam, brew two espressos at once, set the time for automatically turning on/off, and so forth. Naturally, more programmable settings correspond to a higher price point.
FAQs
How Long Can I Expect An Under-1000 Espresso Machine To Last?
The lifespan of an espresso machine varies greatly depending on its build quality, how well it's maintained, and how often it's used. But with proper care, many machines in this price range will last several years or more.
Are There Any Dual Boiler Espresso Machines Under $1000?
Dual boiler espresso machines are usually more expensive, but there are a few options in this price range, such as the Breville Dual Boiler.
Differences between manual, semi-automatic & super-automatic machines?
Manual machines offer the most control but require the most skill. Semi-automatic machines automate certain steps but still give you a degree of control. Super-automatic machines do nearly everything for you, from grinding the beans and brewing espresso to frothing the milk.
Do Espresso Machines Under $1000 Come With A Warranty?
Most espresso machines have a warranty, though the length and terms can vary by manufacturer and model. Always check the warranty terms before purchasing.
What Maintenance Is Required?
Maintenance tasks for an espresso machine can include regular cleaning of its components, descaling to remove mineral buildup, and replacing certain parts as needed. The exact maintenance requirements can vary by model.
Related Articles to Philips 4300
Related Articles to Breville Bambino
Related Articles to Rancilio Silvia
References: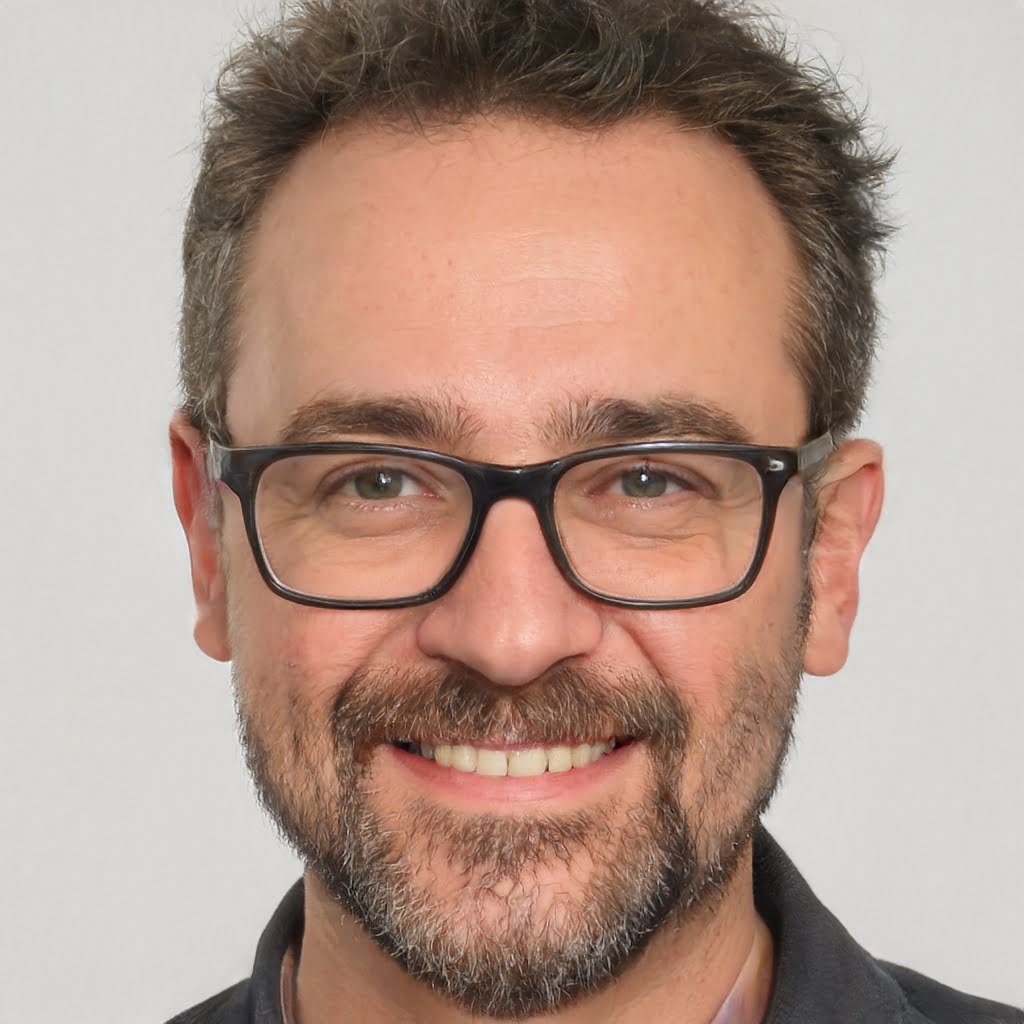 I'm Floyd J. Alcock, an experienced barista with a deep love for coffee. I curate personalized coffee experiences, guiding customers through diverse flavor profiles and suggesting ideal brewing methods. My extensive knowledge of espresso machines enables me to recommend the best equipment to match specific needs and budgets. Sharing my expertise and passion with coffee enthusiasts brings immense satisfaction. I look forward to continuing my journey of coffee discovery with every customer I serve, fostering connections over a shared love for this magical beverage.