Jura Giga 6 Review: Costing almost $5,000, this model is a significant investment for any household. I tried to understand the reasoning behind this high cost out of curiosity. And upon thorough evaluation, I discovered that this bad boy, in its nuanced functionality and advanced features, rivals the extravagance of an aircraft carrier!
Of course, if you are a budget-oriented guy looking for an affordable device, you will want to leave the Giga 6 out of consideration since this one costs an arm and a leg – This Swiss brand still has other, more wallet-friendly options in its arsenal. However, if you're blessed with deep pockets and don't mind splurging on a machine that can deliver you coffee-quality drinks daily, it deserves to be one of the top contenders.
So what will you get from this beast? With a pair of bean hoppers, two boilers, dual 15-bar pumps, a whopping 28 specialties, and more, it will essentially turn your home into a veritable oasis of caffeine delight. To indulge in your favorite brew, all it takes is positioning a cup under its spout and simply pressing a button. And that's just the tip of the iceberg!
Main Specifications
Image
Jura Giga 6
Dimensions/Weight
12.6 × 16.3 × 19.6 in/39.7 lbs
Built-in Grinder
Automatic Grinder Adjustment (A.G.A.)
Pulse Extraction Process (P.E.P)
What I Like
Double boilers allow brewing coffee and steaming milk at once.
It is possible to mix two types of coffee together.
Has a list of 28 preset drinks.
Can make two drinks at the same time.
Easy to use and clean.
Can be controlled remotely via the JOE app.
Artificial intelligence remembers drinking habits.
Jura Giga 6
Image
Dimensions/Weight
12.6 × 16.3 × 19.6 in/39.7 lbs
Built-in Grinder
Automatic Grinder Adjustment (A.G.A.)
Pulse Extraction Process (P.E.P)
What I Like
Double boilers allow brewing coffee and steaming milk at once.
It is possible to mix two types of coffee together.
Has a list of 28 preset drinks.
Can make two drinks at the same time.
Easy to use and clean.
Can be controlled remotely via the JOE app.
Artificial intelligence remembers drinking habits.
Last update on 2023-09-22 / Affiliate links / Images from Amazon Product Advertising API
Jura Giga 6 Review
In short, the Jura Giga 6 is packed with many bells and whistles that make it worth every penny! But there are a few downsides that should be noted, such as its bulky size and heavy weight.
Coffee Flavour
Built-in Grinder
The Jura Giga 6 features two precision-made ceramic disc grinders. So why ceramic instead of stainless steel? The answer lies in the several distinct advantages that ceramic holds over its stainless steel counterparts. Firstly, ceramics are significantly poorer conductors of heat compared to steel. This characteristic implies that ceramic grinders remain relatively cool during operation, effectively preventing the coffee beans from burning, inevitably resulting in a subpar espresso experience.
Moreover, my decibel meter clocked the noise level of this machine at around 65 dB, which is not overly loud but certainly noticeable. I'm on the fence about whether this level of noise would shake other family members from their dreams, but to play it safe, ensure your kitchen door is either partially or fully shut.
It's worth noting that they are also burr grinders instead of blade grinders. Unlike their blade-based counterparts, which slice through the beans, burr grinders operate with interlocking pieces that grind the beans to a consistent size. The outcome? A more uniform grind contributes to a well-balanced flavor in your final espresso shot.
Heating System
With such an exorbitant price tag, there's no reason why the Jura Giga 6 doesn't come with dual boilers, and thankfully, it didn't disappoint me. With two thermoblocks, this one can quickly brew espresso and steam milk at the same time, avoiding the cool-down and reheating cycles common in single boiler systems. If you're in need of a device for a café, a cozy bar, a bustling office, or any venue that demands high-speed beverage service, this double boiler machine would be a sterling choice.
Unlike traditional steam seats, which heat a surplus of water regardless of its actual consumption, the thermoblock heating system targets the exact quantum of water required. This yields a trifecta of benefits: expediting the heating process, reducing energy waste, and ensuring that your brewing process always calls upon fresh water. It's evident that the inventor of this was a forward-thinker.
Brewing System
Now let's shift our focus to the lifeblood of espresso: the brewing process. The Jura Giga 6 features a built-in brew group that can't be disassembled for cleaning – an automated system takes care of the task instead (more on that later). As anticipated, like other high-end machines of the same brand, this one features the Intelligent Pre-Brew Aroma System (IPBAS) and Pulse Extraction Process (P.E.P.).
All right, they are confusing terms and silly acronyms, but that's due to Jura's marketing team, not me. The Intelligent Pre-Brew Aroma System simply takes care of pre-infusing the coffee grounds with just the right amount of hot water before extraction, allowing their aroma and flavor to be fully unleashed. Honestly, this is the standard for nearly all the espresso machines, at least the ones I've tested, albeit without an unnecessarily fancy name, which is unique to Jura.
However, what makes Jura machines stand out from the crowd is their unique Pulse Extraction Process (PEP), meticulously developed through a series of extensive tests by espresso experts. This process shoots streams of hot water through the coffee grounds in short bursts, yielding flawlessly balanced espressos that are free from both over-extraction and under-extraction. Originally reserved for high-end models, this extraordinary feature has now been integrated into various budget-friendly alternatives, such as the Jura A1.
Milk Frothing System
Just like the other processes in the Giga 6, frothing milk is also fully automatic. At the touch of a button, I can have lattes and cappuccinos with delicious milk foam, something that only a professional barista can do. So even though it's an expensive initial investment, considering the countless café-caliber drinks it can deliver in the long term, it turns out to be a steal!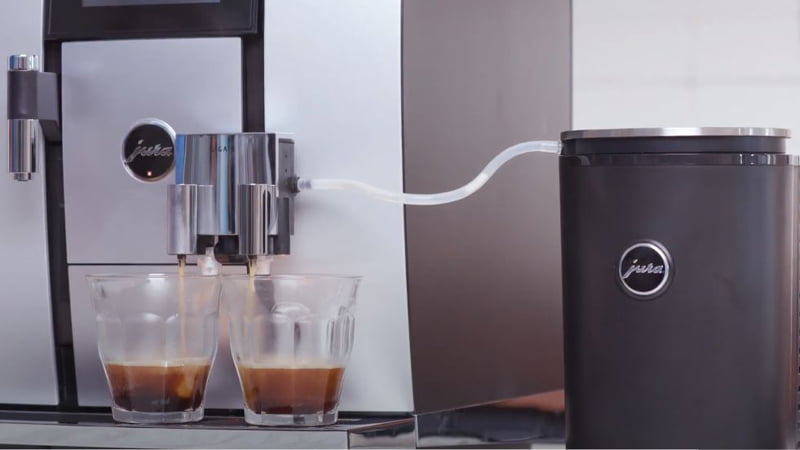 But this expensive machine doesn't come with any milk pitchers, and it seems to be a widespread issue for all Jura models. Seriously? Even though I sent Jura almost $5,000 of my hard-earned cash, they forced me to buy their attractive-branded glass jug separately. It was akin to the disillusionment of buying a brand-new iPhone only to realize the charger doesn't come with it. Of course, if you don't want to spend any extra bucks, you can use any container you have.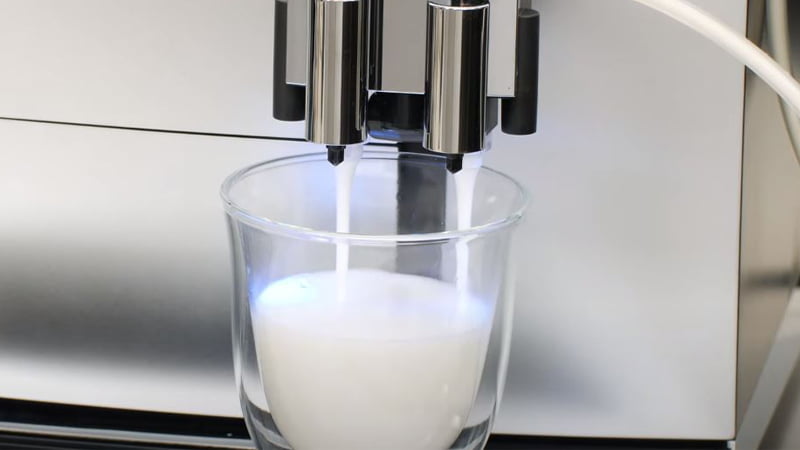 However, setting this slight hiccup aside, I found this machine truly outstanding. Its Fine Foam technology is able to whip up barista-grade froth for my espresso concoctions, and what makes it even better is the ability to fine-tune the temperature and the quantity of milk or milk foam to my personal taste. But, just like all other Jura espresso machines, the measurement of milk or foam is in seconds, which could leave many scratching their heads. If you ask me, here are my estimates:
| | |
| --- | --- |
| 1 Second of Hot Milk | 6 Grams (or 0.2 Ounces) |
| 1 Second of Froth Milk | 4 to 5 Grams (or 0.14 to 0.18 Ounces) |
As for a latte macchiato, the adjustable interval ranges from 0–60 seconds for the hot milk to separate from the milk foam, enabling the creation of a delightful beverage with exquisite multi-layers. Savoring this drink's visual allure in a clear glass is a joy in itself!
Design & Usability
Dimensions, Footprint, & Weight
I won't say much about how good the Jura Giga 6 looks – this polished aluminum machine won the iF Design Award in 2020 for good reasons. That said, this one is not only a functional machine but can also serve as eye candy for any kitchen. Aluminum may not be as strong as steel, but it's lighter and still durable enough to provide you with delicious cups of coffee for years to come, provided it's properly maintained.
This mammoth-sized machine takes up a lot of precious counter space, making it ideal for an office environment or any large setting. For those with limited kitchen counter space, finding a proper spot for this behemoth can be a challenging task. Additionally, its considerable weight is something to consider as well.
Pre-programmed Coffee Options
It's no exaggeration to say that the Jura Giga 6 is designed to be a personalized barista who can make any caffeine drink right in your cozy kitchen. With a long list that includes 28 one-touch drinks, there's always something for every member of your family. It even has a hot water option for green tea lovers, making healthy drinks a piece of cake. Respect!
Its pre-programmed drinks don't please you? No problem! The Jura Giga 6 lets you toy with their preset drinks through a stack of adjustable settings.
First, you can create one-of-a-kind recipes by combining two different types of coffee beans from two bean hoppers in the ratios 1:3, 3:1, 1:1, 0:1, and 1:0. Plus, you can tweak other factors like the coffee strength, brewing temperature, and the quantities of milk/milk foam, water/bypass water, among other things. Well, the sky's the limit on the quirky mixes you'll create!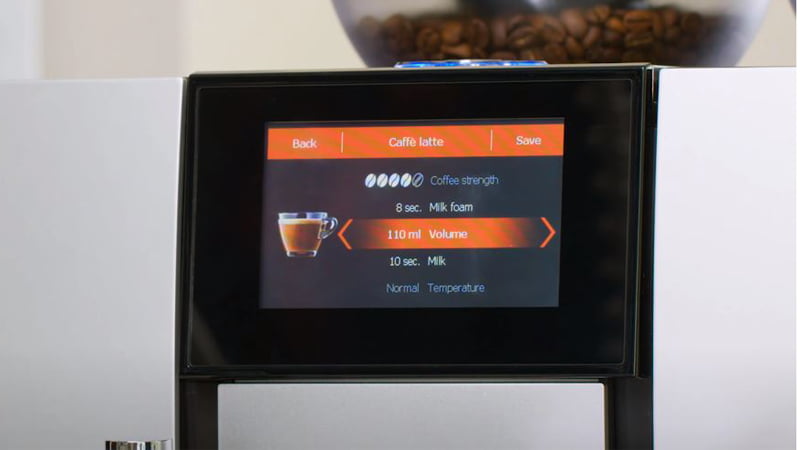 But wait! "Water" here is the amount of coffee, while "bypass water" just refers to extra water, which is added to make an Americano, for instance. Jura's word usage always makes things unnecessarily complicated!
For those caffeine-sensitive folks among us, the Jura Giga 6 features a bypass dose chute that allows for using pre-ground coffee. It's also a handy backup for those "out of beans" situations when you really need an alternative to kick off your day.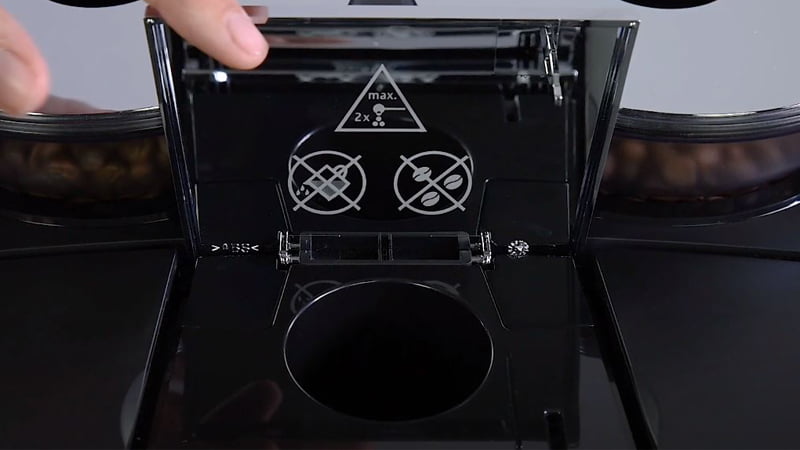 Spout & Cup Clearance
There is a double coffee spout and a double milk dispensing spigot mounted side by side, facilitating the brewing of two drinks at the same time, including milk-based ones. This is super handy for the morning rush hour when the line of caffeine cravers is winding.
These spouts can be adjusted vertically and horizontally to be compatible with mugs of all sizes, even the really big ones like my travel mugs. It also sports a fancy cup illumination feature – a small but welcome addition.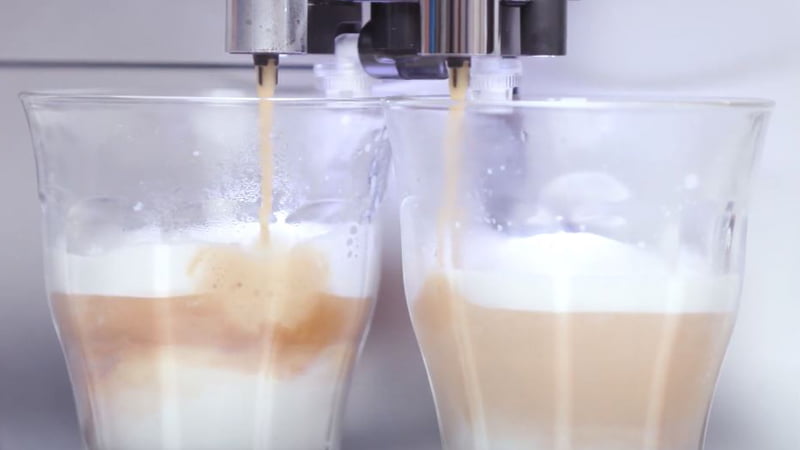 Water Reservoir & Bean Hopper
The Jura Giga 6's 2.6-liter water tank is larger than average and well-suited for large families or office environments, though I do wish it had a bit more capacity to better fit commercial use. It can be refilled, though it opens from the top instead of removing it completely, which is a game-changer for those with a sink that can't quite accommodate the size of the tank under a tap.
Its reservoir can house a CLEARYL smart filter cartridge, which is designed to remove impurities and provide pure water for the brewing process. That way, it'll give you top-tier beverages and spare you from frequent descaling chores.  The intelligent water system will automatically activate the filter mode and notify you when it needs to be replaced. I strongly endorse using this filter unless you're using distilled water or have a filtered kitchen sink.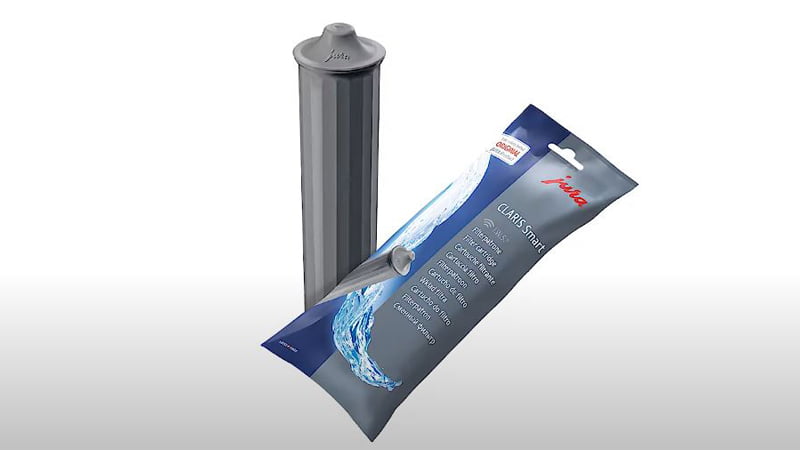 These are two cone-shaped bean containers located on top for easy loading. Each can hold up to 280g of coffee beans, resulting in a combined capacity of 560g. The airtight aroma preservation lids can be completely sealed to preserve the freshness and aroma of the beans. The active bean monitoring system will issue a warning when these hoppers are running low, ensuring a constant supply of beans.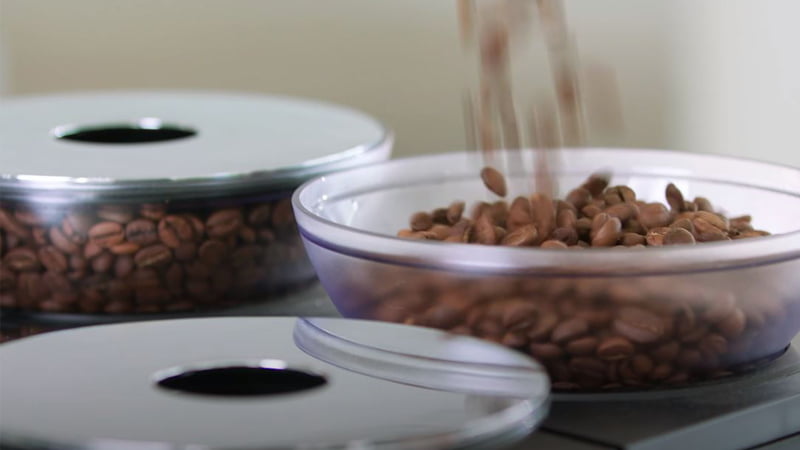 Cleaning & Maintenance
Now I will talk about the big elephant in the room. I can empathize with the apprehension many feel regarding the upkeep of an espresso machine. Maintenance is a walk in the park with the Jura Giga 6 since everything is almost fully automatic as well. A cleaning alarm will pop up on the screen to tell you when it's time to give your machine a thorough cleaning. If you ignore it for quite a while, you'll have to kiss your machine goodbye.
Descaling the machine is a 20-minute process, but all you need to do is drop a Jura cleaning tablet into the bypass dose chute, push the button, take a seat, and bide your time. Typically, this chore is done bi-monthly, but the frequency can decrease if you opt to use the filter. The same goes for cleaning the milk frothing system, requiring a milk cleaner solution and a milk system container. Every step of these processes is visually depicted on the screen.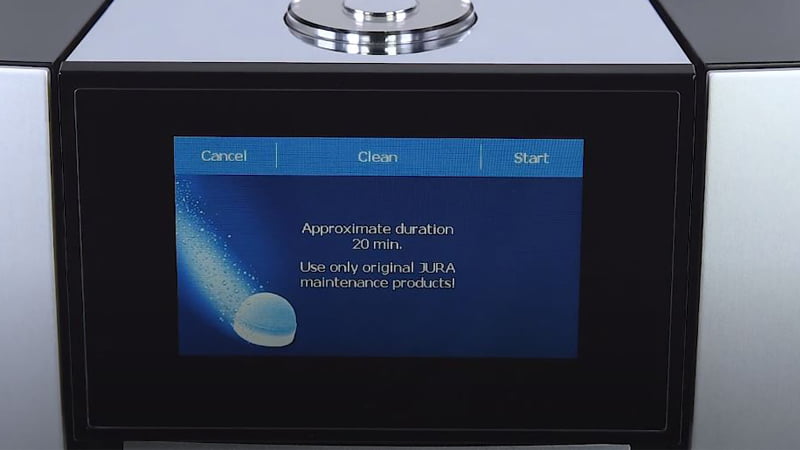 Additionally, it's necessary to empty the drip tray and the grounds basket, as well as wipe down the casing of the machine daily. I know these things are quite time-consuming, but they serve only one purpose — ensuring your machine remains clean at all times.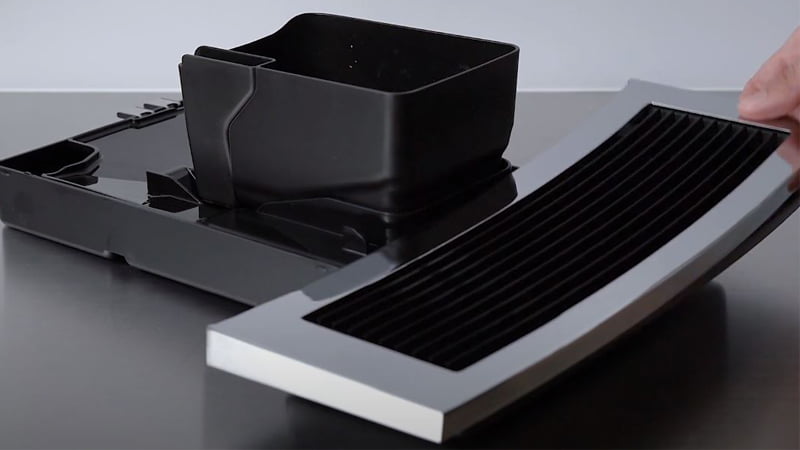 Utilities & Other Features
User Interface
The Jura Giga 6 features a 4.3-inch high-resolution touchscreen display, giving it a modern look. I mean, after all, what device today lacks a touchscreen? It is eye-catching, but I found it slightly sensitive, resulting in incorrect drink choices a few times. But fret not, a rotary dial is available as a user-friendly alternative.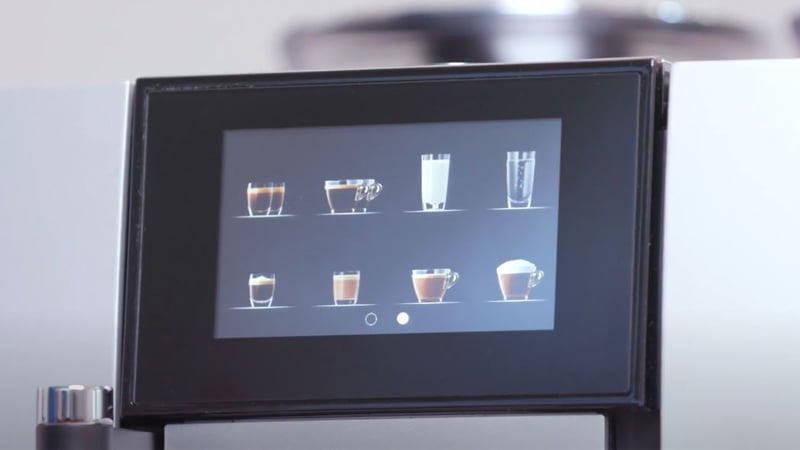 Remote Control
You don't even need to be physically present in front of the Giga 6 to choose your drink and kickstart the brewing process since all of this can be remotely managed via an app known as J.O.E. This turns your smartphone into a temporary control panel, enabling you to continue savoring your early morning slumber while the machine works its magic. Additionally, up to three personalized drinks can be synced to an iWatch, enabling effortless brewing with just a wrist touch. Just remember to put a mug in place before going to bed.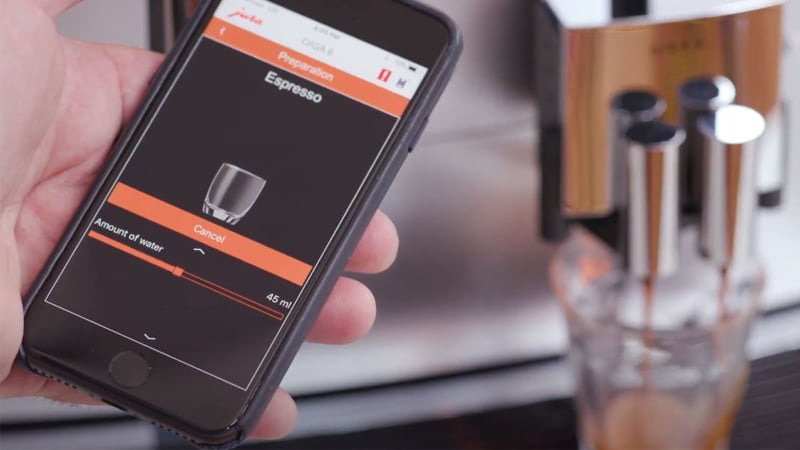 Artificial Intelligence
Yes, you didn't read it wrong! We are at the AI level of coffee brewing. By leveraging an advanced algorithm, this machine can understand your coffee habits and tailor the interface settings accordingly for your convenience.
Energy Saving
Energy Saving Mode (or ESM) is another notable feature of this Jura coffee machine. It not only saves money on your utility bills but also protects the environment. Does that kill two birds with one stone? You also have the option to configure the machine to automatically shut off after a certain duration. Now you can leave home without the worry of leaving your machine running!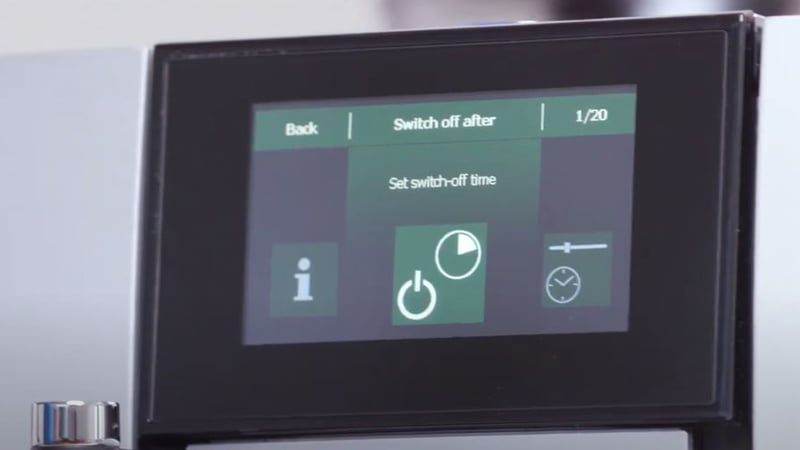 FAQs
Is Jura Giga 6 Worth It?
Yes, the price tag is steep, but when you consider everything the Jura Giga 6 offers – including a staggering 28 one-touch drink options, extensive customization capabilities, and a host of additional features – it justifies the expense.
How Often Should I Descale the Jura Giga 6?
Generally, the machine should be descaled every two months, depending on water hardness, machine usage, and whether you use a filter. The machine will also display a notification when descaling is needed.
Can I Save My Preferred Settings on the Jura Giga 6?
Yes, this one allows you to save and name your personalized coffee settings so that your favorite beverage is always just one touch away.
Is the Jura Giga 6 Easy to Use?
Yes. Although it is a feature-rich machine, using it is a pain-free task. Just read the owner manual carefully.
Does the Jura Giga 6 Have a Warranty?
Yes, the Jura Giga 6 usually comes with a two-year manufacturer's warranty. However, warranty terms may vary depending on the retailer or country.
Quick Rundown Of Jura Giga 6
Jura GIGA 6 Aluminum Automatic Coffee Machine
Stainless steel body with aluminum finish
28 available specialties to choose from
87 ounce water tank
2 electronically adjustable ceramic disc grinders
Automatic Grinder Adjustment (A.G.A.) function
Last update on 2023-09-22 / Affiliate links / Images from Amazon Product Advertising API
Product Videos
Related Articles to Jura Giga 6
References: https://us.jura.com/en/homeproducts/machines/GIGA-6-Aluminium-NAA-15396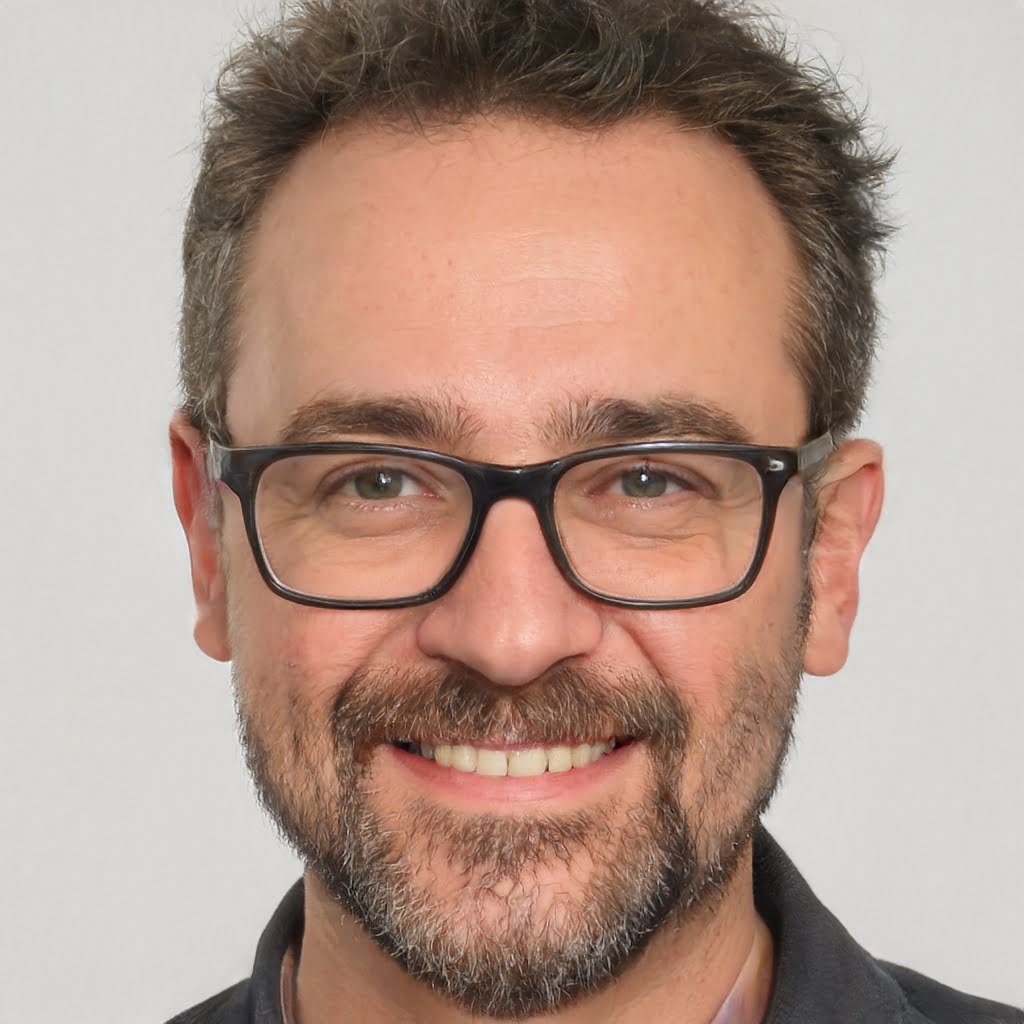 I'm Floyd J. Alcock, an experienced barista with a deep love for coffee. I curate personalized coffee experiences, guiding customers through diverse flavor profiles and suggesting ideal brewing methods. My extensive knowledge of espresso machines enables me to recommend the best equipment to match specific needs and budgets. Sharing my expertise and passion with coffee enthusiasts brings immense satisfaction. I look forward to continuing my journey of coffee discovery with every customer I serve, fostering connections over a shared love for this magical beverage.