Deciding which machine is better in the battle between Delonghi Magnifica S vs Delonghi La Specialista is quite arduous, as each has its own pros and cons. After using these machines for approximately a quarter, I decided to give the winning title to the latter.
As a hybrid machine (a combination of a fully automatic and a semi-automatic machine), the La Specialista gives you more control over the brewing process than super-automatic machines. Moreover, it has advanced features that make your coffee brewing experience incredibly easy.
Delonghi Magnifica S vs Delonghi La Specialista: Comparison Chart
Invalid table id.
Delonghi Magnifica S Vs Delonghi La Specialista: Key Differences
The Magnifica S beats the other with a score of 4-2. It is beautiful, easy to use, and produces unbeatable coffee flavor without any technique required. Its only problems are that it is a bit noisy when grinding and quite pricey for a home-use machine.
COFFEE FLAVOR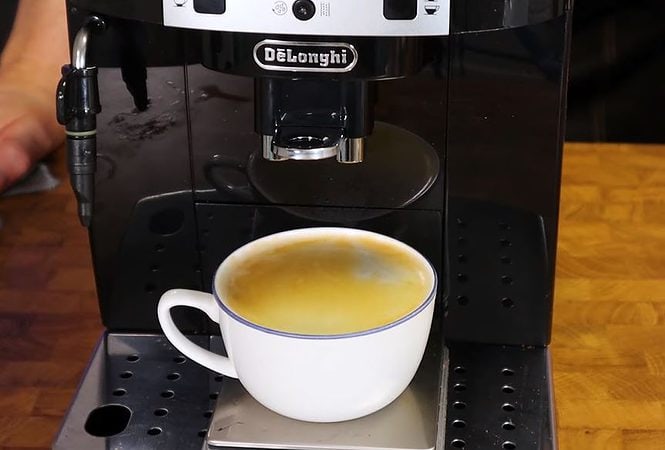 The Winner: Tie
Grinder
These La Specialista and Magnifica S have many grinder settings, allowing you to change the coffee ground from coarse to fine, or vice versa, easily. The La Specialista has six grinder settings, while the Magnifica S has 13.
Everyone's preferences and tastes vary. So the more grind settings a coffee maker has, the better it will be able to adjust to meet specific flavor preferences. As a result, the score comes to the Magnifica S in this round.
During testing, I found the Magnifica S' grinder isn't very stable. It sometimes can't receive coffee beans from the bypass doser, forcing me to push them down the grinder by hand. It is also quite noisy when grinding.
Brewing Technique
The La Specialista comes with a 19-bar pump system to grind the coffee beans and exert the proper pressure to make full-bodied espresso with dense crema all the time. Whenever I use this coffee maker, it ends up with very aromatic and robust espressos. So if you're a soft coffee drinker, I don't think it's right for you.
On the flip side, the Magnifica S does an excellent job creating rich, flavorful, and smooth espresso thanks to its 15 pumping bars. It also lets you adjust the brewing settings to reach a great balance of quantity and strength.
Heating System
Although the La Specialista doesn't have as many great grinder settings as the Magnifica S, it equalizes the result in this round thanks to its dual heating system that offers active control over temperature.
This feature allows the machine to extract espresso at a stable temperature to avoid overheating or burning. You also don't need to wait too long between brewing sessions.
PANARELLO STEAM WAND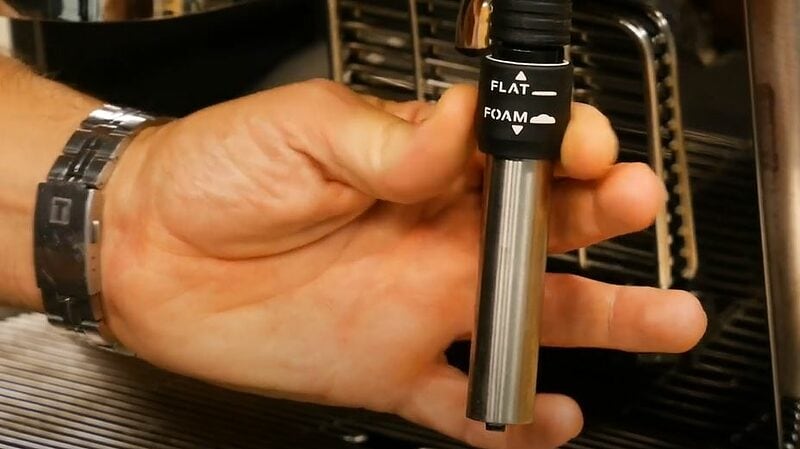 The Winner: Magnifica S
Both Magnifica S and La Specialista come with a steam wand (or frothing wand), one of the best-selling features of Delonghi products.
The La Specialista has an upgraded Panarello wand that provides two settings: Foam and flat. The foam mode (for frothing milk) delivers more air to make specialty coffee like cappuccinos – one of my favorite options. Meanwhile, the flat setting (for steaming milk) is ideal for milk-based drinks, such as flat white or latte, with a gentle milk layer on the top. I tried two settings and got rich and smooth crema.
The Magnifica S provides more brewing options than its opponent, allowing you to make any specialty coffee. But I find this unit makes firm and consistent foam, making it ideal for drinks like cappuccino or latte.
Making milk-based beverages with both Magnifica S and La Specialista is a breeze. All you need to do is adjust the wand, and then it will take care of the rest for you. Absolutely no technique is required! The steam wand can also be cleaned quickly and easily because of its detachable design.
Generally, the foam quality of both machines is equally great, making them good enough to serve in office settings or coffee bars. But the Magnifica S completely outshines its competitor because it offers more brewing options, not to mention that it froths milk quicker.
DIMENSIONS AND CAPACITY
The Winner: Magnifica S
The dimensions of the La Speciala and Magnifica S are 14.48 x 15 x 17.5 inches and 19.2 x 11.5 x 16.3 inches, respectively.
They share the bean hopper capacity but differ in water tank capacity. Specifically, the Delonghi La Specialista comes with an 84.5-ounce water tank, while its counterpart comes with a 60.8-ounce one.
Larger water tanks will serve longer before running out of water, reducing the frequency of refills. So if you need something for a large family, office setting, or self-service bar, we highly recommend the Delonghi La Specialista. But its water reservoir is inaccessible, which can be a bit inconvenient.
On the other hand, the Magnifica S's water capacity is small. I have to refill it several times to get through a single day.
CLEANING AND MAINTAIN
The Winner: Tie
Cleaning coffee machines can be daunting to many, but these models are the exception, as cleaning them is a piece of cake.
After clicking the rinsing button, easily found in the interface, these machines will run hot water through the dispenser to remove all leftover coffee. After each use, you should complete this step to keep your machine clean and ready for the next brew session.
I also found that although the production doesn't recommend it, I can wash components of these machines inside my dishwasher, and there were no side effects.
Delonghi Magnifica S Vs Delonghi La Specialista: Similarities
BEAN HOPPER CAPACITY
Both Magnifica S and La Specialista have an 8.8-ounce bean hopper capacity with sealed shut lids to keep dirt out and prevent losing aroma.
CUP WARMING TRAY
During testing, I discovered that these machines come with something interesting: A cup-warming tray.
Suppose you're used to enjoying coffee from drip-brew machines. In that case, you will notice that the drinks created by these machines are significantly cooler, especially for milk-based beverages, as the milk is always steamed at a lower temperature to avoid destroying the flavor of the milk.
Your drink will lose even more heat if poured into a chilly cup. That's where the cup warming tray comes into play, as it is designed to ensure that your coffee temperature is always hot.
Quick Rundown of Delonghi La Specialista
Sale
Last update on 2023-05-28 / Affiliate links / Images from Amazon Product Advertising API
Quick Rundown of Delonghi Magnifica S
Delonghi super-automatic espresso coffee machine with an adjustable grinder, manual cappuccino maker, for brewing espresso, cappuccino, latte. ECAM22110B MagnificaS,1.8 liters
MULTIFUNCTIONAL automatic espresso coffee machine with a maual CAPPUCCINO system that delivers a tasty barista-quality Espresso, Long Coffee, Double Espresso, Cappuccino, than 3 minutes. Can be used with either coffee beans or ground coffee for preparation of two cups of coffee within a single brewing cycle.
PROFESSIONAL Brew two cups of magic drink simultaneously with Top-of-the-line Delonghi bean-to-cup brews two cups. Great brewing without having to learn how to be a barista. This fully automated machine has an integrated silent coffee grinder with 13 adjustable grinding settings, a bypass doser, a pump generating up to 15 bars of pressure, a water filter,an manual milk frother, as electronic temperature control and pre-brewing technology.
USER FRIENDLY. A super-automatic espresso maker can deliver the coffee shop experience to the comfort of your home, any time you feel the urge. System equipped with control panel with icons,the Cappuccino System device, a front-loading water tank, a bean hopper & coffee-grounds container with a capacity indicator and also provides adjustable water & coffee drink quantity.
EASY TO CLEAN All removable components of the Delonghi super-automatic espresso coffee machine are dishwasher safe.
WORRY-FREE PURCHASE: Delonghi super-automatic coffee machine backed with an Unconditional Satisfaction Guarantee and a 12-month Warranty. If you are not 100% satisfied, please CONTACT US immediately and we will help you right away. Our world-class customer support is available 7 days per week.
Last update on 2023-05-28 / Affiliate links / Images from Amazon Product Advertising API
Product Videos
Related Articles to Delonghi La Specialista
Related Articles to Delonghi Magnifica S
References:
Delonghi La Specialista: https://www.delonghi.com/en-us/la-specialista-espresso-machine-with-sensor-grinder-and-dual-heating-system-stainless-steel-ec9335m/p/EC9335M
Delonghi Magnifica S: https://www.delonghi.com/en/ecam22-110-b-magnifica-s-automatic-coffee-maker/p/ECAM22.110.B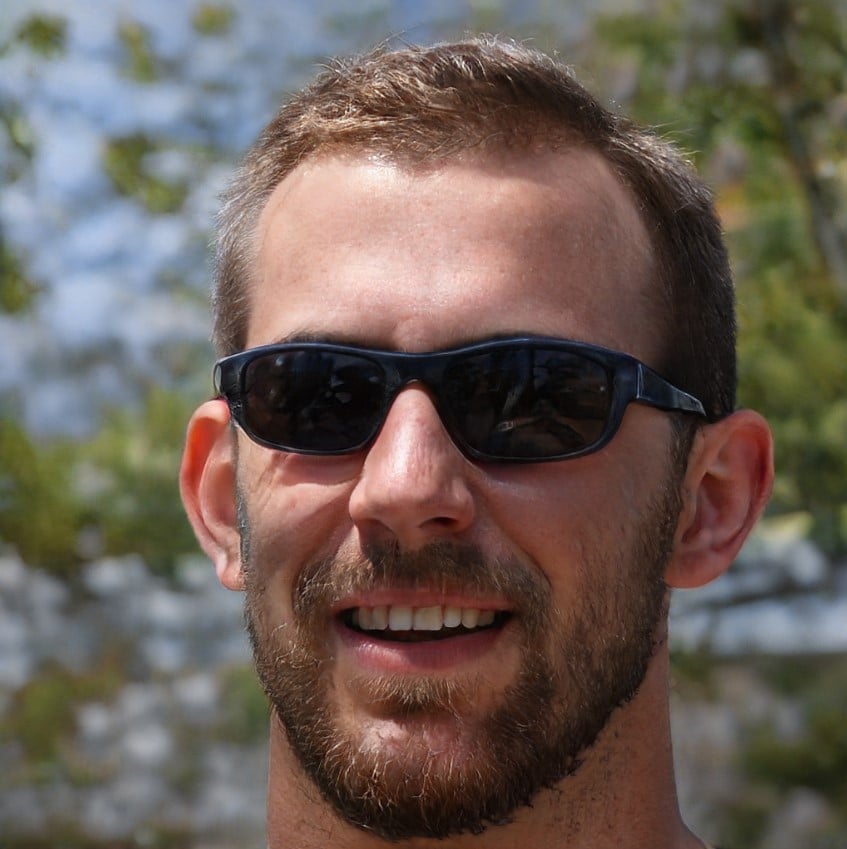 I am Ralph Mason and I am a passionate coffee drinker. I worked as a barista for a few years and since 2012 I have been trying to convince as many people as possible of good coffee.
I started writing on the barista blog on RepublikCoffeeBar in 2018. It was a pure hobby site and I tested coffee products like coffee machines, beans, mug, and other accessories. After the first year, my blog is becoming a well-known coffee site with about 100 thousand visits per month.
In 2019 I decided to focus on RepublikCoffeeBar only. I became a full-time coffee blogger and was declared crazy by many.