Jura Z10 review: Making its debut in 2021 with a substantial price of around $4,000, the Jura Z10 was hailed as Jura's most equipped super-automatic espresso machine. This one housed the brand's top-tier technology and an impressive roster of 32 one-touch drinks. Additionally, it was the brand's first model to offer a cold brew function, providing cold versions of classic espresso, coffee, coffee lungo, and even unique milk-based specialties.
A cold beverage from an espresso machine? I was as startled as you might be upon hearing it. I even found myself wondering, "Is this some sort of clever trick, Jura?" However, reflecting back, I can assert that my initial doubts were misplaced—the Jura Z10 genuinely could transform what seemed like a fanciful idea into reality – brewing cold coffee. It is impossible to predict what crazy ideas this brand will have in the future.
After testing this luxury bean-to-cup machine, I realize there's still room for improvement, but it's generally the right price. Many might find its enormous price tag a bitter pill to swallow. But believe me – once it's within your financial capability, you'll relish delicious caffeinated beverages all through the year.
Main Specifications
Image
Jura Z10
Dimensions/Weight
12.6 x 15 x 17.7 inches/27 lbs
Heating System
Single Thermoblock Boiler
Built-in Grinder
Product Recognizing Grinder (P.R.G.)
Pulse Extraction Process (P.E.P.)
Intelligent Pre-Brew Aroma System
What I Like
Has an eye-catching and elegant design.
Can brew cool drinks.
Can be controlled remotely via JOE app.
The grinder can be automatically customized to adapt all beverages.
Has a long list of one-touch drinks.
Cut down on power consumption with Energy Saving Mode.
Jura Z10
Image
Dimensions/Weight
12.6 x 15 x 17.7 inches/27 lbs
Heating System
Single Thermoblock Boiler
Built-in Grinder
Product Recognizing Grinder (P.R.G.)
Pulse Extraction Process (P.E.P.)
Intelligent Pre-Brew Aroma System
What I Like
Has an eye-catching and elegant design.
Can brew cool drinks.
Can be controlled remotely via JOE app.
The grinder can be automatically customized to adapt all beverages.
Has a long list of one-touch drinks.
Cut down on power consumption with Energy Saving Mode.
Last update on 2023-09-22 / Affiliate links / Images from Amazon Product Advertising API
Jura Z10 Review
The Jura Z10 could be a huge initial outlay, but after considering many factors, I found it a bargain. Keep reading to see more!
Coffee Flavour
Built-in Grinder
The Jura Z10 features a new type of grinder called the Product Recognizing Grinder (P.R.G.). Frankly speaking, it was this particular aspect that piqued my interest more than the cold brewing function. Jura claims this grinder can instantaneously tweak the grind consistency to match the concocted drink – finer for espresso and coarser for colder drinks. It sounds like something out of a science fiction novel, right? Yet, Jura has actually set a new bar, outstripping other brands and even itself with this pioneering technology.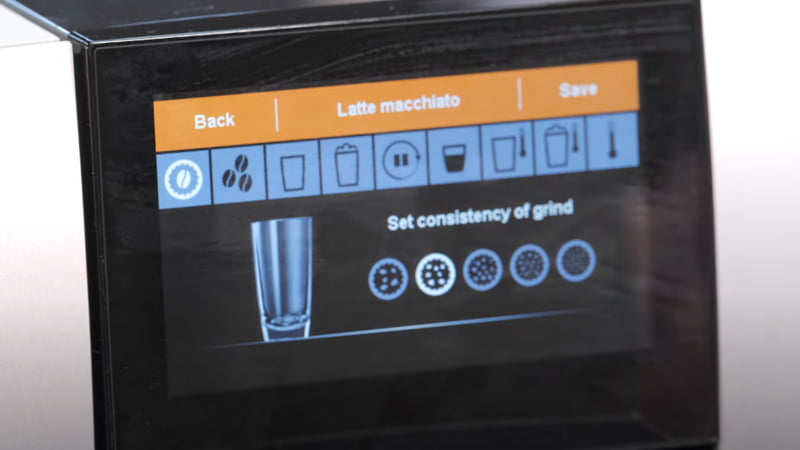 I selected different settings (among 5 total grind settings) for almost every coffee preset and found that the default was always the best. But are the five available grind settings too few for such an expensive machine? I initially wanted to see more since many under-1000 models offer up to 10 grind settings. But just by closing my eyes to that, I found the Jura Z10 to work admirably.
It's also worth noting that I could change the grind settings via the control panel at any time, irrespective of whether the grinder was running or idle. This clearly sets it apart for models that require changing the grind settings by turning a dial knob, which you can only do while the grinder is active. As usual, Jura never fails to astound us with its innovative approaches. I'm on the edge of my seat to see what automation they'll roll out next!
Heating System
The Jura Z10 only comes with a single thermoblock boiler. Despite the thermoblock technology's impressive ability to reduce the interval between procedures to just over 10 seconds, I desire a dual boiler system within this powerhouse, making concurrent coffee brewing and milk steaming possible.
Brewing System
These days, the Pulse Extraction Process (P.E.P.) is almost available on super-automatic espresso machines from Jura, including budget-oriented ones, and the Jura Z10, of course, is no exception. I believe Jura could do better without using contrived acronyms for their features and technologies. Such jargon only serves to confuse users and complicate their understanding, making them feel as though they need a translator to decode the marketing department's puzzling language.
The pulse extraction process basically involves forcing hot water through the coffee grounds in short pulses instead of extracting them at a consistent pressure. It's always worth pointing out how cool this ace is – it results in stronger, more intense espressos with a shorter overall brew time. Bravo Jura!
Now let's talk about the Cold Extraction Process. Instead of the standard method of steeping coarse grounds in cold water for 12-24 hours, the Jura Z10 grinds the beans more coarsely and introduces cold water in slow pulses, giving birth to unique "cold" concoctions.
However, its "cold" brew drinks weren't really as cold as I initially thought. Even in the coldest setting, the drinks are barely cooler than room temperature. So if you want to enjoy an iced latte or the like, it is best to turn the milk temperature down and serve the drink with ice or whiskey rocks.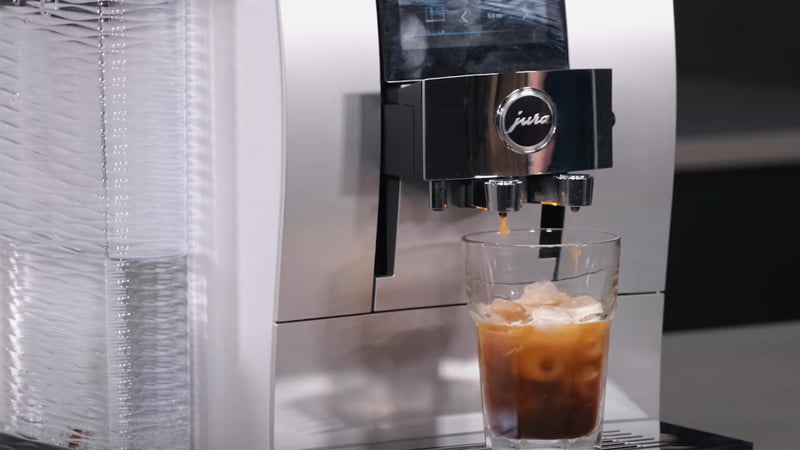 I found the "cold foam" wasn't as thick and sweet as what I could get from my coffee house since my barista tended to add sugar. Also, frozen milk in a low-temperature setting wasn't significantly sweeter than un-frothed milk since there wasn't sufficient heat to break down the lactose into sweeter glucose and galactose sugars (I'm glad my past prowess in chemistry came in handy here!).
Milk Frothing System
Similar to several preceding Jura models, the Jura Z10 is also equipped with an automatic milk frothing system enhanced with Fine Foam technology. Extolling the virtues of this feature almost seems unnecessary given that Jura's super-automatic espresso machines have long been acclaimed for producing milk foam of such superior quality that it never fails to impress connoisseurs of milk-based specialty coffees.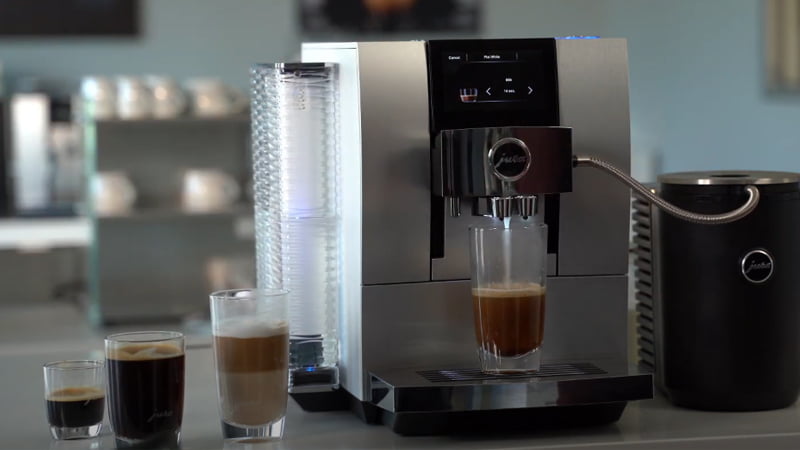 However, a lingering question remains, Jura – where is the milk carafe? This is also my biggest annoyance with every Jura machine I've tested before! It's unclear when this brand will consider offering a milk container alongside their products, but for now, their users are left with the task of acquiring this piece separately. In fact, the milk tube can be inserted directly into any bottle you have on hand. But to complete the machine's aesthetic, Jura offers two options: an affordable glass milk carafe or a pricey cool control (this smart unit can keep the milk cooled to an ideal temperature of 4°C).
For milk-based drinks, a wealth of customizations are at your fingertips, allowing you to craft your ideal brew. With each one-touch option, you can adjust 10 intensity levels of coffee, 10 temperature settings for milk or milk foam, 3 brewing temperature stages, and the precise quantity of milk or milk foam (denoted in seconds). Besides, it is possible to adjust the interval after dispensing milk to create ravishing multi-layer latte macchiato glasses.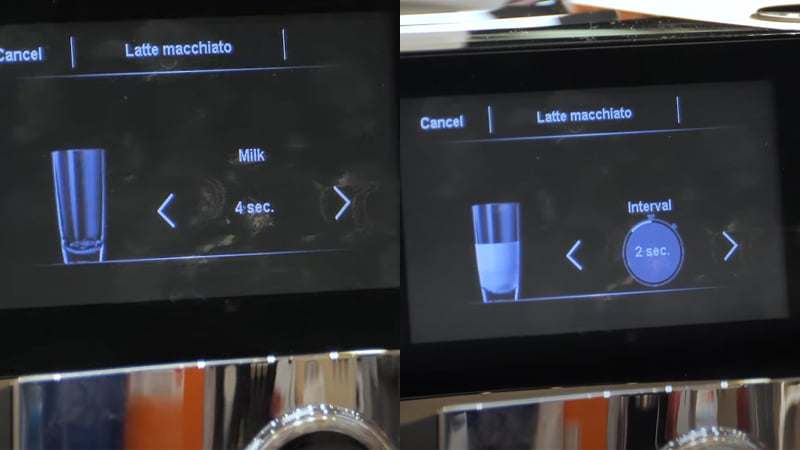 Strangely, the quantity of milk foam dispensed is denoted in seconds instead of ounces or milliliters. I'm used to this, and here is a useful conversion for those who are curious:
| | |
| --- | --- |
| 1 second of hot milk | 0.2 ounces or 5.8 milliliters |
| 1 second of milk foam | 0.14–0.17 ounces or 4–5 grams |
Design & Usability
Dimensions, Footprint, & Weight
Jura geniuses have never let me down with their aesthetic machines, and the Jura Z10 is no exception. It instantly gives off a sense of modern elegance, underscored by a chic and luxurious metallic veneer. Adorned with added features such as a backlit water reservoir and a state-of-the-art touchscreen, this one seems engineered to seize the gaze of anyone who wanders into your kitchen.
This model is, no doubt, a bulky and heavy machine. Consequently, it can pose quite a challenge to locate a suitable spot for it on a cramped countertop or beneath overhead cabinets, particularly considering that the bean hopper necessitates access from the top. But to be fair, it's a widespread issue for super-automatic espresso machines.
Pre-programmed Coffee Options
Hot black coffee options
Espresso
Filter coffee
Caffe Barista
Espresso doppio
Jug of coffee
2 x espresso
2 x filter coffee
2x Caffe Barista
2x Americano
2x Americano
Americano
Hot milk-based options
Cortado
Macchiato
Caffe latte
Caffe latte extra shot
Cappuccino
Cappuccino extra shot
Flat white
Flat white extra shot
Latte macchiato
Latte macchiato extra shot
Cold black coffee options
Cold brew espresso
Cold brew filter coffee
Cold milk-based options
Cold brew cortado
Cold brew macchiato
Cold brew caffe latte
Cold brew cappuccino
Cold brew flat white
Cold brew latte macchiato
Other drinks
Portion of hot milk
Portion of milk foam
Hot water
Hot water for green tea
The Jura Z10 blew my mind with 32 specialty options, including hot and cold drinks, more than any other model I've tested since. What a beast! Whether you're looking for something for a coffee house, a mini bar, an office, or an extended family, it will be your robust companion (provided you shoulder the cost, of course).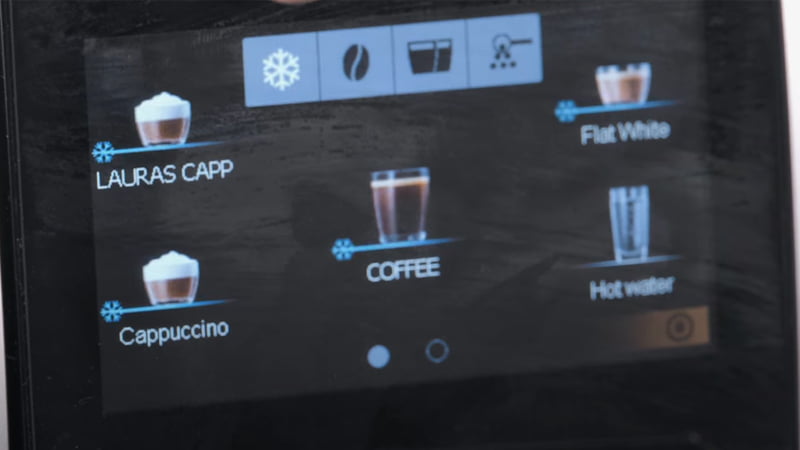 Originally, I thought it laughable that Jura incorporated hot water into its array of one-touch beverages, viewing it as a ploy to artificially boost the number of specialties. However, it turned out to be beneficial, especially when a bowl of ramen is what I crave. Farewell, my conventional kettle!
And if you think that's all the Jura Z10 brings to the table, you're wrong! It also allows for customizing each preset drink according to various settings, including grind size, coffee strength (10 levels), brewing temperature (3 levels), hot water temperature (3 levels), milk temperature (10 levels), and amount of milk foam. In layman's terms, an infinite number of permutations can be generated.
Yearning for decaf? Why not! This machine also allows for the use of pre-ground coffee through a bypass dose chute. This smart feature is a lifesaver for any caffeine-averse individuals in your family and is especially handy when your usual grocery store runs out of coffee beans.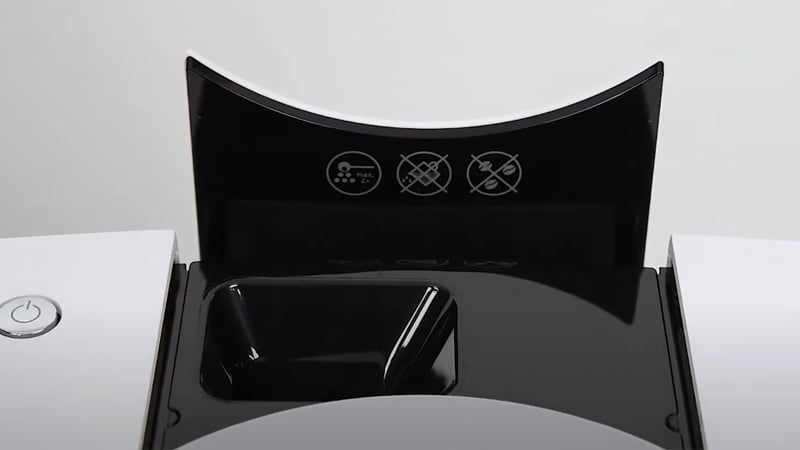 Spout & Cup Clearance
As is standard with most Jura super-automatic machines, the Jura Z10 has a dual coffee dispensing spout that can be adjusted both vertically and horizontally. With the ability to be raised up to 5.9 inches, it accommodates all my sizable latte macchiato glasses and even a number of my travel mugs.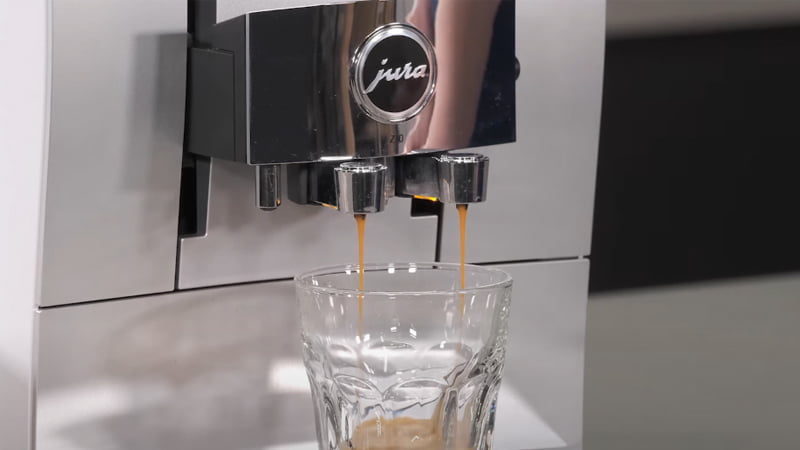 In addition, it is possible to adjust the width between the spigots to facilitate brewing two cups of espresso at once. Ever found yourself in a morning squabble over who gets to use the coffee machine first? This nifty feature will help maintain peace by catering to both parties simultaneously. Unfortunately, this only applies to black coffee options since this one doesn't have dual milk spouts like the Jura Giga 6.
Water Reservoir & Bean Hopper
The machine's 2.4-liter illuminated water reservoir is elegantly placed on the left side, and unless you're living with a group of caffeine addicts, it will only require refilling at the day's end. The illuminated tank feature isn't just an aesthetic bonus—it's incredibly handy for those late-night brewing sessions when you want to keep the household lights dimmed to avoid disturbing the family.
Its water reservoir is also designed to accommodate a Clearyl smart water filter, engineered to eliminate minerals (the culprits behind deposits at elevated temperatures) from the water prior to it being heated within the machine. I don't mean that it can fully eradicate the need for descaling, but the occasions when you'll find yourself engaged in this task can be counted on your fingers. So even if it leads to a monthly recurring fee, I highly recommend it to preserve the flavor of espresso. Its "Intelligent Water System" would notify when the filter needed to be changed.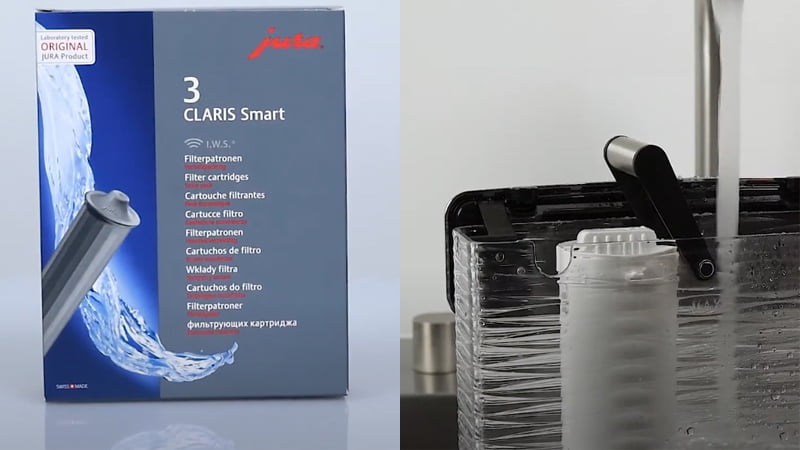 You can confidently load it to maximum capacity without fretting over the remaining beans losing their fragrance since its glass circle lid features a silicone gasket that guarantees a firm seal. Better yet, thanks to the active bean monitoring features, the machine will alert you when it's about to run out of beans, ensuring seamless brewing processes.
Cleaning & Maintenance
Regular and appropriate care of the machine is undeniably the secret to ensuring it operates optimally. Thankfully, this isn't a formidable task, as the device nearly manages all the maintenance aspects autonomously. Its screen will alert you when maintenance is due, and all that's required of you is to follow the step-by-step guide displayed on the screen.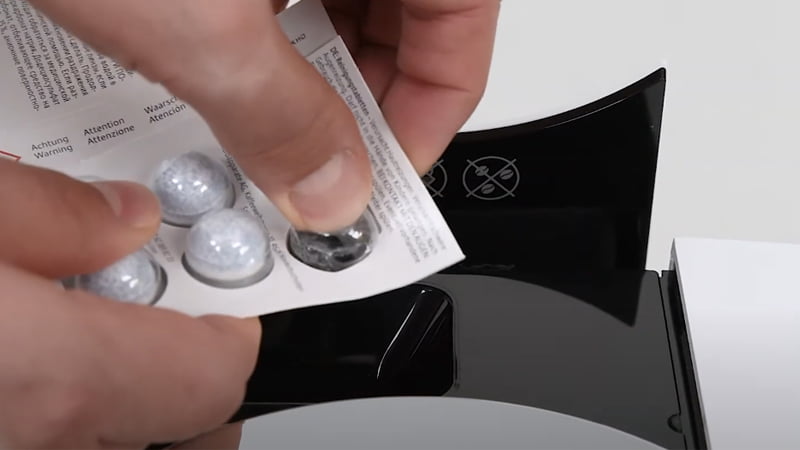 It's best to descale the machine at least every two months with Jura's cleaning tablets, and it will be less frequent if you use the filter, as mentioned earlier. As for cleaning the milk system, you must prepare a milk cleaner solution and an included milk system cleaning container.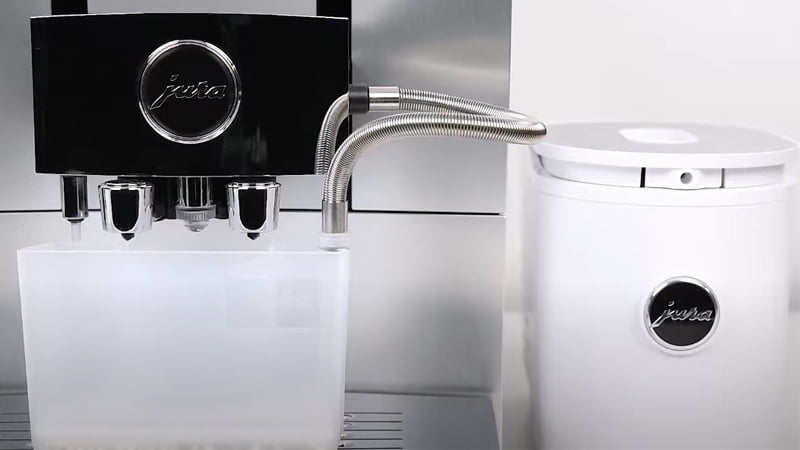 In addition, there are several tasks that you need to perform daily, such as emptying the pulp container, clearing the coffee grounds basket, refilling the water tank, and more.
Utilities & Other Features
User Interface
The Jura Z10 features a 4.3-inch touchscreen that looks spectacular and is super easy to use. Combined with a rotary dial on the top of the machine, it is a breeze to choose your favorite drink and make the necessary customizations. There's a lot to discover and test here if you're the tinkering type. My sole quibble is that the touchscreen is excessively sensitive – on a few occasions, I've unintentionally selected incorrect preset drinks and subsequently had to wait for the cancel button to become available once the Thermoblock system had warmed up.
Remote Control
It's not uncommon for manufacturers to develop a specific application to allow remote control of their machines, but they are often poorly designed and not really useful. But that's not the case for the really cool Jura Operating Experience (J.O.E.) app. Via the WiFi adapter (instead of Bluetooth), I was able to choose my favorites, change the coffee strength and brewing temperature, and commence the brewing process—all while comfortably seated on my couch.
Energy Saving Mode (ESM) & Auto Shut Off
By activating the Energy Saving Mode, power consumption will be reduced when the battery is not in use. Also, you can set the machine to turn off automatically after a preset interval – mother nature and your wallet will appreciate this.
Smart Mode
Further enhancing the smart features of the Jura Z10 is its capacity to recall your drinking preferences and display your most frequently used one-touch options on its start screen. It's as if the machine welcomes you with, "Hey, I've got your order memorized – just sit back and relax."
FAQs
1. Is Jura a Good Brand?
Yes, Jura is known as a premium espresso machine brand that has a reputation for producing high-quality machines that are stylish, full of features, and capable of brewing delicious espresso. However, their products are often very expensive.
2. Is Jura Operating Experience (J.O.E.) Compatible With an iWatch?
Yes. That way, you can prepare your favorite drink with the touch of your wrist.
3. Does the Jura Z10 Feature Smart Connect?
Yes. This one comes with a built-in Smart Connect, allowing it to connect to the JOE app via WiFi instead of Bluetooth.
4. Is It Mandatory to Use the Filter?
No. It is optional, and using it results in a recurring fee that increases the machine's overall value. If you use distilled water, it is superfluous.
5. Can I Make Two Cups of a Milk-Based Drink at Once?
No. This model has only a single milk dispensing spout.
QUICK RUNDOWN OF JURA Z10
Sale
Jura Z10 Aluminum White
VERSATILITY: A world first for hot and cold brew coffee specialties; choose from 32 options
OPERATION: Touchscreen display, optional Artificial Intelligence, equipped with WiFi Connect for use with J.O.E. app
CUSTOMIZATION: Customize, duplicate, rename and reposition coffee favorites
GRINDER: Exclusive Product Recognizing Grinder adjusts in a fraction of a second to the predefined consistency of grind
TECHNOLOGY: Pulse Extraction Process, Cold Extraction Process and Eighth-generation Brewing Unit
Last update on 2023-09-22 / Affiliate links / Images from Amazon Product Advertising API
Product Videos
References: https://us.jura.com/en/homeproducts/machines/Z10-Aluminium-White-NAA-15361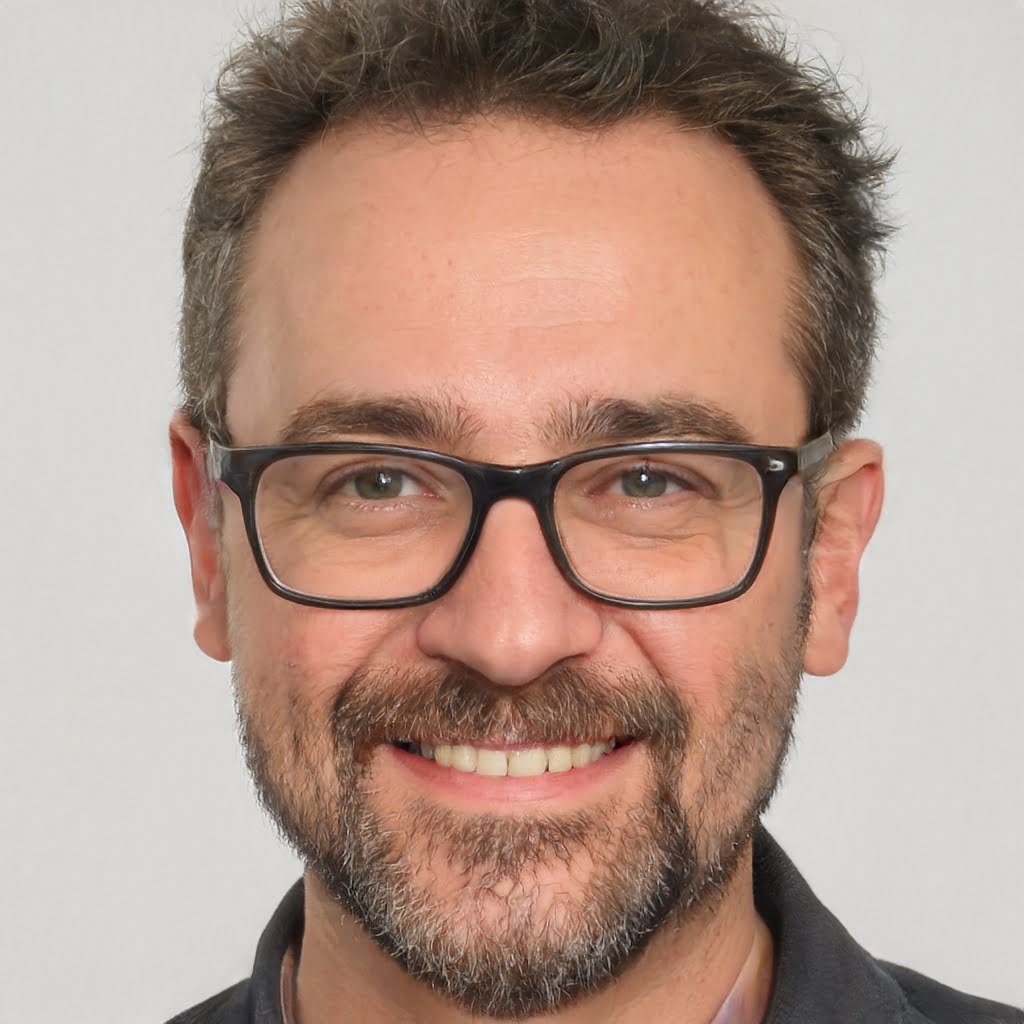 I'm Floyd J. Alcock, an experienced barista with a deep love for coffee. I curate personalized coffee experiences, guiding customers through diverse flavor profiles and suggesting ideal brewing methods. My extensive knowledge of espresso machines enables me to recommend the best equipment to match specific needs and budgets. Sharing my expertise and passion with coffee enthusiasts brings immense satisfaction. I look forward to continuing my journey of coffee discovery with every customer I serve, fostering connections over a shared love for this magical beverage.