A detailed Jura E8 review. Inclusive of the product description, review, and frequently asked questions.
Jura E8 Review
Last update on 2022-09-30 / Affiliate links / Images from Amazon Product Advertising API
Jura promises to deliver exceptional customization and user experience in all its products. The Jura E8 automatic coffee machine is every coffee enthusiast's dream. This super-automatic espresso brewer offers its users a one-touch brewing strategy for a variety of coffees from flat whites to ristrettos. Featuring an automatic milk frother combined with sophisticated brewing technology, this espresso brewer allows you to try a wide range of frothy coffee recipes. The unique quality and impeccable design of the Jura E8 are some of its key selling points.
Design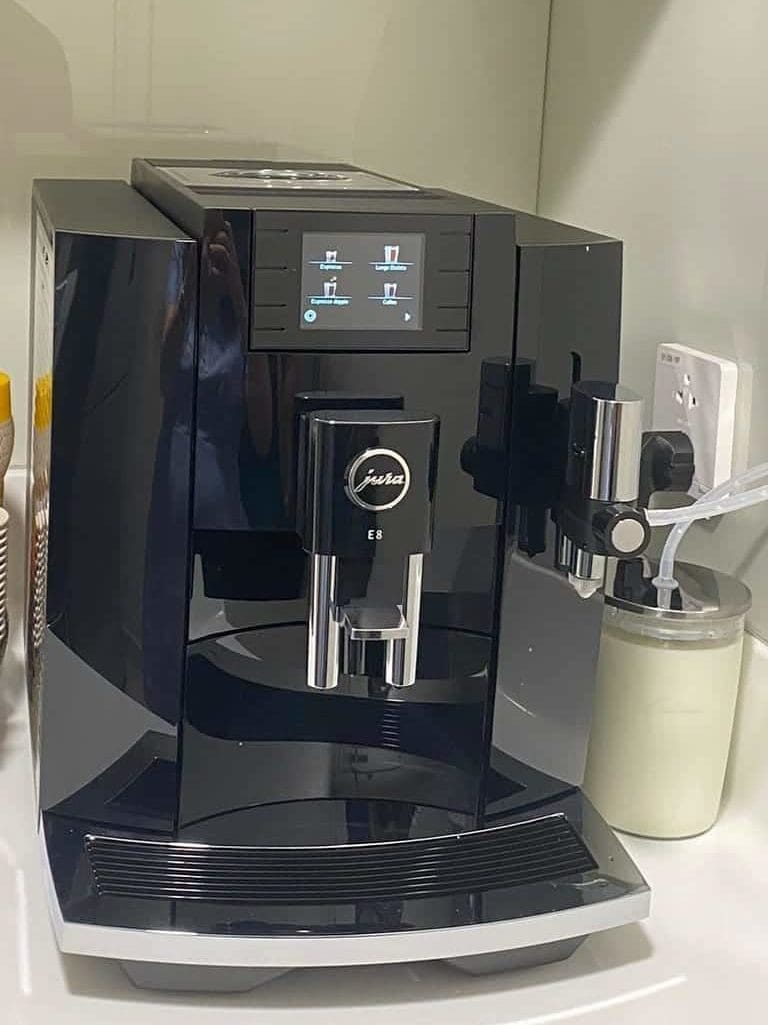 Boasting a Swiss-inspired design, the Jura e8 coffee machine is an amazingly beautiful machine that comes with chrome sides flanking a dual-outlet spout. The glossy piano black finish of the coffee machine enhances its décor and overall appearance.
While the stylish chrome siding on the brewer is attractive and uniquely eye-catching, it requires unique care to remain in a pristine condition. This is because it shows fingerprints. As such, you can use a soft cotton towel to gently wipe off the fingerprints.
The TFT-LCD screen in the coffee machine not only enhances the décor of the coffee maker but also displays all settings and drink options to choose from when brewing. This Jura E8 coffee maker features 6 physical buttons which correspond to specific on-screen selections. This combination enhances the ease of operation and use of the coffee maker.
The espresso maker is averagely sized and measures 11" by 17.5" by 13.6". Therefore, the brewer fits in relatively tight spaces and under most countertops. This makes the appliance to be a compact and flexible coffee maker that allows for portability and easy mobility.
Just like any other super-automatic espresso coffee maker, this Jura E8 is designed to prepare a wide range of coffee varieties with just a single button push. There are dual spouts on the front that dispense espresso and the spout on the right is for steaming and frothing milk.
One of the ways that this model differs from other coffee brewers in the market is through its 2 liter /64 ounce side-mounted water tank. The design of this water reservoir makes it easily removable, and hence filling it is equally easy.
The Jura E8 comes with an inbuilt steel burr grinder called the Aroma G3. This grinder features 6 settings which make the coffee maker a handy appliance for any coffee enthusiast.
Brewing system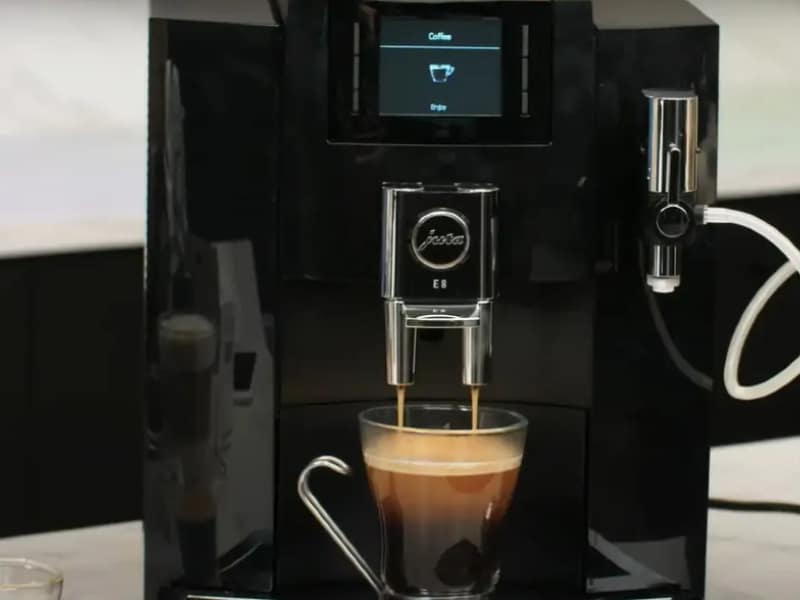 The brewing system is the Jura E8 is advanced and sophisticated for the best and consistent coffee brewing results. The brewing process in this coffee maker begins with the IPBAS (Intelligent Pre-Brew Aroma System). This system actuates a dose-dependent pre-infusion, whereby the brewer measures the coffee amount and then dispenses the right amount of water. The pre-infusion leads to swelling in the coffee grounds and thereby reducing the likelihood of channeling. This, in turn, results in a consistent espresso.
After the pre-infusion stage, the brewer engages the Pulse Extraction Process. This extraction process provides for better extraction that translates to the best quality and delicious espresso and ristretto.
The only drawback about the brewing system in the coffee maker is that it only features a single thermo-block heating system. As such, switching between brewing espresso and steaming takes more time. In addition to this, the single thermos-block heating system increases the possibility of inconsistent brew temperatures.
Versatility
Last update on 2022-09-30 / Affiliate links / Images from Amazon Product Advertising API
The Jura E8 is an incredibly versatile coffee brewer. True to this, it is designed to offer precise and reliable quick automatic brews including ristretto, espresso, latte, cappuccino, flat white, and latte. Double pressing the brew button prompts the brewer to make a double non-milk beverage. Frothing and steaming is instant in this coffee maker. What is more to note about this appliance is that it steams and froths milk with a single button push. It also dispenses hot water for hot tea or Americanos.
The highlight of the versatility of this coffee maker is seen in the fact that all the modes in the brewer are customizable. The best thing about this brewer is that the double settings in the coffee maker mirror your preferred settings for a single. With this coffee maker, you can choose up to 8 coffee strength settings that range between a 5-gram dose and 16 grams. Since most comparable models max out at a 10-gram dose, the 16 grams functionality of the Jura E8 is impressive.
Ease of use
Overall, the Jura E8 is an easy-to-use appliance. The coffee maker is designed in a way such that customizing and personalizing your programs and settings is easy and simple. There are detailed customization options on the TFT display screen that allows you to browse through each of your preferred settings.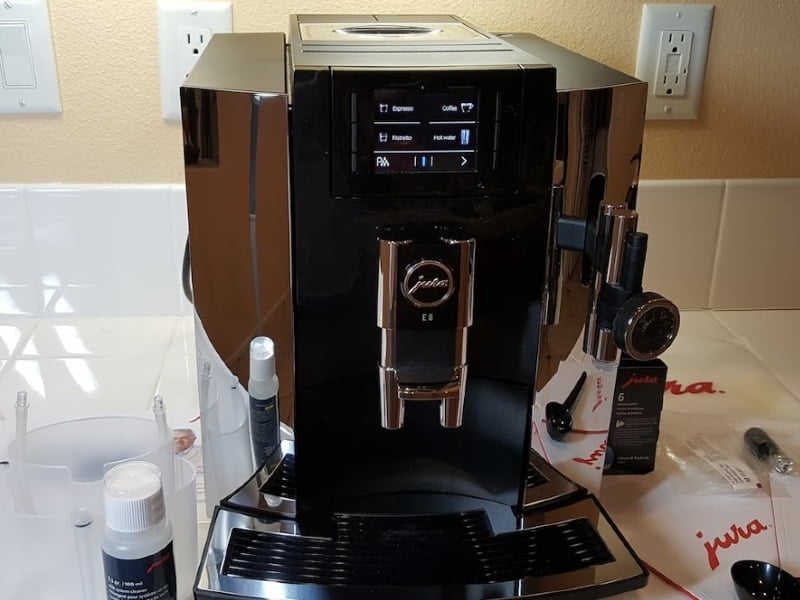 Cleaning and maintenance
While cleaning the Jura E8 coffee is not an entirely hands-free task, it is however quite easy. This is why a majority of coffee enthusiasts prefer using this model to other coffee brewers in the market. The appliance has an automatic cleaning cycle indicator that prompts you on when to clean the coffee maker. This indicator lets you know when you should add a cleaning tablet for a deep cleaning cycle. This, in turn, helps in ensuring that there is no buildup of coffee residue.
Ideally, the cleaning indicator alerts you to clean the coffee market after it brews 200 cups. When cleaning the milk hose, all you need to do is fill 250ml of water in a container and add an appropriate cleaning solution. Then put the milk hose into the water container and run the cleaning cycle. Ensure that you put an empty container at the frothing nozzle for collecting the waste water. This hose needs to be cleaned after every brew cycle as the milk in the hose can go sour, thereby affecting the taste of your drink.
Additional features
Over the years, Jura has evolved its products incredibly to feature unique functionality and performance. The most profound extra feature in the Jura E8 model is its wireless functionality. This is arguably the main reason why the coffee maker has gained immense popularity and recognition in the market.
The wireless connectivity of the coffee maker is complemented by a Smart Connect App that allows for remote monitoring and effortless control. The high-resolution TFT digital color display is yet another classy and appealing feature of the coffee maker. The classy display of the coffee maker enhances its elegant design.
Operating this coffee maker is a breeze as you only need to use the soft touch buttons that are strategically positioned on either side of the TFT screen. The display in the appliance features a unique back light that allows for easy navigation even in poorly lit conditions.
Ideally, this is a smart coffee brewer whose efficiency and performance are guaranteed. All the materials used in the construction of the coffee maker are sturdy and solid. This provides for excellent durability and reliability.
Value for money
A common question that you are likely to encounter when you planning to buy the Jura E8 coffee maker is whether the coffee maker is really worth your money. Well, this is a complex question to answer since there are several aspects that you need to put to consideration.
However, this coffee brewer is worth your money as it delivers beyond every coffee enthusiast's expectations. For starters, this is a unique fully-automatic espresso machine that comes with lots of features and functionalities.
Another key selling point of the coffee brewer is that it has a large brewing capacity. As such, it allows for flexible brewing depending on your desired quantity. In addition to this, it features two separate boilers for brewing and frothing.
Quick Rundown of Jura E8
Video about Jura E8 Review
Frequently Asked Questions
Can I use Grounds and ESE Pods with Jura E8?
It is not possible to use ESE pods in the Jura E8 coffee brewer as these pods are designed for use with only semi-automatic machines. However, you can use pre-ground coffee in the coffee maker and bypass the grinder. This flexibility provides for a greater room for customization.
Is frothing milk with this coffee maker a complex task?
Producing a fine micro-foam milk froth with the Jura E8 is as easy as it can get. This is because you only need to press a button on the control panel for instant milk frothing. When frothing milk, you just need to select the temperature of preference. The optimal frothing temperature is 60-65 degrees. Then select latte/ cappuccino on the control panel and then wait for a fine foam.
Conclusion
The Jura E8 coffee maker is a reliable coffee maker that is perfect for people in the market for a versatile coffee maker that they can use for other hot beverages such as tea and hot chocolate. This compact and stylish appliance features an innovative IPBAS feature and an improved brewing unit. A combination of these features presents you with a convenient and handy espresso maker for all your coffee needs.
Related Articles to Jura E8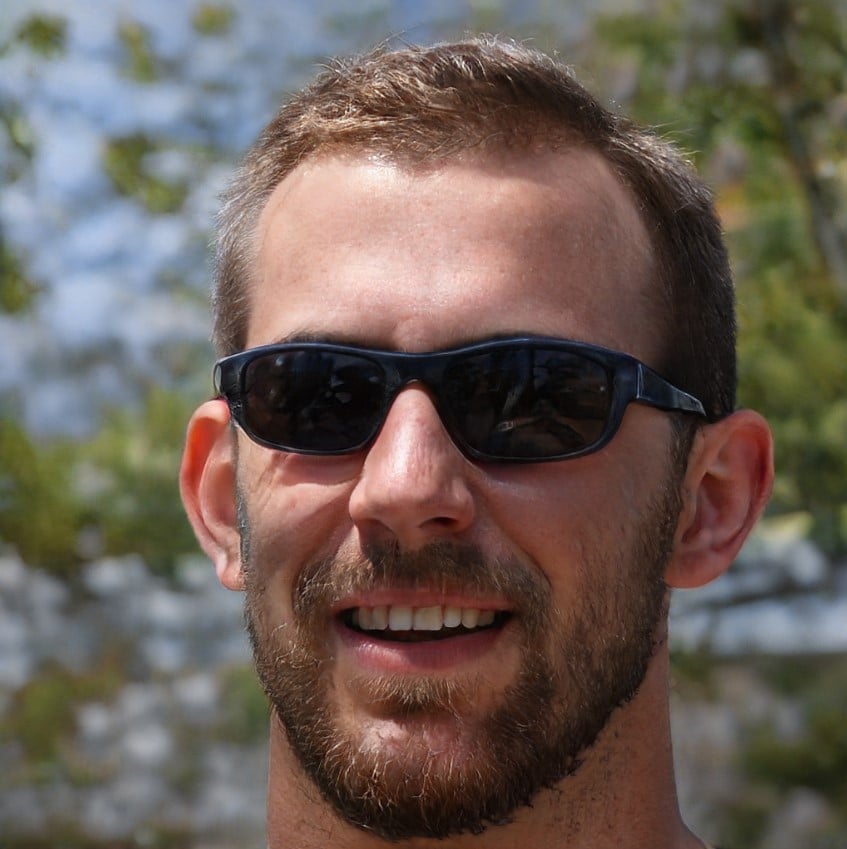 I am Ralph Mason and I am a passionate coffee drinker. I worked as a barista for a few years and since 2012 I have been trying to convince as many people as possible of good coffee.
I started writing on the barista blog on RepublikCoffeeBar in 2018. It was a pure hobby site and I tested coffee products like coffee machines, beans, mug, and other accessories. After the first year, my blog is becoming a well-known coffee site with about 100 thousand visits per month.
In 2019 I decided to focus on RepublikCoffeeBar only. I became a full-time coffee blogger and was declared crazy by many.