You may have heard the phrase "reduce, reuse, recycle." These words are usually related to how we can help our environment by doing things like recycling cans and bottles or reusing plastic bags. But did you know that there are also many great ways you can reuse coffee containers? You don't have to throw them away! In this article, we will answer the question "how to reuse coffee containers?"
See also:
Before go into some reuse coffee containers ideas. Check a few Q&A's to help you get started with your reuseing project(s).
How Do You Treat Tin Cans For Oxidation?
Try removing oxidization from their surface by using a wire bristle brush or medium grit sandpaper.
Wash with soap and water
Rub down your coffee container with a cloth that you have soaked in vinegar to neutralize it.
Lightly sand the cans to help paint adhere to it. Rinse with water afterward.
To prevent oxidation, apply a metal primer.
How Do You Paint Coffee Cans?
Tin Cans
After you have sanded and treated the cans for oxidation they will be ready to paint. You can easily paint using acrylic paint or any other paints. Before you start painting, cover your work area with newspapers so that paint does not fall down to dirty the ground. Using a soft-bristle brush, carefully apply at least two coats of paint to the whole can. Ensure each coat is dried before applying another so you don't have any smudges on them.
To cure it after all the paint has dried, put them in an oven that has a temperature of 350 degrees Fahrenheit for 30 minutes. When the oven timer goes off, turn it off but DO NOT take out the tin can until it is cool. Allow to cure for 72 hours to allow paint to cure completely, before you decorate it or use it.
Plastic Cans
Make sure your cans are nice and clean, and dry. Fill your cans with wadded-up newspapers inside to absorb the smell of the paint. Turn them upside down and paint or spray paint cans. You might need to leave the container to cure for 4-5 days so that the paint will not come off.
Note: If you are going to cover your can with craft paper you don't need to paint the cans beforehand.
How To Remove Sticky Labels Residue?
Wet a paper towel or clean rag with rubbing alcohol, and rub the residue to lift it off. For stubborn stickers, lay an alcohol-soaked rag on the area, and let it sit for several minutes to soften the residue.
Ideas On How To Reuse Coffee Containers?
1. Bake bread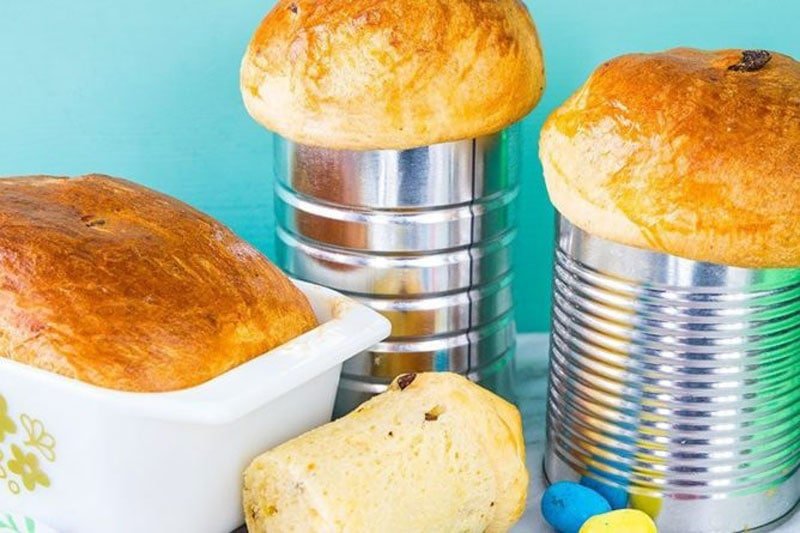 One of the uses you can do with an old coffee can is baking bread—but make sure it's a metal can. You can't do this with plastic coffee containers. They can be a gift by dressing up a bit after cooling baked bread can.
2. Upcycled Coffee Container Birdhouse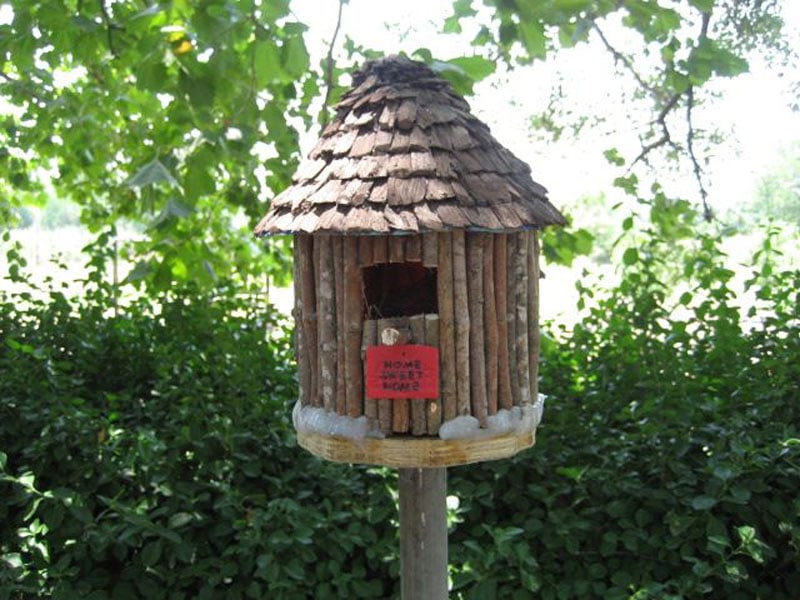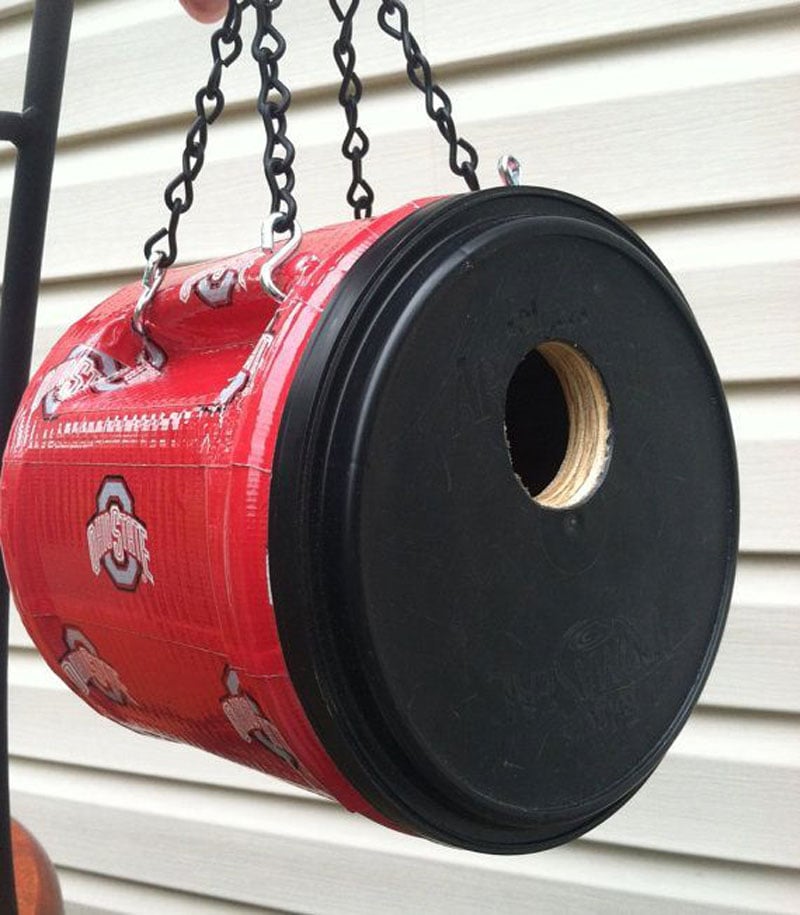 3. Make a bank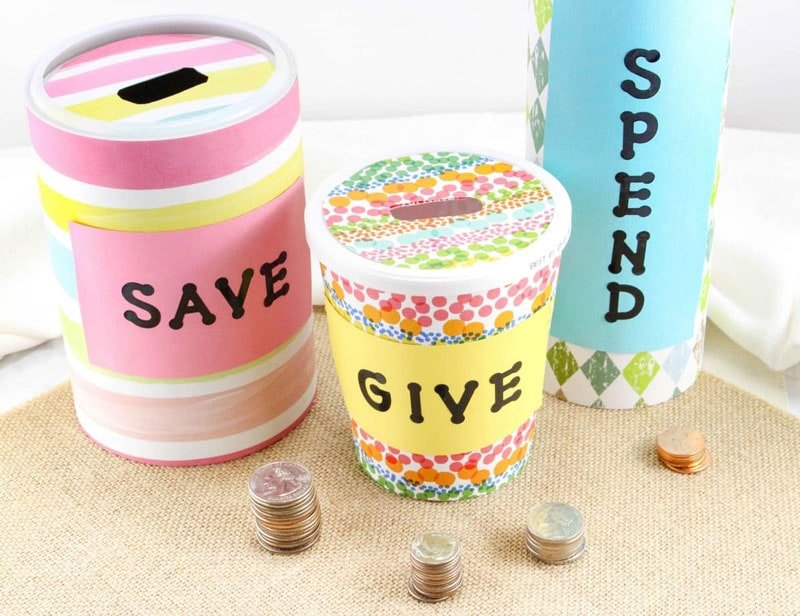 To make a bank for the kids or a collection can for a favorite charity, use a utility knife to cut a 1/8-inch (3-millimeter) slit in the center of the plastic lid of a coffee can to drop money in. Tape decorative paper or adhesive plastic outsides of the kids' bank.
4. Coffee Can Luminaries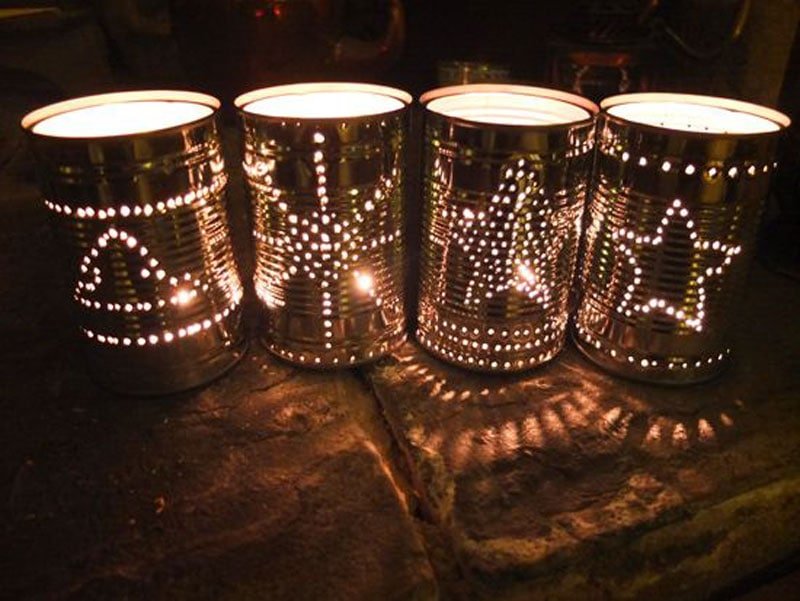 With a few modifications, metal coffee containers can be used to create beautiful luminaries that will illuminate your space. Just clean the cans and then punch holes in them by using a nail or screwdriver. You can punch holes to create unique designs for the light to filter through. Once they're all done, you just add tealight candles and light up. The light will go through the holes sparklingly.
One tip to keep cans' shape when punching is filling the cans up with water anđ freeze them before punch your holes.
5. Recycle A Coffee Can Into A Planter
Empty coffee containers with just a little cleaning and maybe some paint can be turned into planters. They can be used to grow herbs or small plants and sometimes, heavier flowers.
6. Coffee Canister Seed Starters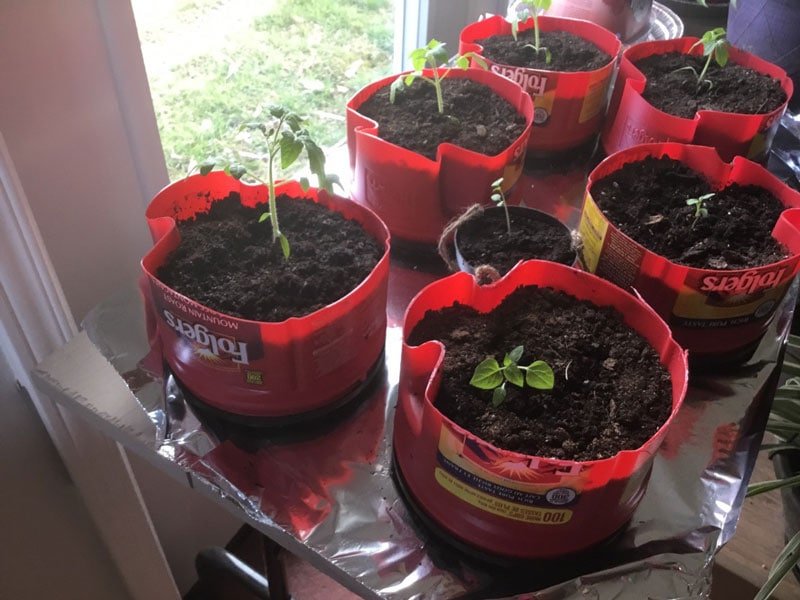 If you want to grow your own plants from seeds, coffee can be a great thing. For smaller plants, you can grow them all the way until they're ready to harvest or at least keep them in there long enough to get acclimated to their new environment. You don't even have to wash your coffee cans out – coffee grounds are actually good for your plants.
7. Upcycled Coffee Can Utensil Holders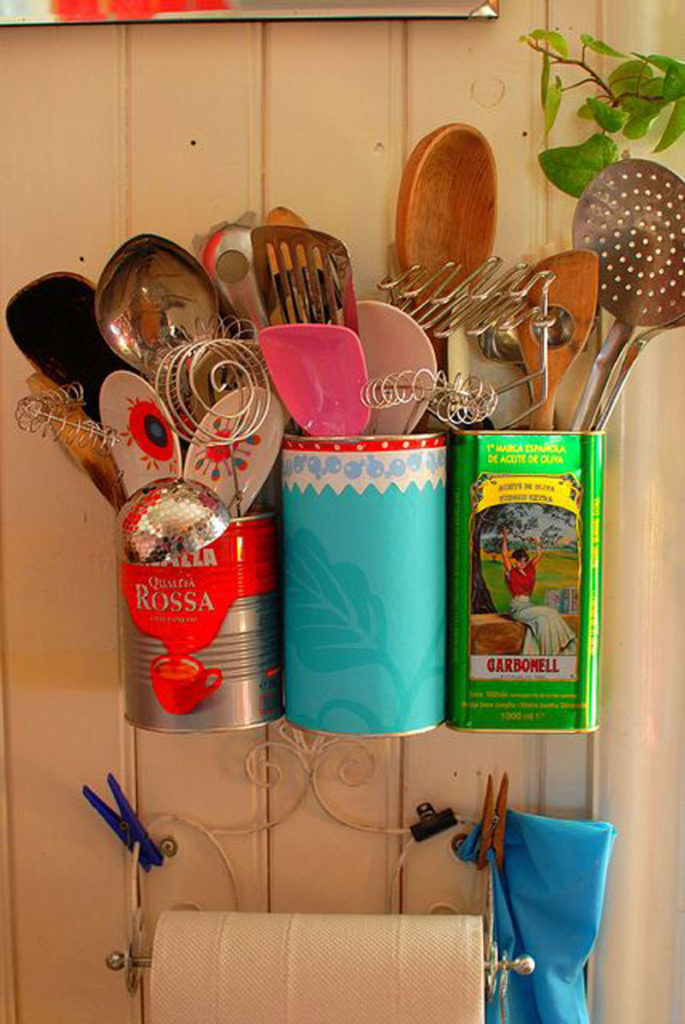 You can make your kitchen more organized by using an empty coffee container to store cooking utensils. With a little bit of creativity, those empty coffee containers can make for attractive and useful storage solutions. Try covering them with something that is easy to clean if you keep your utensils by the stove. Fill up each container with all your cooking utensils, such as wooden spoons, whisks, pot holders or silicone turner spatulas
8. Beautiful Coffee Can Vase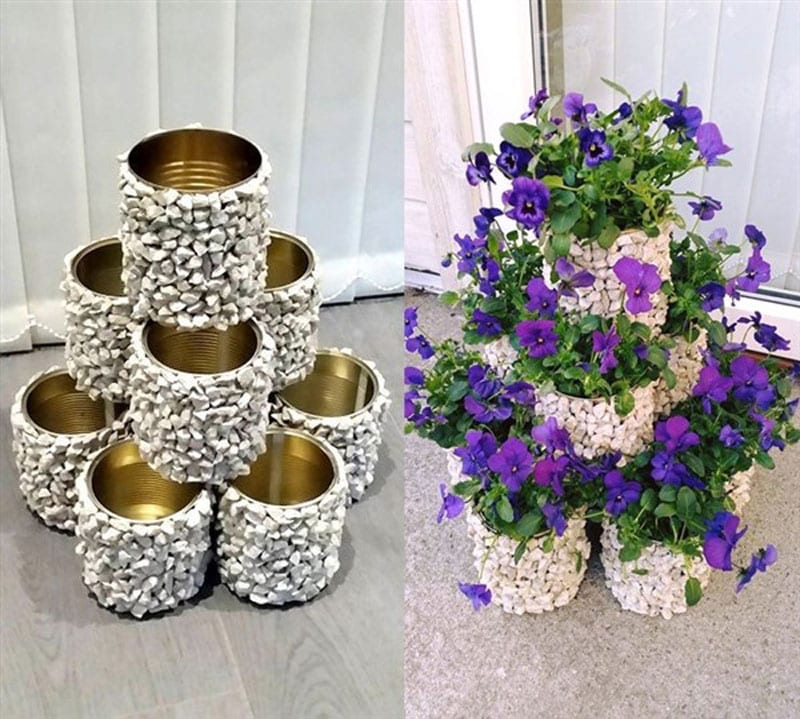 Transform that coffee can into a beautiful and elegant vase by adding some small stones. Use grout to keep the rocks in place, giving you a lovely planter or vase that looks like it cost much more than a dollar. You can use smaller rocks from your yard or purchase shiny river stones available at any store at about $1 a bag.
9. Keep Toilet Paper Dry When Camping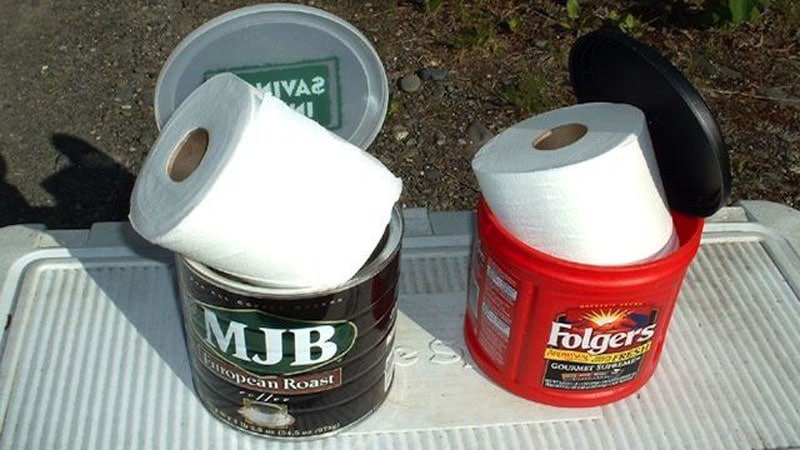 Bring a few empty coffee cans with you on your next camping trip. Use these containers to keep toilet paper dry when it is raining or when taking supplies in a boat or canoe.
10. Create A Plunger Holder
If you're tired of seeing your gross plunger sitting on the ground next to your toilet, hide it in an old coffee can. Cut a hole in the lid for the plungers handle to fit through. You can paint the outside of a coffee container with a new design to match your bathroom decor.
Conclusion
Before throwing away your empty coffee cans, try these genius ideas above around your house to save money, protect the environment and make your life a little easier. They are useful and helpful for your home organization and also for home decorating.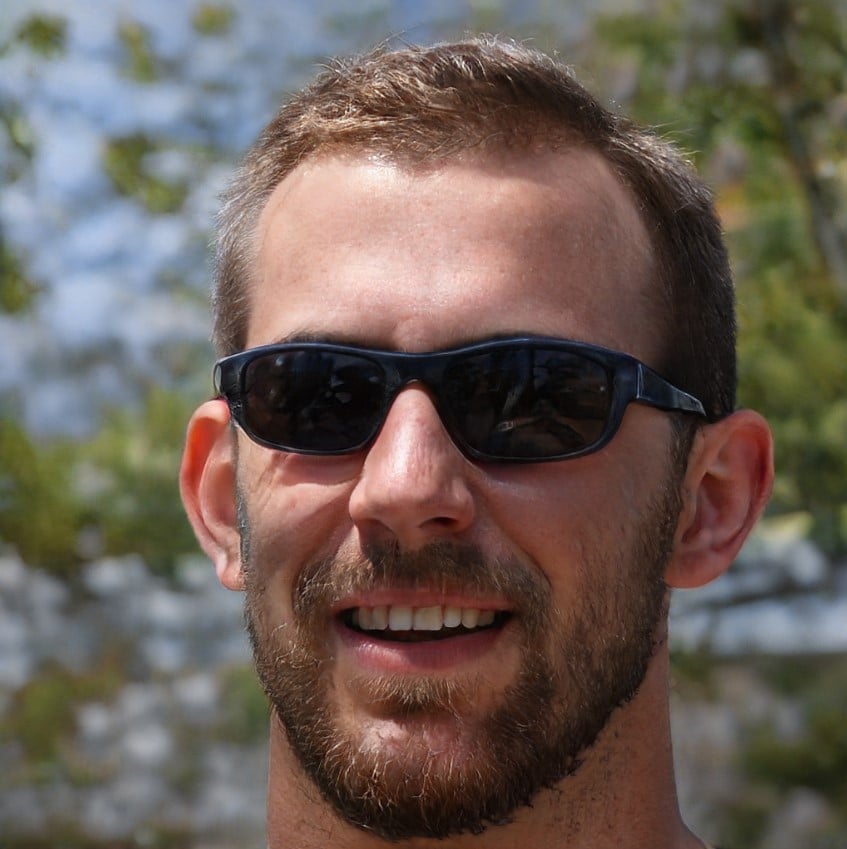 I am Ralph Mason and I am a passionate coffee drinker. I worked as a barista for a few years and since 2012 I have been trying to convince as many people as possible of good coffee.
I started writing on the barista blog on RepublikCoffeeBar in 2018. It was a pure hobby site and I tested coffee products like coffee machines, beans, mug, and other accessories. After the first year, my blog is becoming a well-known coffee site with about 100 thousand visits per month.
In 2019 I decided to focus on RepublikCoffeeBar only. I became a full-time coffee blogger and was declared crazy by many.