Many people who own coffee tables don't realize how difficult it can be to maintain them. Coffee and other liquids have a tendency to stain the table, making it look old and dirty. This blog post will show you how to restore coffee table by performing some easy tasks that anyone should be able to do!
See also:
What You Need
Sandpapers – 80 and 100 grit minimum, best to have assorted grits on hand

Sanding block

or electric sander
Stain if you plan on changing the colour of the piece.
Your chosen finish-

French polish

,

Teak oil

, Danish oil, Tung oil, Linseed oil, varnish, Polyurethane, wax,…
bristle brush
soft cloths
Make sure you've got a good working station, preferably in a workshop or a backyard, where you can spread sawdust and stain droplets or put down a drop sheet.
How To Restore Coffee Table?
Step 1: Surveying The Damage
Your first step is to examine the table, attempt to judge how much damage that it has sustained. And then you know what will do.
Is the table scratched? Is there a watermark on it? Is there anything on the table that cannot be cleaned with cleaning products? Are the legs and any other attached pieces square or holding themselves in the position the should be in? Does your table have any warped or bowed pieces?
If your answer to any of those questions is yes, then you will probably need more intense restoration. However, if the piece is only slightly faded and lacks some luster all over, it doesn't take much time to bring it back to its best condition.
Step 2: Sanding Off The Old Finish
1. Clean the surface of the table with a mild soap and water solution. Mix 2-3 drops of soap into a cup or bowl with water. Soak a clean cloth in the soap solution and wring out excess water until no water is dripping. Give your coffee table surface a thorough cleaning with the damp cloth. In order to prevent dirt from being ground into the wood while sanding, you need to clean off all sign of dust and dirt beforehand.
Tip: There are some special soaps made for cleaning wood. You could also use them.
2. Sanding to remove the old finish.
Start by sanding with coarse grit (40, 60 or 80) to remove the finish more quickly. Attach that coarse-grit sandpaper to a sanding block or electric sander.
Start sanding, going with the grain of the wood. Keep doing until all the finish is removed and we see bare wood.
Always wear a dust mask to protect your mouth, nose, and eyes when sanding the table.
If the legs and other pieces are removable, you may find it easier if you remove them, this allows you to lay them flat. This reduces the pressure applied to the joints and makes it easier for you.
Some hard-to-reach areas, such as engraved legs or sides of the coffee table, would not work effectively with the sander, so we had to do that bit by hand. Let fold up a piece of sandpaper into a small square and sand those areas by hand. Fold up a piece of sandpaper into a small square to sand.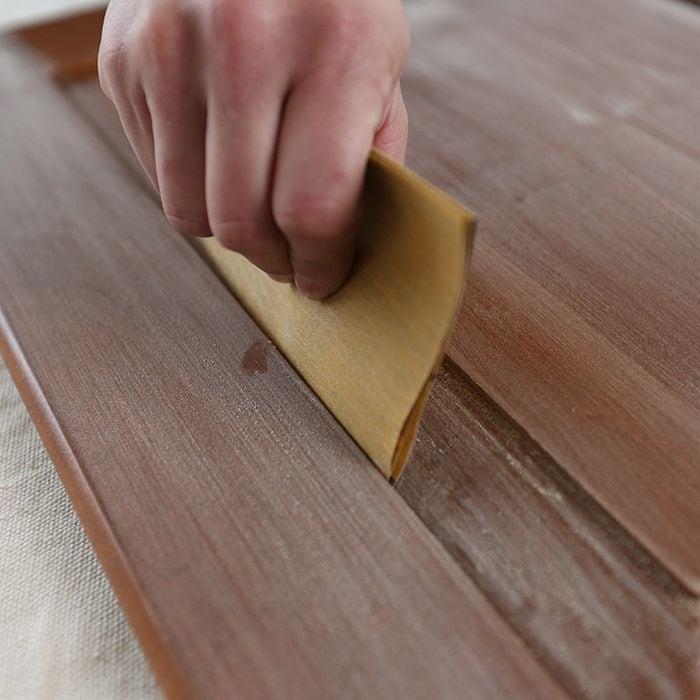 If your sandpaper stops removing the finish at any point, you need to put a fresh sheet on. You can feel it by using your fingers. If it is smooth, it has worn out and you need to replace it with a fresh sheet.
If your sandpaper starts to feel smooth, you need to replace it with a fresh sheet.
3. Wipe the wood dust away
Use a tack cloth or other clean, soft cloth to wipe away all the dust from sanding. This will allow you to better see the exposed wood and continue with sanding and preparing the surface for a new finish.
After sanding, use a clean, soft cloth to remove all dust particles on wood surface to prepare for a new finish. Now you can see the exposed wood
You can purchase a tack cloth specifically made to clean up wood dust at a home improvement center, a woodworking supply shop, or online. A microfiber cloth or an old t-shirt will work if you don't have one available.
A vacuum with a hose attachment can also be used to suck up the dust.
4. Smooth the bare wood surface by sanding it again with fine-grit sandpaper. Put a sheet of fine-grit sandpaper, like 120- or 240-grit sandpaper, on your sanding block or electric sander. Gently sand the entire table until it is completely smooth.
Test periodically by running a hand across the surface to feel for rough spots. Sand until there are no more rough patches and old varnish/finish is gone.
Step 3: Applying A New Finish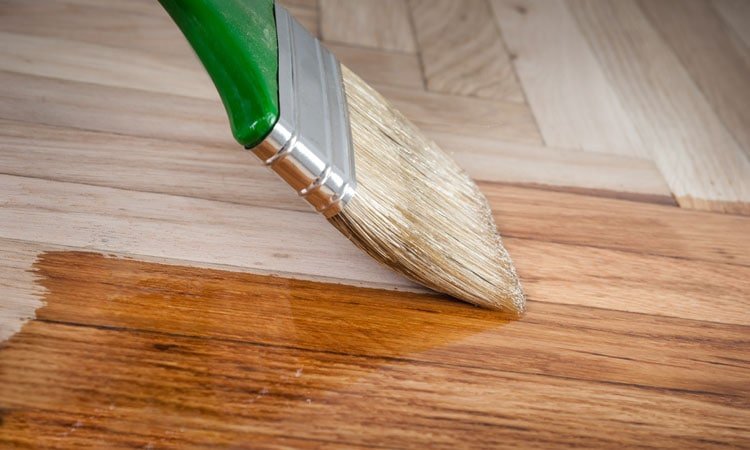 Stain the coffee table if you want a darker or different-colored wood finish.
Apply a coat of the wood stain of your choice with a 4 in (10 cm) paintbrush using long, smooth strokes. After letting the stain sit for as long as instructed, use a clean rag to wipe off any excess residue.
Since you are applying the stain to bare wood, it will absorb it very quickly. So if you don't want the finished product to be too dark, wipe off any excess immediately.
To darken the final color, apply one to two additional coats of stain before the first coat dries. Wipe off excess after each new coat and let dry completely before applying another.
If you prefer to give the coffee table a natural look of the wood, applying furniture oil is an option.
Apply a natural furniture oil, like tung oil, teak oil, or Danish oil, to a clean cloth. Rub oil into the coffee table using a cloth, going with the grain until all wooden parts are evenly coated. Let the coffee table dry overnight. If you want to improve the appearance of the colors of the wood, apply an additional coat of oil.
By soaking into the wood, furniture oil will protect your coffee table. You can apply it as often as you want to enrich the coffee table's finish and ensure that the wood is protected.
Furniture oil brings out the natural color of wood without drastically altering it. The color can get slightly darker depending on how much you apply.
Tip: Teak oil works well for denser woods like mahogany, maple, or oak. Tung oil and Danish oil work well for all types of woods, including softwoods like pine and cedar.
Varnish the coffee table if you want a clear protective finish.
You can choose using varnish whether you want the coffee table to look more natural or shiny. It is a transparent protective finish for wood that comes in matte, semi-gloss, and glossy varieties.
Apply a polyurethane or polycrylic varnish of your choice to your coffee table by a paintbrush. Apply the varnish evenly all over the coffee table using long, straight strokes and go with the grain.
Allow your stain to dry according to the manufacturer's instructions before applying another coat if you want added protection or more shine.
It is also possible to apply a layer of varnish on top of a wood stain if you want to make the table glossier and give more protectived.
Consider painting the coffee table if you want it to be a different color. Using a 4 in paintbrush to apply a layer of primer to the wood and let it dry for 1 hour. After the base coat of primer dried, you can paint your choice color paint over the primer. Make sure to work with the grain and use long, even strokes. Wait 4-8 hours before adding a second coat of paint if you can still see some primer underneath the first coat.
You should flip your coffee table upside-down when you paint it so that the inside of the legs is also painted.
For the coffee table, you can paint it with either oil-based or latex-based paint. Note that oil-based paints take up to 8 hours to dry while latex-based needs only 4. As for cleanup, latex is easier as you can rinse your brush out with water while the oil-based requires thinner to be cleaned.
Waxing
Waxing is a nice technique for finishing a wooden piece, but it does not provide the best protection. The wax needs to be reapplied fairly regularly.
FAQs
How do you paint a coffee table without sanding?
Here are some ways to paint the coffee table without sanding:
1. Use mineral paint. Mineral paint is very much like chalk-style paint in that it requires no prep or priming
2. Use milk paint + bonding agent
3. Use a bonding primer.
4. Use a liquid sander/deglosser.
What kind of paint do you use on a coffee table?
For furniture, a satin or semigloss finish in latex or oil-based paint is best. If you use paint, never let primer go unpainted. A latex primer is an excellent choice for most uses. It goes on easily and blocks most stains, but it doesn't have the odor of an oil-based primer.
Can I use olive oil on wood furniture?
While some people worry that olive oil might damage wooden furniture, the truth is that it actually nourishes the wood and brings out its natural shine. Whether it's a chair, table or box, you can try using olive oil for the project as varnish.
Conclusion
I hope you found this blog useful and are compelled to save an old coffee table or re-purpose furniture that has been neglected.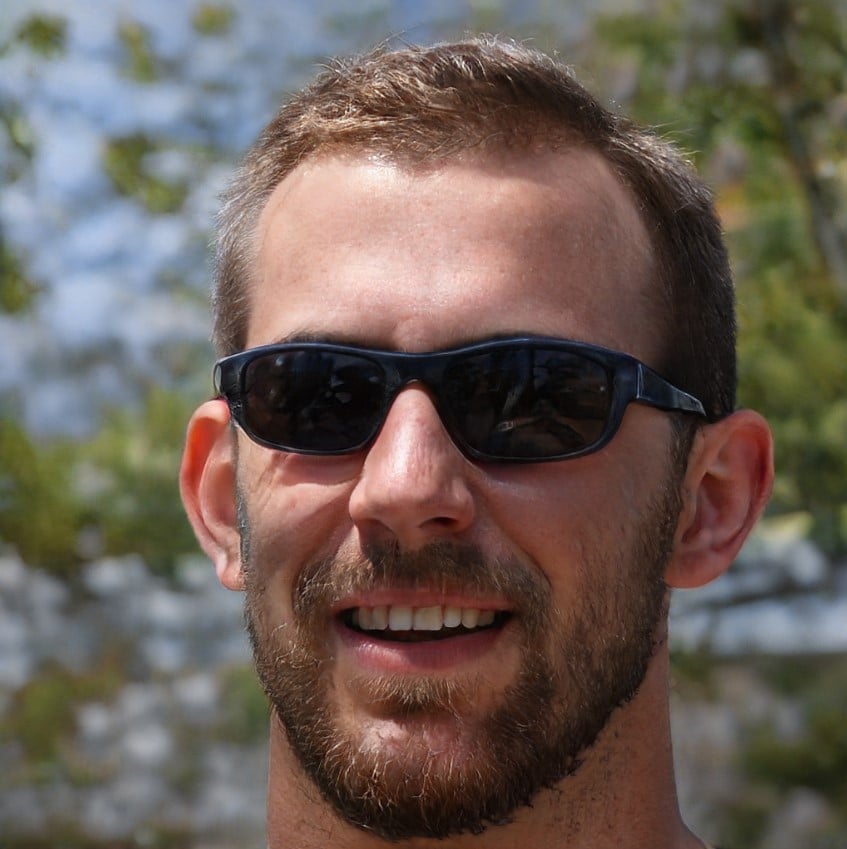 I am Ralph Mason and I am a passionate coffee drinker. I worked as a barista for a few years and since 2012 I have been trying to convince as many people as possible of good coffee.
I started writing on the barista blog on RepublikCoffeeBar in 2018. It was a pure hobby site and I tested coffee products like coffee machines, beans, mug, and other accessories. After the first year, my blog is becoming a well-known coffee site with about 100 thousand visits per month.
In 2019 I decided to focus on RepublikCoffeeBar only. I became a full-time coffee blogger and was declared crazy by many.