Are you interested in how to build a coffee cart? If so, then this blog post is for you! We will discuss the tools and materials that are needed, as well as how to assemble them. This project can be completed by anyone with basic skills and tools.
See also:
The Opportunities, Advantages, and Challenges of a Coffee Cart Business

A coffee cart is a mobile coffee stand with all the necessary equipment mounted to the frame. It's great for people who want their own business without opening an expensive shop, and it's versatile so you can sell your products anywhere that people congregate.
Because nearly everyone drinks coffee, a coffee cart can be a great opportunity both in small towns and big cities. This is mainly because most people spend 70% of their time outside the home – so mobile cafes cater to them well.
And if most people allocate a daily budget for their needs, then there is usually a part in that budget dedicated to an on-the-go cup of coffee. Stopping by the nearest coffee cart and getting an espresso or latte to go is something they can afford as long as they are keeping close tabs on how much money they spend at once.
The Main Advantages of a Coffee Cart Business
Low start-up costs: you can start your coffee business even on a small budget. Coffee is a growing trend: its popularity has been on the rise over recent years, and coffee connoisseurs will forego tasteless vending machine drinks in favor of that made commercially.
Building a coffee cart offers great gross profit margins. Coffee has outstanding and unheard-of gross profits of more than 90%, which is why so many big businesses are investing in this industry. Few other products come close, meaning there's potential for rich earnings with little risk.
A year-round product: coffee is no longer a seasonal commodity. Sure, you'll sell more iced coffee on hot days, but there are fewer of them than in the past.
The coffee cart business can befit a person's lifestyle or run as a full-time job. This way of running the business is very flexible for different hours and locations.
The Main Challenges of a Coffee Cart Business
Competition: The expansion of the "good coffee" market means there are more potential customers and more competition. Your product will either have to be competitively priced or of higher quality as it pertains to taste, appearance, etc. If you plan only to cater events, keep in mind that other vendors offer hot drinks and many customers will not queue twice traveling from your cart when they can get something similar elsewhere. So make sure to have a strategy for overcoming this obstacle.
Skill: many baristas swear it takes skill to make a good coffee, so don't be discouraged if you try and fail at producing your own cups. Practice is the best way to refine your skills. It is also important to understand a variety of blends and preparations. This includes how different flavors work together to create the perfect drink – understanding this might be what determines whether your business is successful or not.
Brand loyalty: People have coffee preferences. This can make it hard to break into the industry at first.
If you need helpful tips in order to start your own coffee business, time is on your side. The market is expanding rapidly and as long as you do your research and plan accordingly, there's a good chance that this will be a profitable venture for you.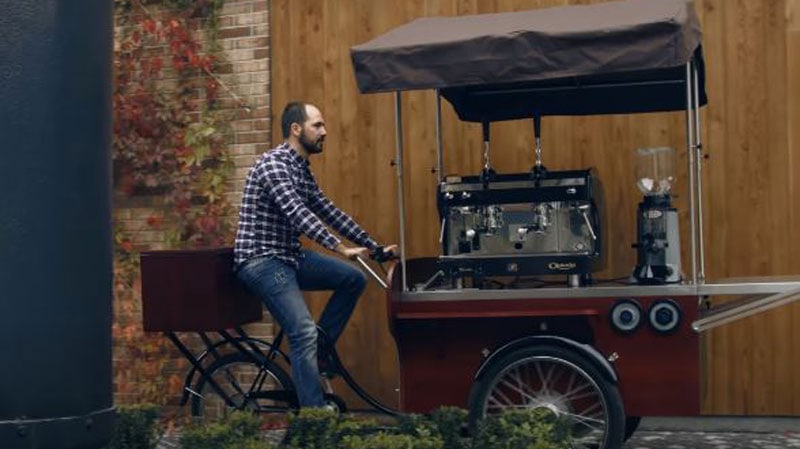 How to build a coffee cart?
Know Your Legal Requirements

There are a number of legal requirements associated with starting your own coffee cart: registering the business, determining a name for your company, and ensuring that it meets state-specific laws.
You'll need to research the regulations surrounding your business such as:
Hygiene guidelines
The size of the cart as well as the equipment needed
How to handle, store and prepare the product for a coffee cart
Rules for street vending
We recommend making an appointment with one of our lawyers to make sure you stay compliant with the law.
Research Your Market
Know before you start. You may find yourself changing your business model more than once as you go, but it's a good idea to have some basic ideas in mind when starting out. Remember the following:
Target Market: When you start planning to market your coffee cart, there are a few things that you need to take into consideration. The first step is to figure out who the target market will be, and then it is very important to know specific details about them as well.
Location: Pick a street and test out the response to your cart. Consider local demographics before selecting a long-term location, e.g., coffee shops in tourist areas will be more profitable than those near factories or universities. Consider the proximity to your storage location when choosing a coffee cart's location. If you're not interested in using an electric pedal-assisted vending bike (if you want to use a motorbike instead), it may be difficult or impossible for your vendor to travel too far from the storage site.
Competition: One effective way to write your business plan is to think about how the competition might react. This strategy can be helpful when writing a business proposal or an introductory letter. Customers don't just choose you based on your products. They also look at customer service, how your brand stands out, and the overall purchase experience when they buy from you. Take everything into consideration when analyzing competitors.
Menu and Pricing: The list of items that you decide to offer is an essential part of your business. Based on the items you provide, it will determine everything from the type of equipment and supplies you need to invest in and how well-positioned your coffee cart will be against other businesses. Gather the information that you plan to use for your coffee, and compile a list of ingredients.
Suppliers: When sourcing out suppliers for ingredients to use in your food cart, make sure to shop wholesale and purchase products in bulk. You can also try before you buy by ordering small quantities of products from various suppliers. You will also need to buy materials such as cups, straws, and lids.
When shopping for the supplies that you'll need to build your own coffee cart, don't let high prices get in the way of quality.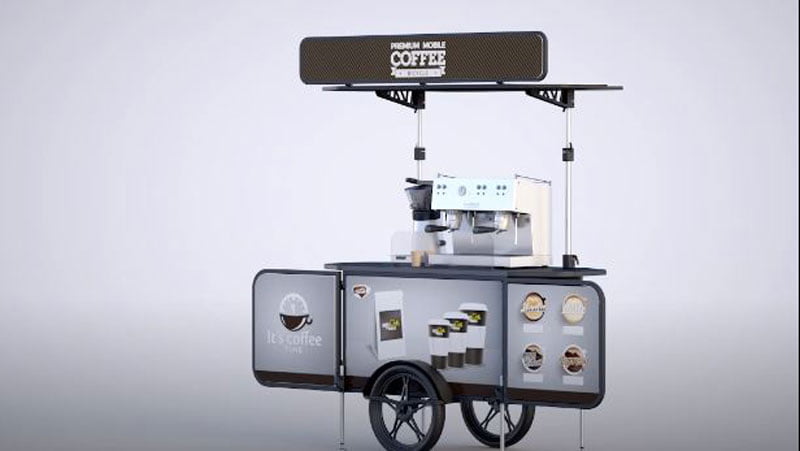 Marketing

Starting a new business is always challenging, but your marketing can make the difference between success or failure. As a start-up in the coffee industry, you'll likely need to find some way of building brand loyalty among potential customers. One strategy might be to give out free samples in markets and areas where people who consume coffee are known.
A coffee cart is a promotional tool for those who are in the business of supplying high-quality beans. You should follow social media forums to inform others that you are nearby, as well as give out samples.
FAQs
How much does it cost to build a coffee cart?
The average cost of starting a coffee cart is roughly $30,000. Starting out as an espresso cart is advisable first to learn about your local demand for coffee or espresso.
How profitable is a coffee cart?
If you're able to set up in a high foot traffic location, you can expect upwards of 300-400 customers per day who could collectively spend anywhere from $1,000-$5,000.
What type of insurance does my coffee cart business need?
One of the first steps in starting a coffee cart business is completing all necessary paperwork related to insurance. A broker can help you compare rates and coverage plans with ease.
Conclusion
Starting your own coffee cart business can be challenging. No matter what type of business you are planning, we can help guide you in the right direction with legal advice from our experienced lawyers.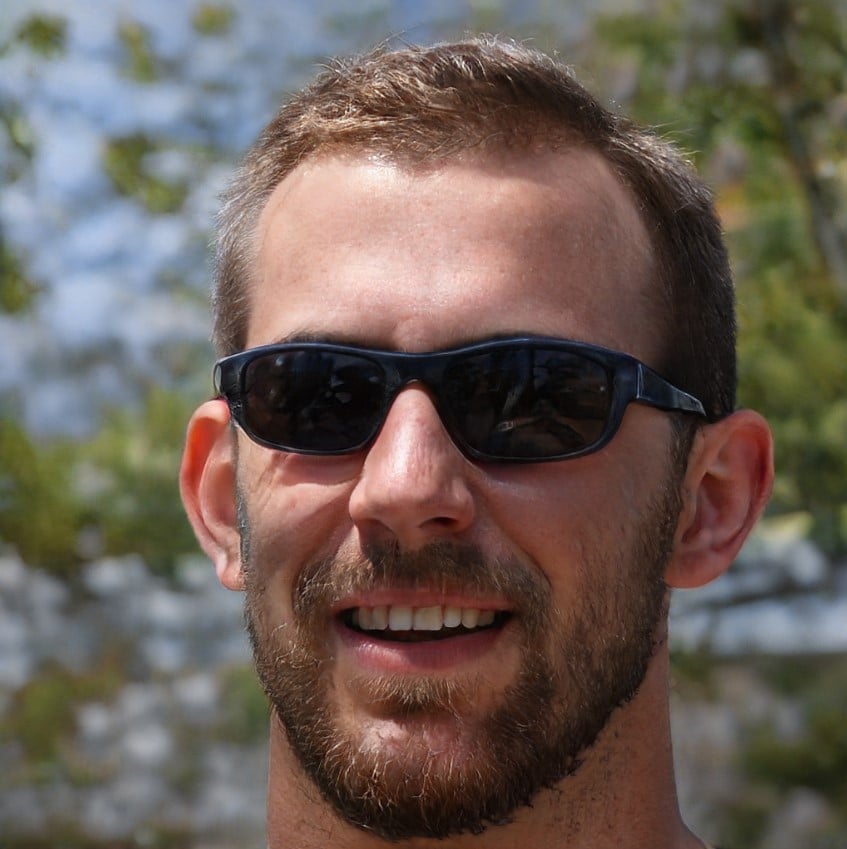 I am Ralph Mason and I am a passionate coffee drinker. I worked as a barista for a few years and since 2012 I have been trying to convince as many people as possible of good coffee.
I started writing on the barista blog on RepublikCoffeeBar in 2018. It was a pure hobby site and I tested coffee products like coffee machines, beans, mug, and other accessories. After the first year, my blog is becoming a well-known coffee site with about 100 thousand visits per month.
In 2019 I decided to focus on RepublikCoffeeBar only. I became a full-time coffee blogger and was declared crazy by many.